Keshav Baliram Hedgewar : Who instituted RSS!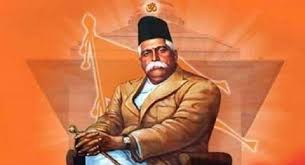 1902, at the early age of 13, He lost both his parents from Epidemic Plague. Another few years ahead, at Neel City High School in Nagpur, he was expelled for singing "Vande Mataram", but perseverance paid him. He went on to pursue and complete his Study of Medicine from Kolkata in 1916. And he was none other than Keshav Baliram Hedgewar.
Yes, RSS (Rashtriya Swayamsevak Sangh) was founded on 27th September 1925 by Sh Keshav Baliram Hedgewar, a doctor by profession in the city of Nagpur.
1917:- Keshav Baliram Hedgewar returned to city Nagpur after completing his study of medicine from Kolkota, but the soul was restless to see Bharat under the Slavery of British. He was pained to see how a handful of British were ruling a disunited ocean of Hindu. He could conclude, the Disunity and the lack of civil Character among Hindu as the reason behind lack of Valor. The Hindu (Shwavimaan) Self Esteem needs to be restored.
1918: ShHedgewar organised his first anti-British movement under a banner of Kranti Dal (Party of Revolution). Emboldened with his experience he participated in the Home Rule campaign organized by Sh Bal Gangadhar Tilak. He soon decided to empanel himself as a member of another broad secretive association named Anushilan Samiti, to carry on his Anti British freedom movement.
1923:- Sh Hedgewar got an opportunity to read the book Hindutva by V D Savarkar (Veer Savarkar) and was deeply influenced by his idea about the Hindu, the Hindutva and the Bharat.
1925:- Impressed with the ideology, Sh Hedgewar went on to meet Savarkar in the Ratnagiri prison in 1925. Those days British intelligence was extremely suspicious about Veer Savarkar and his political meeting in Ratnagiri Jail. Despite those rowing eyes, Veer Savarkar was still able to enlighten Hedgewar on his nascent idea of building a grand organization called RSS. The mission and objective of the organization emanated from the thoughtful and sanatanai tradition of their Motherland Bharat.
Hedgewar drew his motivation from many Sanatani Luminaries. His initiation into patriotism had nurtured through study of Dasbodh by Samarth Ramdas, Saint Tukaram, Sri Veer Savarkar's (Hindutva), Sri Aurobindo, Sri Bankim Chandra Chatterjee and Sri Lokmanya Tilak's (Gita Rahasya).
Since then there is no looking back.
Patronized by some of the historical greats and driven by committed and truthful nationalist leaders, RSS pursued its path of hard work, struggle and sacrifice since then. The able leadership of Sri Hedgewar further continued by some of the illustrious mind thereafter.
| | | |
| --- | --- | --- |
| Keshav Baliram Hedgewar | 1925-40 | Physician passed out from National medical college Kolkata 1916 |
| Madhavrao Sadashivrao Golwalkar | 1940-73 | Master's degree in biology in 1929. from BHU |
| Madhukar Dattatraya Deoras | 1973-93 | LLB from Nagpur. |
| Prof Rajendra Singh | 1994-00 | Professor and HOD of Physics – Allahabad University. |
| Kuppahalli Sitaramayya Sudarshan | 2000-09 | BE in Telecommunications (Honors) from Jabalpur Engineering College |
| Mohan Bhagwat | 2009- contd. | He graduated in Veterinary Sciences and Animal Husbandry |
The story about struggle in freedom movement, building secretive organizational network, designing tactical strategy and rescuing Hindu during the carnage of 1947 partition is a long story. We will cover them one by one in the next article.
RSS always narrated and maintained its view about Akhand Bharat and Sampoorna Samaj as the rightful end of freedom struggle. RSS supported the saffron flag instead of Tricolor.
Very few people would recall now that when K M Munshi proposed the idea about Akhand Bharat at the time of the Independence Movement, even Mahatma Gandhi had agreed to. But gradually the politics of the nation drifted away from the national interest.
Post-Independence, the Journey had been full of struggles and sacrifices. The left eco system supported by the administration of Congress had done everything to malign the organization. Almost the entire media conspired to discredit and disrepute the constructive work of RSS. Every action was criticized. The ideological hate against RSS was worse and deplorable. The left ecosystem remained engaged in abusive discourse, uncouth slang and name bashing.
All this while, RSS maintained its composure, poise and civility. The organizational value of maintaining discipline and restraint was extremely painful. At the end it did return satisfying approval adulation and recognition in the civil society.
The animosity was such that the congress banned RSS on three occasions. Not to forget it was banned once by British rule as well. Yet, on every occasion it came out with flying color and with greater social approval.
| | |
| --- | --- |
| Jan-1947 | Ban imposed in Punjab – Under – British Rule |
| 1948 | On the pretext of Nathram Godse Association. |
| 1975 | During the Emergency |
| 1992 | During demolition of disputed structure in Ayodhya |
RSS is today one of the largest Social and cultural organizations of the World. It has contributed to the welfare of weaker sections and tribal society aggressively. The moral and ethical enrichment of Society would redefine and build a Great Bharat. Hindu should stay United for their Maa Bharti.
DISCLAIMER: The author is solely responsible for the views expressed in this article. The author carries the responsibility for citing and/or licensing of images utilized within the text.