Khadim Gauhar Chishti who threatened Nupur Sharma with 'सर तन से जुदा', arrested from Hyderabad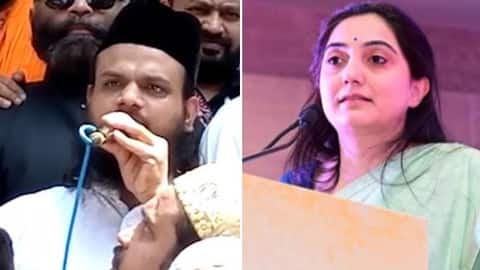 Let us inform here that Khadim Gauhar Chishti of Ajmer Dargah was seen saying in a threateneing video on June 17 issuing threats of beheading. 
Gauhar Chishti, who threatened of beheading and killing former BJP spokesperson Nupur Sharma, has been arrested. The police was looking for Gauhar Chishti for several days. According to the information, Gaur Chishti has been arrested from Hyderabad.
Let us inform here that Khadim Gauhar Chishti of Ajmer Dargah was seen saying in an objectionable video on 17th June, "If anyone insults our Huzoor's pride, we will not tolerate it at all. The same punishment, head of the gustakhe Rasool. The head separated from the body, separated from the body (गुस्ताखे रसूल की एक ही सज़ा, सिर तन से जुदा सिर तन से जुदा)……
The police team will bring him to Ajmer on transit remand on Friday. Police said that an FIR was registered against Gauhar Chishti on June 25 for inflammatory speech. Since then he was absconding and after 29 June he had gone out of Rajasthan.
It was revealed about Gauhar Chishti that in the year 2020, she was arrested for making videos of CRPF and on suspicion of espionage. The NIA engaged in the investigation of Kanhaiyalal murder case of Udaipur has taken Khadim Gauhar Chishti of Ajmer Dargah on the radar. Gauhar is believed to have been involved in anti-national activities in the past as well. It was caught by the police for making the video of the first CRPF camp. The police had let him off with a warning.
Ajmer Additional SP Vikas Sangwan said, "Gauhar Chishti has been arrested by the police from Hyderabad. He had raised objectionable slogans outside the dargah on June 17. It is also said about Gauhar Chishti that Kanhaiyalal's killers had also met him in Udaipur."
Tailor Kanhaiyalal was brutally murdered by Mohammad Riyaz Attari and Ghaus Mohammad in Udaipur on June 28. Kanhaiyalal was murdered for posting a post in support of Nupur Sharma. Another Khadim of Ajmer Sharif Dargah, Salman Chishti, has already been arrested by the police for making inflammatory videos. In this video, Salman Chishti had talked about giving his house in reward to the one who beheaded Nupur Sharma.
DISCLAIMER: The author is solely responsible for the views expressed in this article. The author carries the responsibility for citing and/or licensing of images utilized within the text.