Lack of resistance has made the slogan "Sar Tan Se Juda" normalised.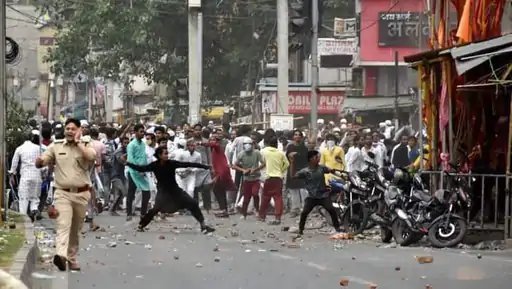 The lack of resistance by Hindus, Indian Politicians, Mainstream Media, security forces and eminent personalities has made the slogan "Sar Tan Se Juda" normalised. In every gathering of muslim mob it could be witnessed muslim mob shouting the slogan "Sar Tan Se Juda" in top of their voices be it Hyderbad, Jammu, Varanasi, Kanpur, Ranchi or Kolkata.
Violent Protest with heavy stone pelting are being unleashed by the muslim mob with shouting of this slogan. "Sar Tan se Juda" translates to "removing head from body" is a call to beheaded Nupur Sharma for the remarks she made about the prophet of muslims ie. Mohammad. These slogans of beheading are shouted openly in the streets in front of police officials and no actions are being taken against them. This inefficiency has made the beheading slogan normalised . The normalisation of the slogan can be hazardous for the society as it pushes the society into the rule of Sharia. It instills a fear among the non muslim society to talk on any subject related to Islam because normalisation will make muslims free to demand beheading of any person they want want for any reason.
On 10th of June, Hindus saw how their tolerance was crushed under the toes of Islamists. Yesterday's episode was a reminder for Hindus that the process of turning India into Islamic Republic of India has now begun. Violence was unleashed by muslims in various parts of the country. 10th of June was Friday and after the Friday prayers, muslims in various cities came up together to unleash violence upon the Indian State. Stones were pelted on the policemen making many of them injured, Temples were attacked, Ashok Chakra in Tricolour was being replaced by Kalma, Violent slogans calling for the beheading of Nupur Sharma were raised in top of voices. The most horrifying picture was seeing the effigy of Nupur Sharma hanging in the middle of Belagavi Ford Road, Karnataka. It should be clear to all the Hindus living in the Indian state that it was not Nupur Sharma's effigy which was hanged but it was the tolerance of Hindus which was given a death sentence.
DISCLAIMER: The author is solely responsible for the views expressed in this article. The author carries the responsibility for citing and/or licensing of images utilized within the text.