LeT Hybrid Militant who killed non-local Workers in Shopian is Arrested Within Hours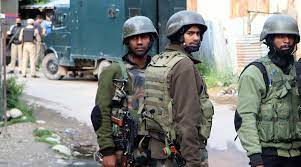 In an instant reaction, police claimed on Tuesday that they had captured a Hybrid terrorist related to the Lashkar-i-Toiba organization within hours of his being responsible for the murder of foreign laborers in the Harmain neighborhood of South Kashmir's Shopian.
A LeT Hybrid terrorist named Imran Ganie, a resident of Harmain, who threw a grenade at laborers has been detained, according to Additional Director General of Police for Kashmir Vijay Kumar. This comes after two non-local laborers were slain by militants in their rented housing.
He admitted during questioning that he had thrown grenades at foreign laborers.
Munish Kumar and Ram Sagar, two non-local laborers who were both residents of Kanooj, Uttar Pradesh, were killed earlier that night when terrorists threw a grenade at them while they were fast asleep in their leased housing.
Political figures from all sides of the separatist-mainstream split denounced the murder. Prior to the removal of Jammu and Kashmir's special status in August 2019, militants in the Kashmir Valley often avoided attacking members of the minority population, but this has changed recently.
Attacks have intensified since terrorists began targeting Kashmiri Pandits and outside laborers in the valley in a series of attacks in October of last year. The extremists also carried out a series of similar assaults in May of this year, specifically targeting Kashmiri Pandits and outside workers. Four Kashmiri Pandits have died in militant attacks this year, according to official data.
DISCLAIMER: The author is solely responsible for the views expressed in this article. The author carries the responsibility for citing and/or licensing of images utilized within the text.