'Liberals' Want To Dismantle Hindutva For Aiding Hatemonger Pastors Demanding Half Of India As Christian State?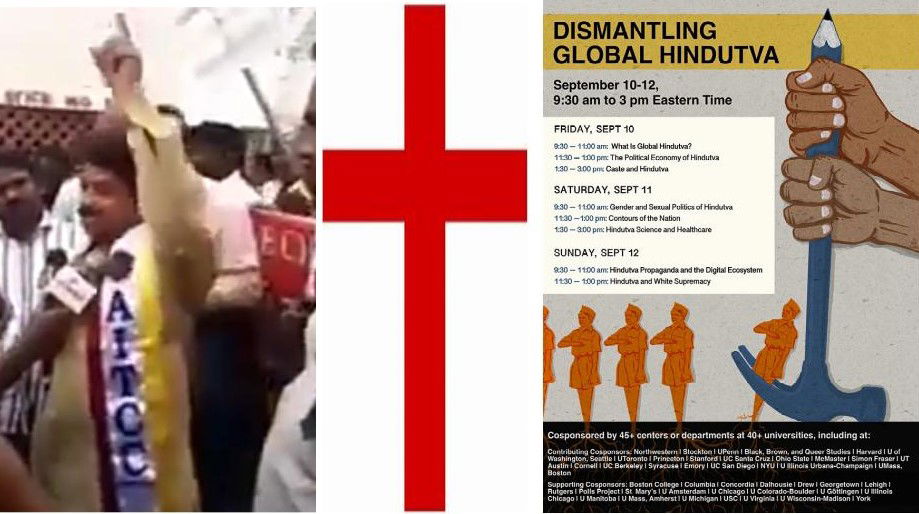 Christian evangelist Pastors are getting more and more brazen by the day in Andhra and Tamil Nadu, since the coming of soul harvester friendly regimes of YSRCP Head Jaganmohan Reddy and DMK Chief MK Stalin. Last month, hatemonger Pastor George Ponnaiah from Kanyakumari called Bharat Mata filthy, abused PM Narendra Modi and Amit Shah wished them a horrible death with dogs and worms eating up their bodies.
Yet another Pastor from Andhra named Upendra, Deputy Director of the Bible Open University International, in a viral video can be seen demanding that India should be split into two and one half should be given exclusively to Christians as a separate state.
The viral video was tweeted by SC/ST Rights Forum, where Pastor Upendra can be heard saying, "Under the leadership of our beloved leader Mr. PD Sundara Rao, we, on behalf of All India True Christian Council demand that India should be split into two and one half should be given to Christians as a separate country. We will not bother you then."
Not only is the Pastor demanding separate Christian country, he is also threatening India that Christianists evangelists would gear up their expanded community through rabid conversions to fight against India for a separate nation on the basis of religion.
While so-called liberals, who are nothing but a mafia of communists-evangelists-Jihadists combine are busy trying to hold a global conference titled, "Dismantling Global Hindutva" co-ordinating with Hindumisic faculties in over 41 universities of western (read Christian) world. The global evangelist and jihadist mafia wants to tear apart India into two halves, one for Christianists and other for Islamists.
Billions of dollars is pumped in from abroad which is not only spent on conversion of Hindus to either of the Abrahamic faiths, but also to line up the pockets of their front offices, which often masquerade as journalists, academicians and human rights activists to achieve their goal. Pastor Upendra is just openly voicing their heart's desire frankly without any pretence.
No wonder while we have rabid evangelists like Pastor Jegath Gasper, Sargunam, George Ponnaiah, Upendra and countless other jihadists who want to tear up India and annihilate Hindus and Sanatan Dharma, the global anti-Hindu mafia want the world to believe that Hindus and Hindutva (Hinduness) as intolerant bigots!
Featured image is collage of pictures sourced from internet.
DISCLAIMER: The author is solely responsible for the views expressed in this article. The author carries the responsibility for citing and/or licensing of images utilized within the text.