LRPF Complains Against Telangana IPS Praveen Kumar For Propagating Anti-Hinduism & Creating Enmity In Society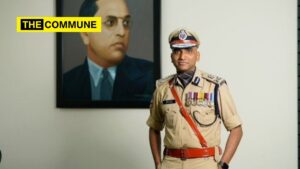 In a shocking case, a video surfaced on the social media which showed RS Praveen Kumar, an IPS officer and Secretary to the Telangana Social Welfare Residential Educational Institutions Society taking an anti-Hindu oath which insults Hindu Gods, Hindu traditions and Hindu sentiments.
The Legal Rights Protection Forum (LRPF) has complained to the Centre against RS Praveen Kumar for promoting anti-Hindu sentiments among children and creating dissension in society by portraying Hinduism oppressive faith and urging them to not consider Hindu Deities as holy and sacred.

The complaint letter states that at an event marking the "SWAEROES Holy month" on 15 March, 2021, at Dhulikatta Village, Vadukapoor Mandal, Peddapalli District, Telangana, members of the SWAEROES and participants of the event took this pledge:
"I do not have faith in Gowri, Ganapathi or other Hindu gods. I will not worship them. I do not accept the concept of avatars of God. I will not do Sraardha Karma nor do Pinda Pradhaan. I will not do anything that is against the principles and teachings of Buddha. I will not consume alcohol. I do not believe in Rama, Krishna. I will not worship them."
A video clip of the said function was circulated in social media showing Praveen Kumar and others taking this pledge which is given below.
The LRPF wrote to Jitendra Singh, Union Minister of Personnel, Public Grievances and Pensions and the Department of Personnel and Training, and sought disciplinary action against Mr RS Praveen Kumar and has also demanded an investigation into a private organisation run by Kumar as reported by The Commune Magazine.

The complaint reportedly states, "We would hereby like to bring to your notice that Mr. RS Praveen Kumar, IPS for perpetrating anti Social activities by promoting anti Hindu ideology and corrupting the minds of children studying in schools/hostels run under the aegis of Telangana Social Welfare Residential Educational Institutions Society (TSWREIS)".

The TSWREIS was reportedly set up by the Telangana government in 2014 to provide quality education for needy, marginalised children and for central administration of the various schools, colleges and hostels run by the Telangana State Government.

The complaint further states that, "The said IPS officer Mr. R.S. Praveen Kumar had initiated a movement called SWAEROES (i.e. Social Welfare AEROES) which is indulging in highly enraging anti social activities by poisoning the minds of little children and the society at large in the name of upliftment of poor SC students and providing quality education. Such dubious activities in the name of welfare must stop and punitive measures must be adopted to bring such state actors working in a non-stately actor fashion to Justice in the larger interest of public peace and maintenance of Law & Order."
The complaint added that, "By taking the names of Gods and Goddesses belonging to a particular religion, Mr. Praveen Kumar ― who is serving as an IPS officer and holding the responsible chair as Secretary to Telangana Social Welfare Residential Schools department schools, being in a highly decisive, authorized public bureaucrat ― is openly spreading hatred against other religions in an uncalled for gesture".

It is claimed by the organisation that this provocative pledge draws inspiration from the pledge taken by Dr. BR Ambedkar upon his conversion to Buddhism at Deeksha Bhoomi in Nagpur, Maharashtra in 1956.

The letter further pointed out that, "The Central Civil Services (Conduct) Rules, 1964 GENERAL 3(1) (xviii) further says: 'Every Government servant shall at all times refrain from doing anything which is or may be contrary to any law, rules, regulations and established practices.' The conduct of Mr. RS Praveen Kumar IPS in setting up SWAEROES organisation and carrying on hate and divisive propaganda is clear contravention of Rule No. 4 (2)(3) of Central Civil Service (Conduct) Rules 1964."

The letter informed that, "Mr. R.S. Praveen Kumar who is an IPS Cadre officer has been appointed as the Secretary to the TSWREIS and has been continuing in the same position and department for more than 7 years of long period which is a contravention to the general practice of Department of Personnel & Training. Besides this, he was recently promoted as Additional Director General of Police without having any experience in serving as a full time Police Officer".

The complaint alleges intimidation of teachers and brainwashing of young children to hate the tenets of Hinduism and consider Hindus as some vile oppressors. The letter also came to a very worrying analysis of the misuse of the state run educational institutions meant for the upliftment of the marginalised sections of society as Praveen Kumar and SWAEROES have "reportedly taken complete control of hundreds of tax payer funded, government run educational institutions."

The complaint letter shockingly reports that, "They (SWAEROES) allegedly intimidate the teaching and administrative staff working in these institutions, conduct regular anti-Hindu meetings with minor school/college children and plant the seeds of hatred and division in young minds. The rules of these schools/hostels are tweaked to deny holidays for Hindu festivals. Children are brainwashed and forced to take pledges not to celebrate their family faith and ancestral traditions. The parents of these children are shocked to learn of these things when children come home for holidays. Any protest against these activities are ignored and brushed aside."

Moreover, the complaint says that as part of the Buddhist teaching forced upon them, children's heads are regularly tonsured and that they are sent home with cleanly shaved heads.
The complaint says, "Children are forced to take pledges with clenched fists, in pure Nazi Hitler style. These pledges are devised by the SWAEROES team. Normal pledges taken by children across the nation on national integrity and communal harmony are not given to minor children who come under the control of SWAERO".

The letter states, "The activities of Mr. RS Praveen Kumar and his organisation SWAEROES and their members/volunteers are allegedly stoking casteist sentiments amongst the vulnerable children and the society at large to create grounds for religious based conflicts and disruption of law and order. Forcing minor children to hate their ancestral faith and adopt a new faith is a serious violation of the fundamental rights of children as guaranteed by the Constitution of India. In addition, the activities of SWAEROES in forcing children under their custody to hate a particular set of beliefs and adopt a new set of beliefs is a clear violation of Article 14 of the United Nations Convention on the Rights of the Child".

The letter thus says, "The dangerous nature of these activities become even more frightening considering that Mr. RS Praveen Kumar is an employee of a state-run institution and for the vulnerable society it may seem that his actions are backed by the state but in lawful terms his venomous actions could be deemed as institutionalized subversion of little children to serve his personal mala fide intents".

The letter warns about the danger of poisoning young minds and slowly shape them to become human bombs endangering the society. The letter says, "Corrupting the minds of minor children and filling them with hatred is no less a crime than what certain religious extremists do to minor children by strapping explosives around them. In both the cases it is only those minor children and their bereaved families at a loss. Such poisoning of gullible minds will only make them into human bombs and it will be the entire society that will pay the price if people like Mr. RS Praveen Kumar are not dealt with an iron fist of law".

The letter thus, seeks a thorough investigation on the dubious activities of SWAEROES and direct the police to lodge an FIR against Praveen Kumar and prosecute him for "creating enmity between different religions and castes".
The letter also seeks a probe on the source of funds, donors and sponsors of Kumar and his SWAEROES organisation which could very well be backed by nefarious evangelist organisations wanting to convert the young children and their families to Christianity by filling their minds with hatred against Hinduism.
Last but not the least, the complaint also demands an immediate departmental inquiry into Kumar's mysterious and convenient prolonged posting as Secretary to the Telangana Social Welfare Residential Educational Institutions Society for years together without any transfers to aid his dubious activities of poisoning young minds against Hinduism. The LRPF complaint therefore prays for initiating strict administrative action against him at war footing before he does further damage to society.
News and Image Source: The Commune magazine
DISCLAIMER: The author is solely responsible for the views expressed in this article. The author carries the responsibility for citing and/or licensing of images utilized within the text.