Massive Outrage By Netizens Forces Ayush Ministry To Junk Kareena Kapoor Khan's Promotional Video For Yoga Day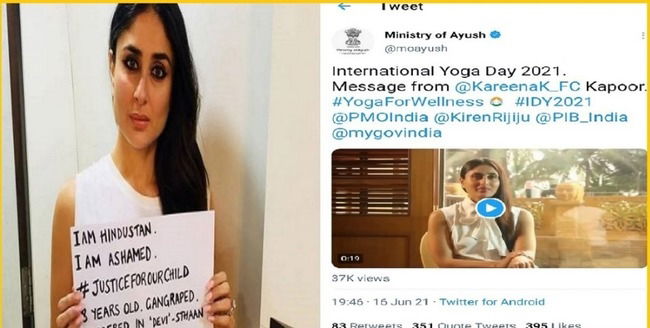 A massive outrage was triggered in social media after the publication of Ayush Ministry's Yoga Day promotional video featuring Kareena Kapoor Khan on June16 th. Netizens were outraged that the Ayush Ministry could not get anyone other than a habitual Hindu baiter, Kareena Kapoor Khan with known hatred for Hindu festivals like Karva Chauth, Raksha Bandhan etc. to be an ambassador for our ancient holistic wellness science, Yoga. Yoga is not a physical exercise or contortion technique, it is a way of life with deep roots in Sanatan Dharma which promotes mental, physical and spiritual well-being.
It therefore, very shocking for Dharmic followers of Yoga to see a person filled with venom for Sanatan Dharma being officially chosen to promote Yoga. Kareena, very famously stood with other Hindu hating worthies from the Bollywood film industry with placards running a campaign against Hindus and Hindu Temples soon after the Kathua case. The placard said 'I am Hindustan I am ashamed, 8 year old raped in Devi Sthan'.
The Kathua case itself seems to be cooked up by the jihadis to frame a Hindu priest's family for strongly resisting Land Jihad in Jammu. Pertinently, the Devi Sthan or Temple where the rape and murder of a young 8 year old girl was supposed to have taken place, is a small room with open grill windows on all its four walls making it impossible to hide a girl for a week in the Temple as it was alleged.
Also the prime accused was not even at Jammu, as he was writing an exam in Meerut when the crime was supposed to have been committed. The case is full of loop holes and more a propaganda against Hindus who resist jihad in Jammu. The case smacks of jihadi conspiracy with international nexus to defame Hindus and more importantly aimed at emptying out Hindus from sensitive Kathua area to aid jihadi terrorist infiltration from the nearby Pakistan border.
Coming back to protest against Ayush Ministry's promotional video featuring Kareena Kapoor Khan, it was only natural that a barrage of netizens severely criticised the ministry for their slavishness to choose anti-Hindu, anti-BJP, anti-Modi cabal members to promote Yoga, which is one of the finest gifts of our Sanatani ancestors to the world.
BJP leader Kapil Mishra also tweeted, "Seriously @moayush is this a reward for this?" and beneath was pasted the picture of Kareena Kapoor Khan with infamous placard on the Kathua case.
It is good that better sense prevailed in the Ayush Ministry and the video featuring Kareena Kapoor Khan was withdrawn today. It is important that the various ministries in the BJP government at the centre should not try to appease anti-Hindu 'secularist' celebrities who have visceral hatred for Hinduism, Hindu culture, the RSS and Sangh Parivar while openly promoting jihadi terrorism and Islamo-Fascism.
It is foolhardiness to try and buy out their allegiance to nationalism and attempt to blunt their militant hostility against BJP government by bribing them with tax payers' money. It is essential that the BJP government at the centre wakes up to the fact that this anti-national cabal operates as an arm of an international allegiance of Abrahamics with an aim to wipe out Sanatan Dharma and are funded very handsomely to carry out anti-Hindu, anti-national agenda.
News input and image source: Organiser
DISCLAIMER: The author is solely responsible for the views expressed in this article. The author carries the responsibility for citing and/or licensing of images utilized within the text.