Message from UP to pseudo-intellectuals and cosmetic-liberals on UP's encounter cases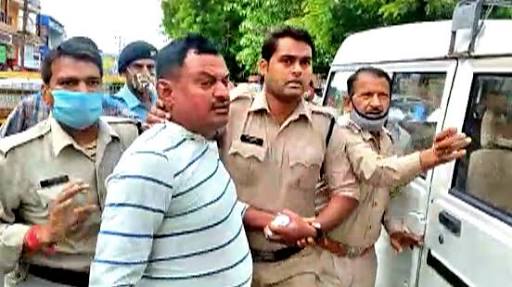 The cosmetic liberals are widely seen to be equivocal in their demand for the rule of law in UP and for this they have already filed atleast 4 PILs in Supreme Court alleging foulplay in Vikas Dubey's encounter. Notwithstanding their romance with criminals, the day is not far when we will see protests all around the country holding placards for "Justice for Vikas", "I am ashamed" or maybe a passionate chanting of slogans "Tum kitne Vikas(criminal) maroge, ghar ghar se criminal niklega".
Where were these pseudo-intellectuals when this dreaded criminal was orchestrating his dance of heinous crimes all across Uttar Pradesh? What was the judiciary doing when he killed a sitting MLA inside a police station and no one was ready to be a witness, which resulted in his acquittal?
Why was there not a single PIL filed by these cosmetic liberals when this monster, after threatening him of murder, shot the Circle officer Devendra Mishra along with 8 policemen and tried butchering his legs brutally with an axe?
Above all, why should we believe that this criminal wanted to surrender suddenly when he never surrendered in 60 odd cases and has been on the run for the last 2 decades, even winning elections on SP-BSP tickets? Wouldn't he wish to be on the run again?
The dichotomy of the pseudo-intellectuals and conspiracy theorists isn't that easy to blur this time and these ill-founded demands of questioning the alleged over-action need to be exposed. Don't the people, who got brutalized or even threatened by him, have their own rights? Didn't he violate their human rights out of sheer vengeance? But who cares for them?
Uttar Pradesh has witnessed a history of bloodshed with our policemen being mute spectators for the more than 20 years of misrule of the socialist parties(SP-BSP). All of a sudden, these very spectators started to challenge their muted status and take a decisive policy shift against the widespread gunda raaj. The people of UP have seen those days when our women and younger ones couldn't go out after the sunset, due to these very henchmen roaming freely and terrorising our streets. Can't we appreciate these erstwhile muted spectators for displaying the will to act?
The state which has seen perpetual horror of goons as a norm for last 3 decades desperately needed strict action against these gundas. When the drains become too dirty and smelly, someone needs to put their hands in that very dirt to clean the drains!
DISCLAIMER: The author is solely responsible for the views expressed in this article. The author carries the responsibility for citing and/or licensing of images utilized within the text.