MK Stalin Govt Appoints Pro-Maoist Evangelist As Member Of TNPSC & Demolishes 100 Yr Old Hindu Temples In Coimbatore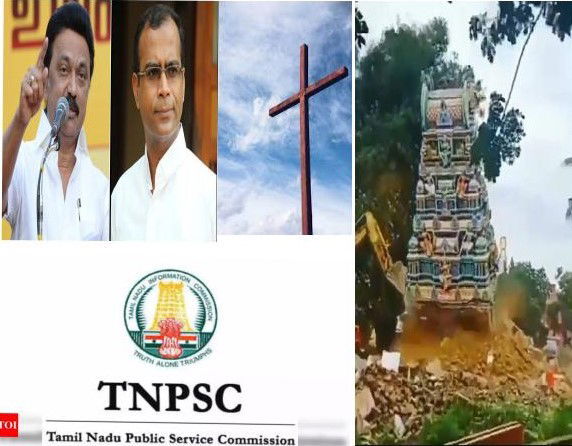 The DMK government has now formally declared itself to be a pro-Christian evangelist and anti-Hindu regime by appointing for the first time in history a pro-Maoist Evangelist, Father A Raj Mairasusai as a member of the Tamil Nadu Public Service Commission on one hand and on the other hand, demolishing seven temples many of them more than 100 years old in Coimbatore in the name of development on Tuesday.
Evangelist Mariasusai's Close Links With Evangelist-Maoist Stan Swamy
Evangelist Mariasusai is a well known sympathiser of ultra left-wing terrorists and is one of the four newly appointed members of the TNPSC by the MK Stalin government. Notably, this is the first time in history a religious figure has been appointed as a member of the Public Service Commission. That in itself a questionable move other than the fact that Mariasusai has reportedly an extremely controversial history and also allegedly enjoyed a very close relationship with Evangelist-Maoist Stan Swamy who passed away recently on July 5th.
Mariasusai is associated with evangelist organisation, Retreat Don Bosco Yercaud which held a program in memory of the Evangelist-Maoist Stan Swamy by purportedly distributing relief materials for tribals. Pertinently evangelist organisations by their own admission have used the pandemic period as a boon to convert over 1 lakh Hindus and plant over 50,000 churches in India. Stan Swamy, was in judicial custody and accused in the Elgar-Parishad Bhima Koregaon violence case and died last week at a Mumbai private hospital.
Demolition Of Century Old Temples At Coimbatore
On Tuesday, the DMK government facilitated the demolition of seven centuries old temples, about 100 years old in Coimbatore to clear encroachments for development projects.
The holy Angaala Parameshwariamman Kovil which is more than 100 years old was razed to the ground along with six other temples at Pusaripalayam. Kumaraswamy colony's Arulmigu temples in Coimbatore has been demolished and reduced to dust by Coimbatore Corporation.
The corporation has demolished Amman Kovil, Bannari Amman Kovil, Angala Parameswari, Karupparayan Kovil, Muneeswaran Kovil, and a few other temples on the northern bund of the Muthannakulam tank by stating that the temples were situated on the path for rejuvenation of the local lakes and development under the Smart Cities Mission.
Ancient Temples Demolished Surreptitiously, Mobile Jammers Used To Bar Communication
Notably, the demolition exercise was carried out by the local administration surreptitiously like thieves early in the morning at 6 am, they also curbed communication by jamming mobile phones, so that the atrocious act of demolishing ancient temples are not recorded by mobile phones and the public is kept in dark and not informed about the incident as it happens.
250 Hindu Munnani Members Arrested For Protesting Demolition Of Ancient Temples
Members of the Hindu Munnani and locals vehemently protested against the barbaric demolition of pious temples reminiscent of Islamic period in India. The Hindu Munnani members had requested the local administration to allot an alternative site for the temples and to carefully transfer the temples to the other site instead of razing it to dust hurting the religious sentiments of Hindus and violating the fundamental right to pray of Hindus. Nearly 250 members of the Hindu Munnani were arrested for protesting against the demolition.
No Action On Thousands Of Illegal Churches on Encroached Public Land
Notably, there are thousands of illegal Churches in Tamil Nadu built on public land and encroaching several hilly areas in Tamil Nadu. The most illustrious case is of the entire Vajragiri Hill being encroached by illegal Churches, which even impedes access to the 1500 year old ancient Shiva temple atop the sacred Hill. The DMK party which has historically very close connections with rabid evangelists running conversion businesses has facilitated over the years construction of Churches on public lands, so it is not surprising that it goes on a mission to demolish ancient Hindu temples under the garb of development.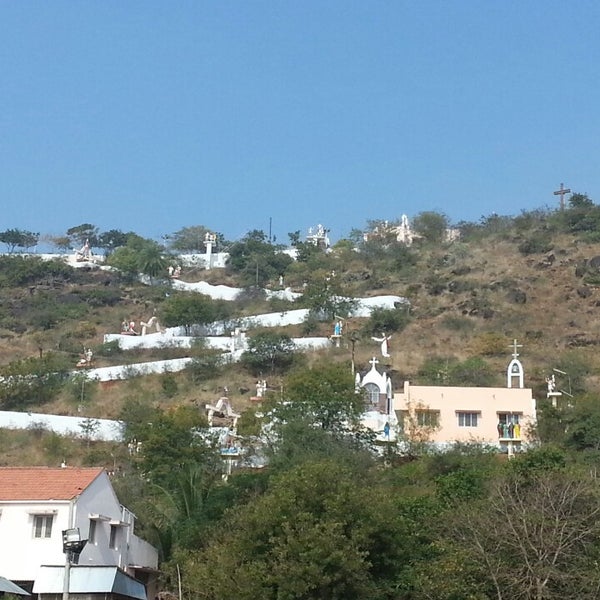 DMK Openly Signals Pro-Maoist-Evangelist & Anit-Hindu Policy Of Governance
The DMK has openly signalled its anti-Hindu agenda by demolishing ancient temples and appointing Evangelist Mariasusai as a member of the Tamil Nadu Public Service Commission. It has brazenly taken a stand to pursue government policies backing secessionists, Maoist terrorism and encouraging illegal conversions of Hindus in direct contravention of the mandate given by the Constitution of India. It is high time the nationalist Sanatanis gear up and get our act together to combat civilizational enemies.
Related articles by the author for further readings: Aurangzebi MK Stalin Govt Demolishes Seven Temples in Coimbatore, While Leaving Untouched Entire Vajragiri Hill Encroached By Christian Mafia – 240 Hindu Munnani Protestors Arrested – Kreately
Hindu Munnani Petitions Supreme Court To Reclaim Vajragiri Hill Housing Ancient Shiva Temple From Encroaching Christian Missionaries In Tamil Nadu – Kreately
DMK Kanimozhi's hypocrisy On Sexual Harassment – Silent In Loyola College Case & Vocal In PSBB School Case. Is DMK Conspiring To Takeover Hindu Schools? – Kreately
DMK Govt's Hypocrisy: Wants Women Priests In Ancient Hindu Temples Of Tamil Nadu, While Silent About Demands For Appointing Dalit Christian Archbishops and Women Maulvis in Mosques. – Kreately
DISCLAIMER: The author is solely responsible for the views expressed in this article. The author carries the responsibility for citing and/or licensing of images utilized within the text.