Mother of Lavanya lashed out at the media for doubting her daughter's dying declaration.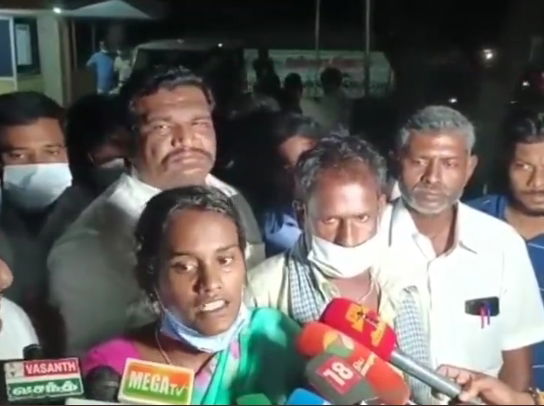 Mother of M Lavanya, the courageous girl who decided to end up her life and not bow down in front of Christian missionaries lashed out at the media for doubting her daughter's dying declaration.
In a video circulating around the social media , mother of M Lavanya could be seen weeping and demanding justice for girl. The video also shows the mother of Lavanya lashed out at the media for doubting her daughter's dying declaration. The hard reaction of her came after a journalist questioned the conversion angle present in the suicide case. The journalist told her that the police has said the allegations that Lavanya presurrised to convert to Christianity from the school authorities was false. In the reply, M Lavanya's mother replied angrily "Do you want to say what she said in her dying declaration is false".
This is classic victim blaming by the Tamil journalist. Lavanya has given a dying declaration that she was being forced to convert to Christianity. Why would a dying child lie? This is absolutely sick! #JusticeforLavanya
pic.twitter.com/YnHsMlI7am

— Shefali Vaidya. 🇮🇳 (@ShefVaidya) January 22, 2022
An unfortunate incident took place which clearly describes what Predatory Proselytization by missionaries look like. The very concept of Abrahamic religions like Islam and Christianity is itself hazardous for the peace loving society.
M Lavanya, who was a student of Sacred Heart Higher Secondary School, Thirukattupali in Thanjavur, Tamilnadu, commited suicide after she was forced and tortured by school authorities in order to convert her to Christinity. Lavanya was a Hindu daughter of a poor farmer. She used to study in 12th standard. She committed suicide by drinking poison when was forced to convert to Christianity at school. She was also told by the school authorities that she will not be allowed to continue her studies if she will not not convert. School authorities even cancelled her leave for Pongal festival and forced her to do chores like cleaning toilets and washing dishes. Lavanya courageously showed her resistance and always refused to convert. She consumed the pesticides which was used in garden in order to end her life. It must be noted that the Christian missionary school was government aided.
BJP protested in Tanjore by BJP seeking Justice for Lavanya and also demanding closure of the school that is allegedly involved in proselytism.
DISCLAIMER: The author is solely responsible for the views expressed in this article. The author carries the responsibility for citing and/or licensing of images utilized within the text.