The ones who stood against Nupur Sharma for her remarks are now welcoming Hinduphobic Comedian Munawar Faruqui.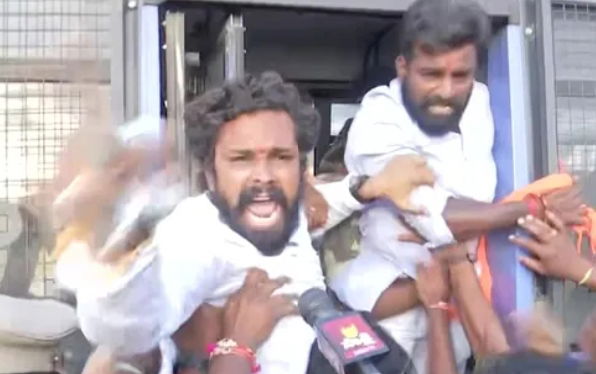 Over 50 people, including Bharatiya Janata Yuva Morcha members, were held on Saturday night in Hyderabad after they arrived at the location of an anti hindu stand-up comedian Munawar Faruqui's performance. Prior to the event on August 20, a significant police presence was present at the site. People who had purchased tickets for the event were permitted entry to the location at Shilpakala in Hitech City, which is under the control of the Madhapur police station. It's noteworthy that Stephen Raveendra, the Cyberabad police commissioner, was also in the crowd. This comes after T Raja Singh, an MLA from the Bharatiya Janata Party, was detained on Friday for objecting to Faruqui's programme.
Regarding Faruqui's performance in Hyderabad, Raja Singh stood against the event. In response to the MLA's request, the police arrested him instead of preventing Faruqui from giving a performance in Hyderabad. Singh opposed to Faruqui's performance, claiming that in the past, Faruqui had disrespected Hindu deities in his performances, which had led to criminal charges. Singh suggested that it would be better to assist Telangana artists who are talented than than invite someone who denigrates God. Earlier, Bandi Sanjay Kumar, the head of the Telangana BJP, urged people to skip Faruqui's performance. He told a throng on Friday in Khila Shapur, Jangaon district, that Faruqui ought to be shunned since he disdained Hindu deities. Raja Singh said "We all worship Sita Devi… we see her everywhere in water, air, fire and land. He has insulted our Sita Devi and our lord Rama…TRS party people have called him to Hyderabad as a chief guest. We do not need him, we will boycott him
It is noteworthy that Munawar Faruqui insulted Lord Ram and Sita on January 1, 2021, during a performance in Indore. The Madhya Pradesh police filed a complaint against him in accordance with sections 295A, 298, 269, 188, and 34 of the Indian Penal Code. Additionally, he was detained and later freed on bail . It should be noted that earlier on Friday, police in the neighbouring state of Karnataka refused permission for Faruqui's event, which was slated to take place in Bengaluru on Friday. The Hindu group Jai Sri Ram Sena objected, and the Bengaluru performance was postponed.
DISCLAIMER: The author is solely responsible for the views expressed in this article. The author carries the responsibility for citing and/or licensing of images utilized within the text.