Muslim girl gets married to a Hindu youth, becomes Ishika from Iqra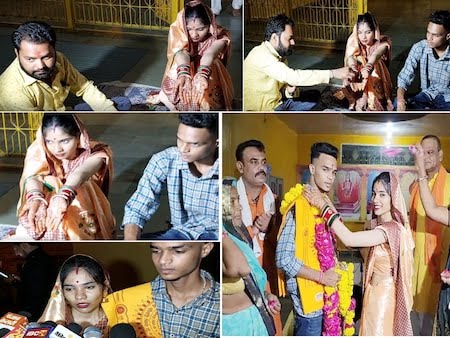 A Muslim girl from Rajasthan, Iqra, fled away from home and adopted Sanatan Dharma in Mandsaur and married a Hindu boy named Rahul Verma amidst Vedic chants. This marriage has been making rounds on social media. Before marriage, Iqra did a Ghar Wapasi (returned back to the religion of her ancestors) and accepted Hinduism. Iqra will now be known as Ishika. After marriage, Ishika has sought protection. The love story between the two started from Jodhpur, around 3 years ago, when they both were neighbors. When the love blossomed and finally both of them decided to get married, the wall of religion came in the middle. Finally the muslim girl embraced Hinduism and married her Mandsaur lover and broke the shackles of Islamic patriarchy. The family members of Rahul had agreed for the marriage but the family members of Iqra did not gave their consent.
Ishika and Rahul Verma's love story is like a film script. Three years ago, Rahul Verma of Mandsaur went to his maternal grandmother's house to stay in Jodhpur. Nearby was Iqra's house. They became friends and slowly this friendship between the two blossomed into love. Both of them thought of getting married to give a destination to their relationship. The wall of religion was between the two as Rahul's family members agreed but Iqra's family members were against this relationship.
Iqra explained a lot to her family members but did not get success. Lastly she ran away from her house and reached Udaipur. She got her marriage papers prepared in the court in Udaipur itself. Later both of them came to Mandsaur where they first submitted their marriage papers in the police station and then got married according to the tradition of Sanatan Dharma and according to the customs of Hindu religion.
Iqra looked very happy at the wedding. She said, 'I have become Ishika now. I have married Rahul out of my own free will. My family members are opposing the marriage, so we should also be given security.' Rahul also said that they both have married with each other's consent. When Iqra agreed to become a Hindu, he asked permission from his family members and his family members were ready.
Chaitanya Sanatani, who had left Muslim religion three months ago, played an important role in the marriage of Ishika and Rahul. Zafar Sheikh, a resident of Mandsaur, is now known as Chaitanya Sanatani. His wife was from Hinduism, so he too had converted to Hinduism. Chaitanya Sanatani confirmed that Iqra had converted from her own free will and has married of her own free will.
DISCLAIMER: The author is solely responsible for the views expressed in this article. The author carries the responsibility for citing and/or licensing of images utilized within the text.