NaMo Transforming Bharat

Ever since Narendra Modi took over the mantle of serving the nation as Prime Minister in 2014, there have been several multifold challenges not just by external enemies of Bharat, but also by their strong nexus with internal enemies strongly built as an ecosystem over the last 7 decades fully supported by the Congress and their anti-Hindu convert slaves via regional parties. To top it, majority of the population comprising of Hindus were not even aware of these break-Bharat forces working in tandem with 1000s of fraud NGOs whose backbone were broken by NaMo. The left ecosystem is rattled.
While Modi is dismantling the global anti-Hindu cabal in stealth mode and hence cannot be deciphered by fickle minded hyper (or pseudo) Hindu journalists on TV and obviously non-reported even by mainstream media slaves run by Communists China for fear of getting exposed – here's a series of various development initiatives/activities/decisions taken under this Modi regime, that will forever transform Bharat in many which ways.
Not surprisingly, it's not given the focus it deserves by the mainstream media.
Water Connections

Lot has changed after that. And for women like these Modi Govt started the Har Ghar Jal Mission Jal Jeevan Mission – Har Ghar Jal – Provided tap connections to over 4.45 Cr households in last two years – Mission to be completed by 2024.
SVANIDHI Scheme: Empowering Street Vendors
22.7 lakh loans amounting to ₹2,243 crore have been disbursed to street vendors under SVANIDHI scheme.
Details here.
Electricity Connections
https://www.newindianexpress.com/nation/2021/jul/14/kadola-village-in-jammu-and-kashmirgets-power-supply-for-first-time-2329991.html
"We have got electricity for the first time. There are about 25 houses that have got electricity. Our children could not study. Even to charge our mobile, we used to travel to Ramban town. Now we plan to get a TV to stay up to date about the world,"
Wonder if we can truly appreciate what this means for people who haven't had electricity until now. Multiply the same for those getting toilets, homes, LPG and water connections!
Transformed Kaashi (Varanasi)
Kashi is being holistically developed. Every aspect where life of common people can be touched with development has been taken care.
Be it Ganga, Ghats, Hospitals, Park, Clean drinking water, school and infrastructure projects. Watch the remaining parts of the video ?
Transforming Education
Details are covered here, and the icing on the cake is this news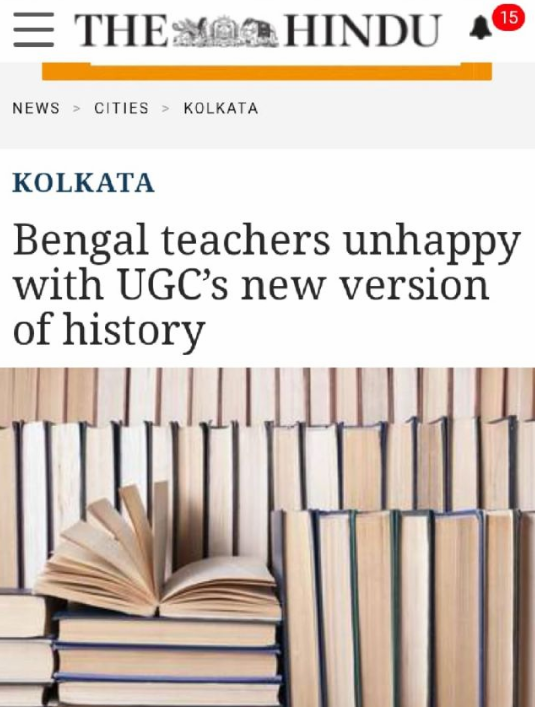 If the TMC party cadre which makes up almost the entirety of govt teachers in WestBengal aren't happy with the syllabus that can only mean it's an excellent syllabus.
.. and this one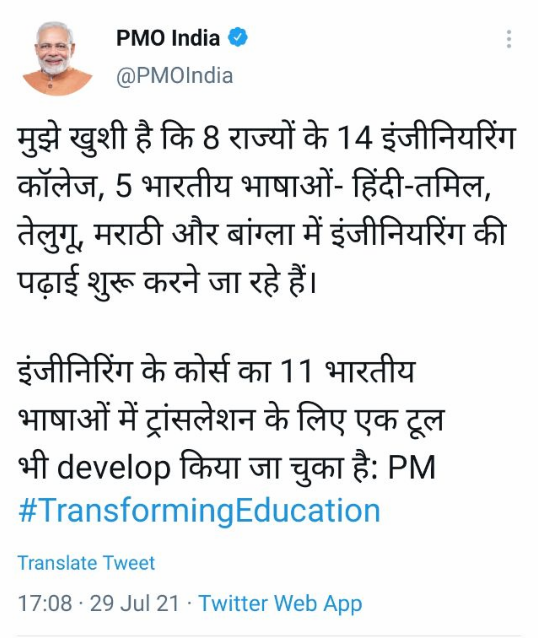 Science City in Ahmedabad
Electrification of Railways
?Railway Electrification (% of total route)
?? Japan – 75%
?? Bharat – 71%
?? China – 68%
?? South Korea – 60%
?? European Union – 55%
?? Russia – 51%
?? United Kingdom – 33%
?? Australia – 10%
?? USA – 1%
?? Canada – 0.2%
?? Pakistan – 0%
?EU is at 55% because of Switzerland and Sweden. Switzerland has done 100% rail electrification whereas Sweden stands at 84%.
?Electrified railway track (by FY):
1951: 388 kms
1971: 3,706 kms
1991: 9,968 kms
2001: 14,856 kms
2011: 19,607 kms
2014: 21,614 kms
2018: 29,228 kms
2019: 34,319 kms
2020: 39,329 kms
2021: 45,881 kms (As on March 31, 2021)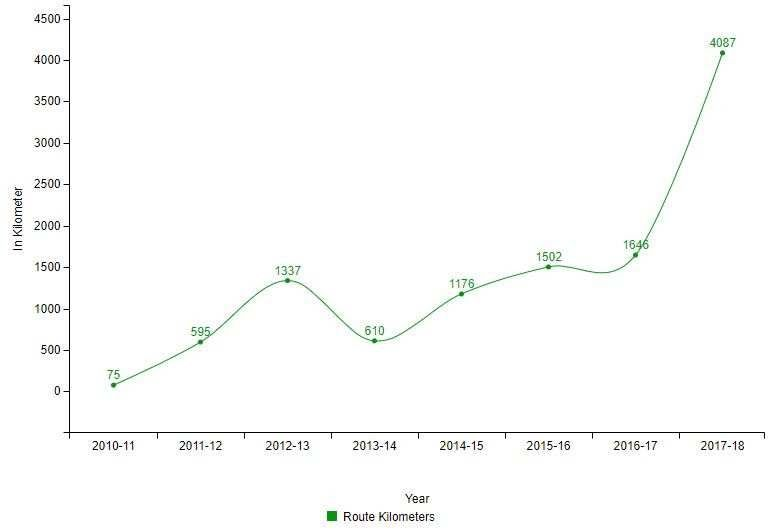 ?More than 5X electrification was achieved during (2014-21) last 7 years as compared to during 2007-14. Since 2014, a record 24,080 RKM (37% of present Broad Gauge routes) have been electrified against electrification of 4,337 RKM (7% of present Broad Gauge routes) during 2007-14.
?Out of total 45,881 RKM electrified so far, 34 % has been electrified in last 3years only
Bharatiya Railways has also commissioned a record 56 TSSs ( Traction Sub Stations) during 2020-21, as against the previous best of 42, which is an improvement of 33%despite the COVID-19 pandemic.
?We save around ₹18,000 crore on diesel bills every year. Additionally, if we electrify Bharatiya Railways by solar (₹2 per kwh) rather than Coal (₹7 per kwh), we can save another ₹12,000 crore.
Approx ₹30,000 crores of savings annually if we go green.
Revitalized Khadi Generating Millions Of Jobs

Khadi isn't merely a handmade product in Bharat or a symbol of its past. It is a practical tool enabling greater development in rural areas of our country.
?Efforts to mainstream Khadi since 2014 has paid off.Production & sale of Khadi have gone up & so are exports. Khadi for the nation,Khadi for fashion hasn't remained a mere slogan. March of Khadi under Smriti Irani has picked up speed like never before!
?Two crucial factors take the credit for the Khadi renaissance. The first one, personal promotion and impetus given by Prime Minister Narendra Modi early on in his first tenure.
?Second, as the world woke up to "sustainable fashion", Khadi lent itself to the cause with its sustainable nature and versatility.
?Between 2014 and 2019, the production of Khadi has increased by 123% and the sales by 175%.
The introduction of the Prime Minister's Employment Generation Programme by KVIC regarding non-farming village activities has positively impacted employment generation numbers. Link: https://pib.gov.in/PressReleasePage.aspx?PRID=1738820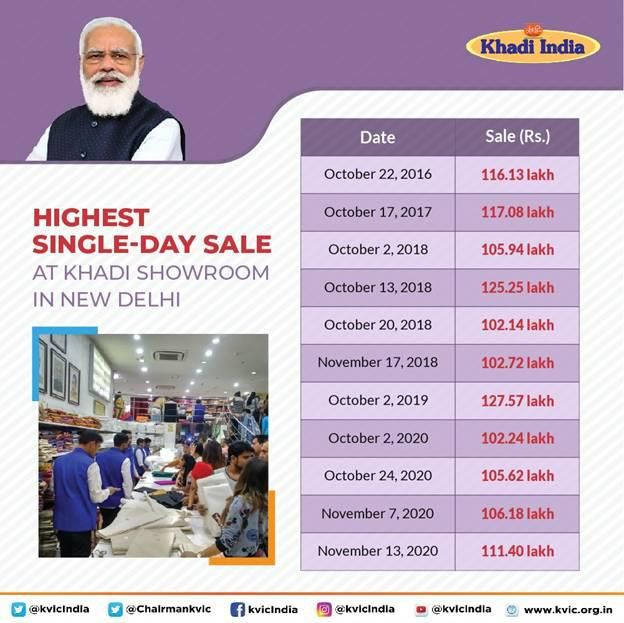 ?Efforts to mainstream Khadi since 2014 has paid off. Production and sale of Khadi have gone up and so are exports. The Khadi boom has provided a means of livelihood to a large number of people in rural Bharat, especially at a time when reverse migration has made it imperative to increase employment opportunities in rural Bharat.
?Amidst the COVID-19 crisis, Khadi & Village Industries Commission (KVIC) achieved its highest ever turnover, a commendable feat given the pandemic related lockdowns and restrictions.
?It was quick enough to produce and market essential products during the pandemic, like masks, hand sanitisers and also launched a khadi e-portal, pushing the sales up to an all-time high.
?KVIC registered a gross annual turnover of Rs. 95,741 crores in the year 2020-21 compared to Rs. 88,887 crores registered in the previous year.
?Brand Khadi in the fabric segment stands on a strong foundation today. It has to tide over the pandemic to catch up in revenues with other village industry products.
?Social impact of KVIC turnover must be more than that of ITC and HUL -this is another success story in series of similar achievements of Narendramodi Govt.
?The trickle down effect of this 95,741 crores on rural sector must be huge …..
?If not for the Wuhan virus forced lockdown, this could have been 25-30% higher.
?Must encourage 1 Khadi day per month at Workplace. Will go a long way in wider acceptance of Khadi & increase in sales.
?Wear Khadi, promote Swadeshi ???
Boosting Agricultural Produce & It's Exports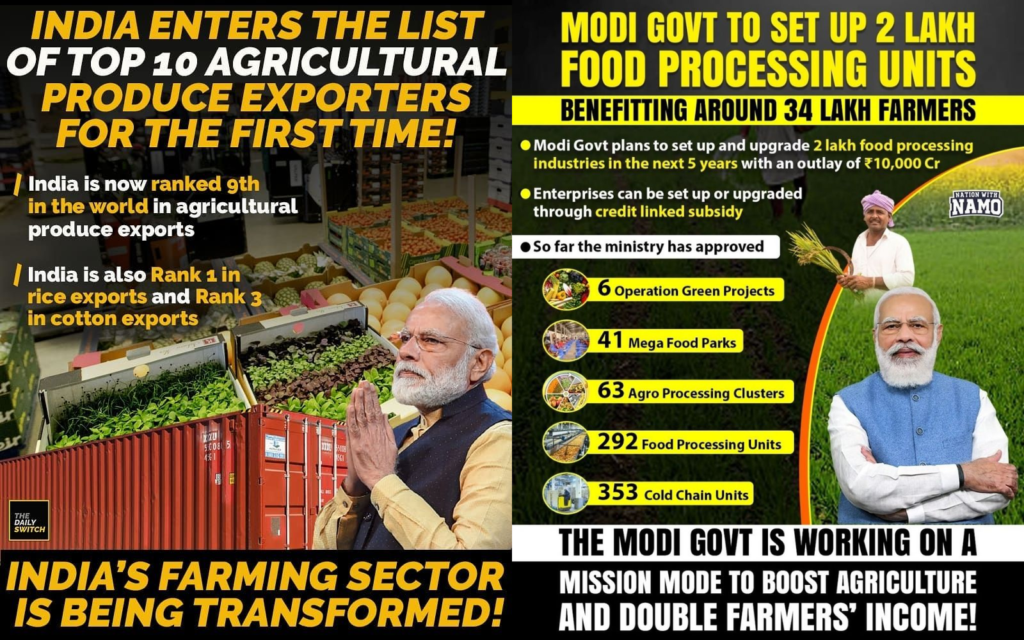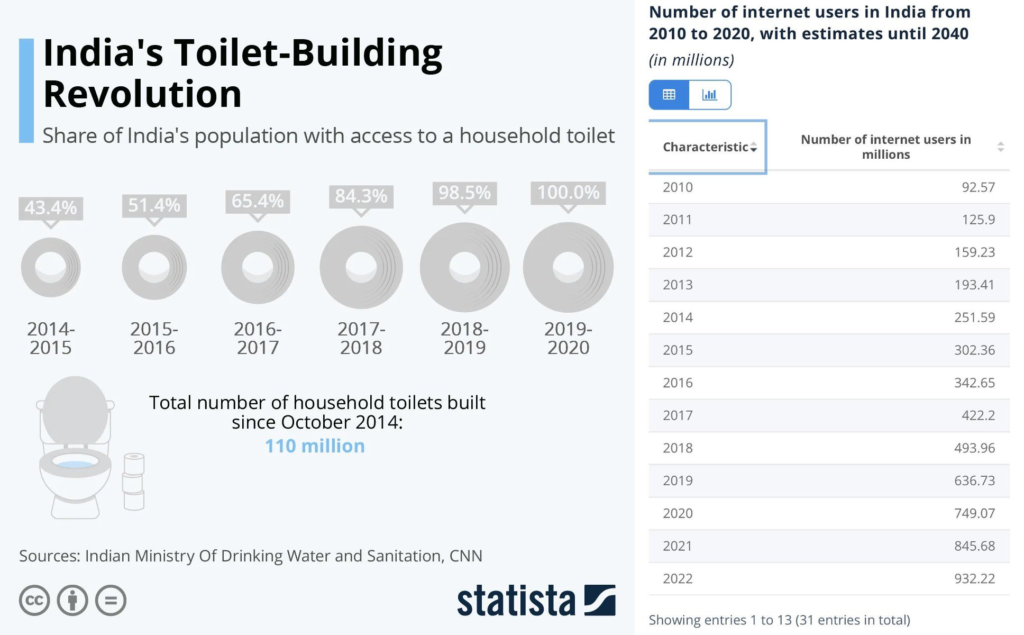 Unicorn Boom
?Bharat's startup ecosystem is going through a boom as nearly 28 companies turned into unicorns in 2021 itself.
?10 companies turned unicorn in 2020, 9 companies turned unicorn in 2019 while 8 companies turned unicorn in 2018.
Highlights of Modi's US visit from economic win-win perspective
Hon'ble Prime Minister's foreign visits which often came for criticism by the lutyun's media, is paying rich return not only for rescuing Indians from crisis zones but also attracting huge investment in India. Read how much we got in just one trip to USA.
First meeting with Head of Qualcomm and you can already see huge investment done by this company in Bharat and they are just expanding very big.
Second meeting with Head of Adobe, again IT Tech Giant. Bharat is already the best in Digitisation and FinTech. More to come
Third Meeting with Head of First Solar company which is a very big firm in the renewable sector especially Solar with unique thin-film technology. PM invited him in PLI Scheme and He is coming to Bharat.
Fourth Meeting with the Head of General Atomics. General Atomics is an American energy and defense corporation headquartered in San Diego, California, specializing in research and technology development. This includes physics research in support of nuclear fission and nuclear fusion energy.
Fifth with Head of Blackstone. Blackstone is a leading global investment business investing capital on behalf of pension funds, large institutions, and individuals.
Apart from these 5 Meetings, NaMo also met the PM of Japan and Australia separately and then with VP Kamala Harris. and he showcased the power of India and opportunities in India to grow and make money for all.
The last is his address to UNGA today, where he will display the power of India in this changing world while ignoring Pakistan in a legendary way making clear to the world that Pakistan is not a country but scourge to the world..
The best part of PM Modi is – He never wastes any time, does very strategic planning with milestones, and always tries his best to do his best for Bharat.
This is called the PODIUM position for BHARAT !!!
Do join this Awesome group for Much More detailed updates and Q&A from Experts
https://t.me/joinchat/ZAAUyC_usqQxZTU9
DISCLAIMER: The author is solely responsible for the views expressed in this article. The author carries the responsibility for citing and/or licensing of images utilized within the text.