Nawab Malik, do you remember apologizing before the High Court for your statements ?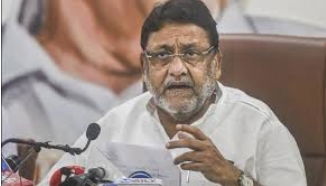 Almost a month ago NCP minister Nawab Malik went on to apologize in front of High Court from breaching the court's order of not speaking directly or indirectly against the family of Sameer Wankhede. But again, Nawab Malik went on to jump into the same bracket. He pointed out blames on NCB and also on NCB officer Sameer Wankhede. 
Nawab Malik said "The way NCB has done 'Farjiwada' since Aryan Khan's Mumbai cruse drugs case of 2nd October 2020 is now exposed. They formed an SIT and a committee and what has it done is yet unknown. Be it K. P. Gosavi or Bhanushali or bogus signing on blank papers, I have exposed them one by one. Now I am providing an audio clip in which an arbiter witness Maddy is in conversation with an NCB officer Kiran Babu wherein the officer is calling the arbiter witness to make changes in a backdated panchnama. It would be difficult to do this in the office, so we will sign the documents somewhere else. The afraid arbiter then calls Sameer Wankhede and asks what should he do. Wankhede has told him not to be afraid and do as told by Babu. This is the 'farjiwada' NCB officers are doing,. He further added "They get blank papers signed, because they know that they will be in trouble once I expose their 'farjiwada'. Then they use those blank papers to rectify as they want. This is their style."
Yet again NCP minister Nawab Malik went on to blame and put allegations against Sameer Wankhede. He said "Sameer Wankhede is planting the news that he does not want any extension and that he is planning to go on a three-month-long vacation. Why he wasn't relieved when his extension ended up on 31st? If his services in the current post were to be extended, then why wasn't done either? Why this decision is still pending? As per my information, a top leader of BJP is lobbying in the central home ministry to give extension to Sameer Wankhede."
On Friday, 10th of December Maharashtra's sitting Minister from NCP Apologized to the Bombay High Court for not following and breaching High court's orders of not speaking against Wankhede family until the next hearing.
Earlier Bombay High Court lashed out at NCP minister Nawab Malik for breaching High court's orders of not speaking against Wankhede family directly or indirectly. The Bombay High Court has sought an explanation in the form of an affidavit from NCP minister Nawab Malik breaching Court's orders not to post or make any statements against Sameer Wankhede and his family members in the public till the nest hearing.
On 3rd of December, the bench of Justices SJ Kathawalla and Milind Jadhav said, "We are prima facie satisfied that the statement made by Malik has been willfully breached by him. Before we take any action, we order him to file an affidavit stating why action should not be taken against him for wilfully breaching the statement."
On the previous hearing Bombay High Court restrained NCP minister Nawab Malik from publishing anything against Sameer Wankhede's family, directly or indirectly or through tweets or public statements, till the next court's hearing on Dec 9.
Bombay High Court adjourned the hearing till 9th of December asking Nawab Malik to not make any statements against Sameer Wankhede's family directly or indirectly. NawabMalik agreed to the decision of Bombay High Court and said he won't make statements against Dhyandev Wankhede family till Dec 9.
Earlier Sameer Wankhede's father filed Rs 1.25 crore defamation suit against NCP politician Nawab Malik. Father of Sameer Wankhede, Dhyandev Wankhede filed Rs 1.25 crore defamation suit against National Congress Party(NCP) politician and Maharastra Minister, Nawab Malik for maligning the image of his son Sameer Wankhede and his family by putting fake alligations against them.
DISCLAIMER: The author is solely responsible for the views expressed in this article. The author carries the responsibility for citing and/or licensing of images utilized within the text.