No Permission No Take-off (NPNT)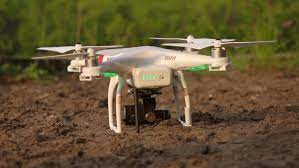 The No Permission No Take Off (NPNT) protocol is mandatory for all categories of drones, except nano type in India. In fact, a drone manufacture will only be awarded a license by the DGCA if their drones are NPNT compliant. The NPNT hardware and firmware shall be tamper proof.
All drone operators are required to register their drone and request permission to fly for each flight through India's Digital Sky Platform. Before every single flight, drone pilots are required to define a flight plan and request permission under NPNT with the concerned Air Traffic Services (ATS) to fly via a mobile app, which will automatically process the request and grant or reject it. This means that the drone needs to be configured with a special software and/or hardware in such a manner that unless the regulatory permission is given through Digital Sky Platform, the drone cannot fly.
In other words, until the NPNT add-on is implemented, no drone manufacturer should be able sell drones in India.  A permit is required for commercial drone operations (except for those in the Nano category flown below 50 feet and those in the Micro category flown below 200 feet). 
Remote Identification
Notably, Chinese drone maker DJI has recommended that India's Civil Aviation Ministry look at remote identification of drones mid flight instead of insisting on mandatory pre-clearance of NPNT. When the government had first enacted drone regulations in December 2018, DJI had openly criticized the NPNT protocol saying that it places heavy restrictions on the location, flight path, and time for operating drones, including a color-coded system for how and where drones can fly.
DJI is not keen to introduce the majority of its products in India until regulators re-evaluate Digital Sky. The Civil Aviation Ministry has worked very hard to operationalise the Digital Sky platform but there are challenges.
Remote ID is a far simpler feat to achieve than NPNT as it can be implemented with just a firmware update on most drones. These technologies were less accessible in the past. But are now being implemented by regulators around the world and there is a globally recognised standard in place that can easily be adopted by any country.
The remote identification system along with geo-fencing national security sites and airports is a good way to advance the drone industry within the Indian market in a way that is safe and secure.
GARUD (Government Authorisation for Relief Using Drones)
There are a number of users who either through a waiver or under the GARUD exemptions are using DJI products. GARUD platform has shown NPNT shortcomings. The government had announced a portal called GARUD to fast-track clearance of drones used for COVID-19 containment exercises. This is essentially a stop gap measure until the Digital Sky platform can handle NPNT permissions and also gives some amount of legality to drones flying in India. This essentially allows government agencies to use drones without NPNT and Digital Sky.
In May 2020, the Ministry of Civil Aviation (MCA) and the DGCA allowed the use of Remotely Piloted Aircraft System (RPAS) or Drones by government entities for COVID-19 related operations by issuing a conditional exemption under Rule 160 of the Aircraft Rules, 1937. Under this conditional exemption, government entities are allowed to deploy drones to conduct aerial surveillance, aerial photography and public announcements related to COVID-19.
The regulator has created a portal specifically for government bodies to deploy drones for COVID-19 related work such as aerial surveillance and photography and for public announcements. Government bodies can also use the portal to authorize third-party drone service providers to operate drones on their behalf. Called GARUD (Government Authorization for Relief Using Drones), the portal will fast track conditional exemptions to government agencies for COVID-19 related drone operations.
The COVID-19 crisis has resulted in increased deployment of drones in multiple states, such as Delhi, Maharashtra, Madhya Pradesh, Uttar Pradesh, Chhatisgarh, Punjab, Jammu and Kashmir, Tamil Nadu, Kerala and Telangana, for surveillance and containment activities.
With COVID-19 related lockdowns in the country, several police forces used drones to surveil streets to enforce the lockdown, make announcements; while some states used drones to spray disinfectants over areas that were the most vulnerable to the virus. The entire exercise has been a huge success, and the police were able to scramble gatherings across the city on a number of occasions.
Recently, in a boost for drone usage in the country, the Union Ministry of Civil Aviation has permitted drone operations on 166 new green zones across the country up to the height of 400 feet above the ground, reports Economic Times. The Ministry had already approved 66 green zones for drone operations. The additional 166 green zones have been permitted in the States of Andhra Pradesh, Chhattisgarh, Gujarat, Jharkhand, Karnataka, Madhya Pradesh, Maharashtra, Odisha, Punjab, Rajasthan, Tamil Nadu, Telangana and Uttar Pradesh.
DISCLAIMER: The author is solely responsible for the views expressed in this article. The author carries the responsibility for citing and/or licensing of images utilized within the text.