Non-Stop Rocket Attacks Pose New Challenges For Israel's Iron Dome System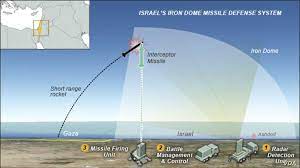 Hamas has fired more than 1,050 rockets at cities and towns across Israel from the Gaza Strip in less than two days. The Israel Defense Forces, or IDF, have been able to knock down hundreds of them thanks to Iron Dome defense systems and their Tamir interceptors. However, the sheer volume of rockets has underscored the limitations of employing Iron Dome against continuous mass saturation attacks, which is clearly the tactic at play during this recent burst of violence. It also points to how this reality incentivizes Israel's opponents to simply expand their arsenals in order to effectively penetrate Iron Dome defenses. 
The Al Qassam Brigades, the militant wing of the Palestinian group Hamas, as well as Palestinian Islamic Jihad (PIJ), have been the groups solely responsible for these attacks, which include the largest rocket barrages aimed at central Israel ever in its history. The rocket fire has prompted Israeli retaliatory air and artillery strikes, including a number of targeted killings of senior Palestinian militants. 
This includes a top commander of the PIJ's rocket units and the heads of Hamas' military intelligence security and military intelligence counterespionage departments. Israel has also been carrying out a massive campaign targeting relatively large office and apartment buildings in Gaza owned by Hamas, which it says are being used to support terrorist activities, though they may have residential apartments inside them.
A complete Iron Dome system, the operation of which is heavily automated in many regards, consists of a number of launch units, each loaded with up to 20 Tamir interceptors, as well as associated radars, to spot and track incoming threats, and a battle management and control unit. Each highly maneuverable Tamir interceptor has an active radar seeker and a two-way datalink to receive additional targeting information in-flight to improve its accuracy. A proximity fuze triggers the detonation of a ring-shaped high explosive blast fragmentation warhead inside the interceptor when it gets sufficiently close to its target. 
DISCLAIMER: The author is solely responsible for the views expressed in this article. The author carries the responsibility for citing and/or licensing of images utilized within the text.