On the 20th anniversary of 9.11, Global Hindu Conference brings the best Hindu minds together.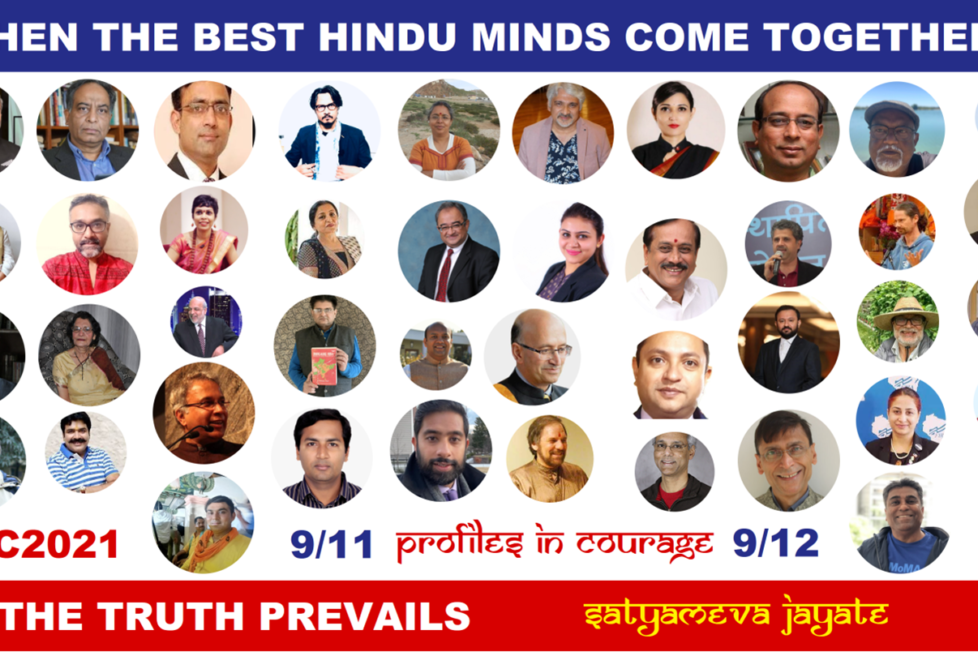 Los Angeles, California – (24th September 2021) – On the solemn occasion of the twentieth anniversary of 9/11 attack, and coinciding with the fall of Kabul, and the American retreat from the battlefields of Afghanistan, Global Hindus representing all major countries including India, United States, U.K., Canada, Australia and S.E. Asia congregated at the Global Hindu Conference 2021 which was conducted online, due to the prevailing covid-19 situation. The theme of the conference was "Red-White-Green Axis of Evil against the Hindus." The Red corresponds to Marxism and its variants, White represents Christianity and the West combined, and Green denotes Islam. These three forces are not only by definition and practice against the Hindus; there is collusion between them against the Hindus. Several great contemporary thinkers, scholars, authors, activists, academicians and public commentators spoke at the conference, addressing various subjects related to the theme. 
The conference started on the morning of Saturday, September 11th at 9:00 AM New York time, which was the anniversary moment of what happened 20 years ago. Shraddhanjali (a Hindu tribute) was offered to the victims of 9/11 attacks followed by invocation by Vedic mantras and Devi stuti (prayer to Hindu goddesses). The inaugural speech was delivered by Sushil Pandit, a Kashmiri Hindu activist and public commentator, who once had to flee his homeland in Kashmir because of ethnic cleansing perpetrated by Islamic terrorists. The conference ended 1 hour after midnight of Sunday, September 12th. There were a total of 36 sessions conducted where each session was 1 hour long. Each session either had a solo distinguished speaker or presenter or a panel of experts. All sessions are available on YouTube for public perusal.
Speaker after speaker confirmed the predisposition that these three ideological forces, represented by Red, White and Green, come with, that the global Hindu community must take into account when formulating strategy and building institutional infrastructure to protect itself. After centuries of torment, Hindus now have to take the fight for survival of their civilization to their tormentors' turf. Fall of Afghanistan and its takeover by Taliban must be seen as a global threat to Hindus, as Afghanistan becomes a launchpad to wage a Jihad against Hindus. The following battlegrounds were pointed out by several speakers viz. academia, media, politics, cinema and pop culture. Within academia the schools of humanities and social sciences were weaponized against Hindus, derived and dictated by the Frankfurt School of Marxism. The economic success of NRIs or Hindus in America and U.K. have also created jealousies among the majority white populations in the West, and a policy of containment of Hindus seems to be in the offing using Western Universities as a launchpad. Another battleground is cinema and pop culture where movies are being weaponized against Hindus by sustained caricatures and heaping insults to Hindu Gods and Goddesses.
The valedictory address of the conference was delivered by young lawyer Yukti Rathi who has chosen legal activism in the service of defense of Hinduism. She has filed a case of defamation against Bollywood actress Swara Bhaskar. The plenary address was delivered by Shri Kalavai Venkat, President of Global Hindu Foundation, and author of "What Every Hindu Should Know About Christianity," a dispassionate critique of the Bible. Venkat stressed on the need to take the struggle for survival to the enemy camp in a variety of ways, and on all battlegrounds. Hindus can never win a defensive war against these three evil forces.
The conference ended on a poetic note by a participant, followed by a vote of thanks to all the participants, speakers and volunteers. Rajiv Varma, the executive sponsor of the conference, remarked in moving for adjournment, that this year's conference was a special one as it was planned and executed exclusively by an all-female team of volunteers, thus setting a fine precedent of invoking Shakti, the power of femininity.
Conference video proceedings are available at: https://rebrand.ly/ghc2021tube
For further information please contact:
Rajiv Varma
pr@ghfinc.net
+1 (832) 499-3420
DISCLAIMER: The author is solely responsible for the views expressed in this article. The author carries the responsibility for citing and/or licensing of images utilized within the text.