Organized Hinduphobia in the USA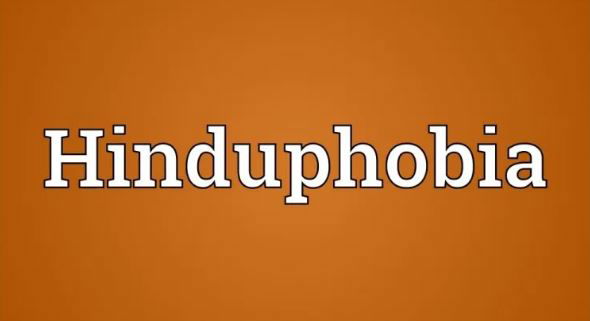 Hindus in the United States, have periodically experienced their own share of discrimination due to their appearance and race, especially in The 1990s. However, discrimination has intensified into organized Hinduphobia, which is not motivated by racism but by the Anti-Hindu lobby, which is very well organized, funded, and politically connected. Unfortunately, there are still hate crimes against Hindus which are racially motivated. Whereas, when we refer to the word Hinduphobia, primarily referred to as the strategically peddled Anti-Hindu Propaganda. Mainly, this agenda goes hand in hand with maligning India and Hindus at the same time.
A prime example of Hinduphobia is when Tulsi Gabbard, a well known The Hindu-American politician spoke about her experience as the US Presidential Candidate, how she was unfairly targeted, solely on the basis of her religious belief, as a practicing Hindu.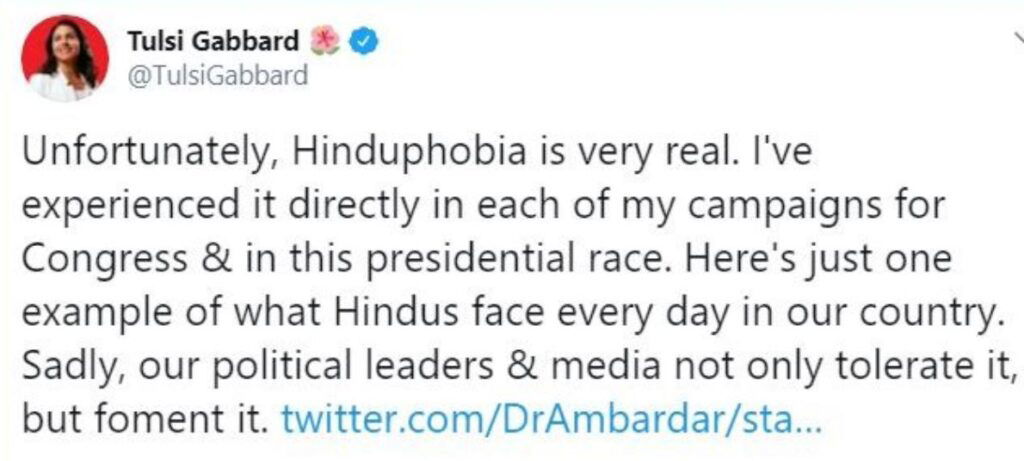 Our research has estimated anywhere from 400-500 Anti-Hindu Groups actively working in the US on different levels with their varying agendas. Many are officially registered as non-profit organizations, similar to NGOs in India. They camouflage themselves as Humanitarian or Pro-Human Rights. If you look deeper there is a common agenda, Anti-Hindu, and Anti-India with a goal to denigrate Hindus and to spread Hinduphobia, using their distorted narratives which misguide Westerners, who are generally uninformed about the issues.
The major organizations can be basically classified into :
"Dalit" Organizations
Christian Missionary Organizations
Islamic Organizations
Academic Anti-Hindus
"Hindu" organizations-SURPRISE!!!
Dalit and Missionary Organizations:
Motive- Spread Anti-Hindu propaganda in the US, using distorted one-sided stories.
An important aspect is to malign Hindus using a distorted version of Hindutva and anachronous practice of untouchability, as prevalent in today's common Hindu society. Painting negatively in the color of the irrelevant Western concept like White Supremacy and creates pressure on Hindu Organizations, working hard on the ground to stop the Western Conversion activities in India. Also, to raise funds from the US, under the guise of helping the "poor and needy" in India but use it for Christian Conversion activities.
The reason we are trying to merge these two categories is that many of the so-called "Dalit" Organizations are run by Christian Missionaries (not all of them). For example, a group formerly the Dalit Freedom Network is now called "Dignity Freedom Network" (DFN). We have highlighted this particular organization, due to their efforts, the US Government almost imposed sanctions on India. DFN hosted a conference targeting the US elected representatives from Congress called "Racism & Caste-based discrimination in India, implications for US-India relations" lead by Kancha Ilaiah followed by John Dayal and many others.
Their 'humanitarian" work might superficially look pious, in actuality, the organization was founded by missionaries, led by Bishop Joseph D'Souza, the President of the All India Christian Council (AICC), CEO of the Indian arm of the global missionary group, Operation Mobilization, alias OM, is the largest growing church movement in India, which plays a major role in conversions of vulnerable Hindus.
Islamic Organizations:
Motive-Spread anti-Hindu sentiments in the US and quench their thirst for attacking Hindus and India.
Some organizations run by Pakistani-Americans and some by Indian-American Muslims, with apparent links to the global Islamic circle like the Council of American-Islamic Relations (CAIR). Which is allegedly the front face of the global Muslim Brotherhood, has political ambitions and funds many organizations In North America, who work relentlessly to spread lies and propagate fictitious narrative against Hindus, India, Jews, and Israel. Islamic Circle of North America, (ICNA) similarly, a well-funded group linked to Jamaat-e-Islami and other terrorist organizations. Some of the people related to the group were found guilty of being involved in terrorist acts and also conspiring against India by influencing US politics. These organizations are registered as either promoting Islam or pose as "Humanitarian" organizations.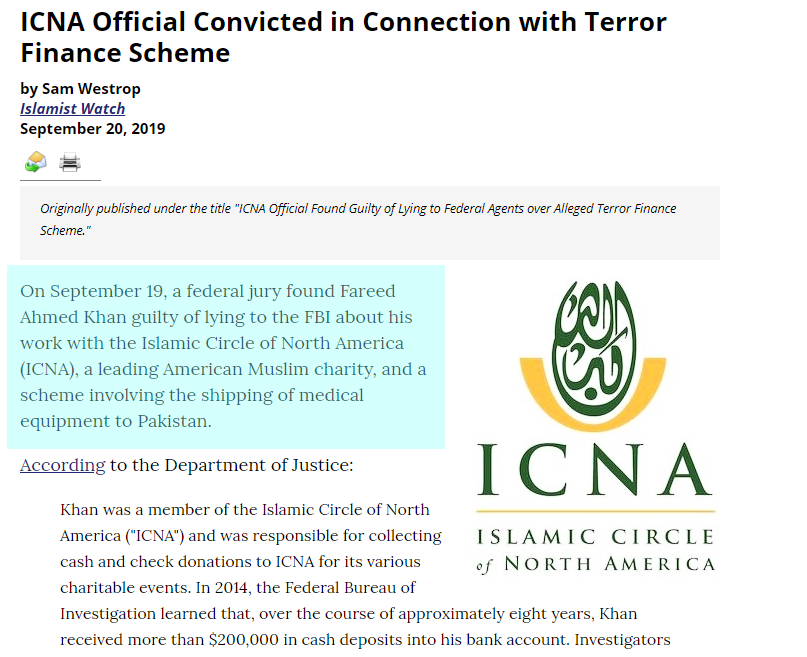 Major protests like the Anti-abrogation of Article 370 and Anti-CAA-NRC, have been orchestrated by such organizations, in coordination with the Indian American the Muslim Council (IAMC) and several others. IAMC is one of the biggest Indian Muslim organizations in the US, who work relentlessly in hate-mongering against Hindus by spreading fake, exaggerated, and fabricated information.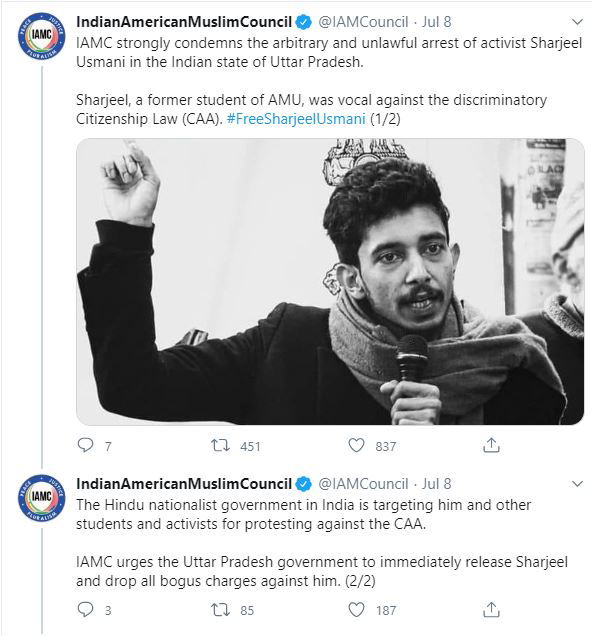 A new trend is for these organizations is to form collations with the Dalit Organizations. The collaborating has taken form in several new groups like the Coalition of Seattle Indian American, members are IAMC and Pacific Northwest Ambedkar Group.
Academic Hinduphobia:
Motive- Propagating hate against Hindus and India. Brainwashing University students.
Brainwashing students and grooming them to become a self-hating Hindu and Anti-India, is one of the most dangerous long term agenda, with students from top-notch universities potentially serving in high profile jobs and positions, in various fields in the near future, with their hate against India and Hindus cemented during college without knowing the true reality.
After being brainwashed, students turn against India and Hindus and run campaigns in Universities. A recent example of this is "Holi Against Hindutva" held in March 2020. Supposedly, founded by Shreeya Singh, a student from a prestigious Yale University, the event took place at 20 different universities. On the surface, this seemed student-lead but if you dig deeper the water gets murkier. The fact being this was the handy work of three organizations who are known to be working against Hindus for a very long time, Equality Lab, ICNA, and Collation against fascism in India (CAFI) an offshoot of ICNA. This could be verified by joining the dots based on the endorsements, promotional material of the event, website, and social media accounts. These organizations also played a key role in the Seattle city council's anti-CAA resolution and are closely connected to Indian-American Politicians, like Pramila Jaipal and Ro Khanna.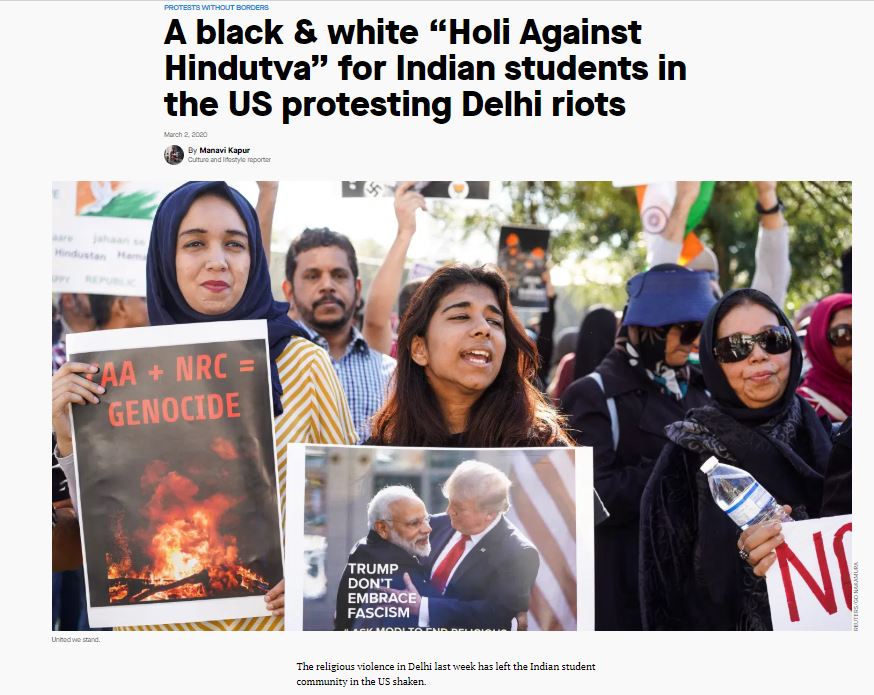 Hindu Organizations:
Motive- These organizations play the front face as "Hindus," to cover up their vicious Anti-Hindu Agenda, giving authenticity to the other Anti-Hindu organization's claims.
Finally, there are several "Hindu" organizations like Hindus for Human Rights with many others, playing a vital role in Anti-CAA protests. These organizations have recently become the darling of the Anti-Hindu Lobby. As they play a very crucial and important part of the Anti-Hindu Agenda in the US, providing legitimacy as "Hindus" to the missionary, Islamist Agenda, and provoking unaware Hindus. As per a source who attended their meetings says "They have a political agenda and desperately raising funds to lobby against "Hindutva and Pro-Hindu forces in the US and also she and her team members brainwash young Indian Hindus on issues like CAA-NRC."
It is time for people to realize and acknowledge, the simultaneous planned attack on Hindus and India. Yes, HINDUPHOBIA IS REAL!
DISCLAIMER: The author is solely responsible for the views expressed in this article. The author carries the responsibility for citing and/or licensing of images utilized within the text.