Pakistanis and their obsession with Porn!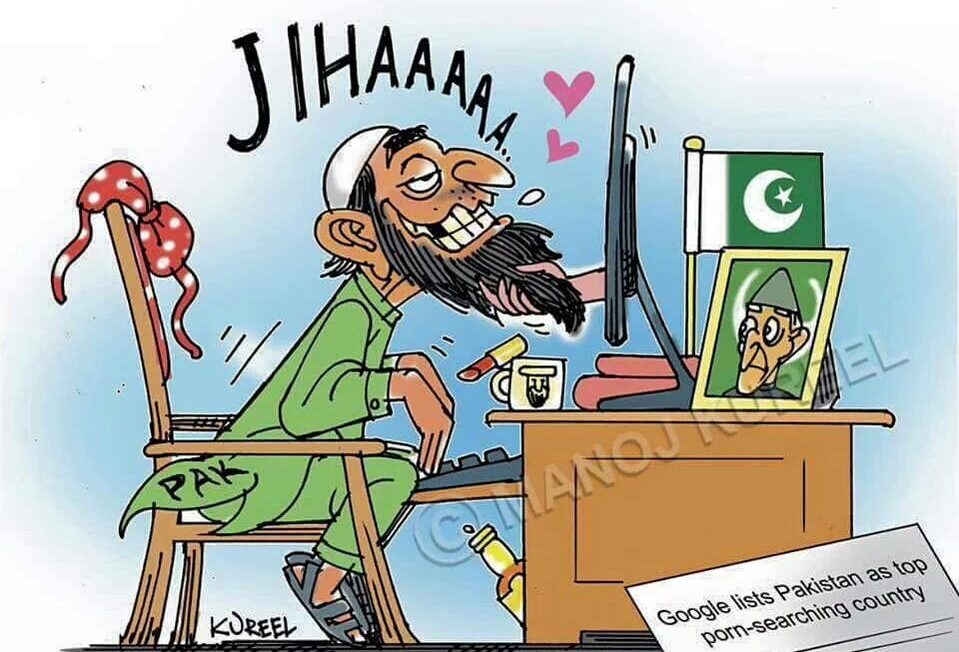 Wonder which country is at the top spot in searching porn online? Pakistan. Yes. According to the report of 2015 Fox News, Pakistan topped in pornographic film searches 8 years back and it has maintained that till now in 2022.
FoxNews.com has uncovered that the Muslim nation, which has blocked content on at least 17 websites to remove offensive and blasphemous material, leads the world in online searches for pornographic content.
In terms of searches per person for specific sex-related content, Google ranks Pakistan higher than any other nation in the world for pornographic terms.
According to Google Trends and Google Insights published as quoted by Fox news, two Google features that produce data based on popular search terms, Pakistan is the top dog in searches per person for "horse sex" since 2004, "donkey sex" since 2007, "rape pictures" between 2004 and 2009, "rape sex" since 2004, "child sex" between 2004 and 2007 and since 2009, "animal sex" since 2004 and "dog sex" since 2005.
Additionally, the nation consistently ranks first in searches for terms like "sex," "camel sex," "rape film," "kid sex video," and a few others that can't be put here.
A 600,000% increase!!
This has to be an #EktaKapoor level alert.#JustMughalThings pic.twitter.com/YQIDWr2T3d

— AwesomeMughals (@AwesomeMughals) November 9, 2022
Google Trends offers information on the most frequently used search phrases in specific places across predetermined time periods. A more sophisticated version, Google Insights, enables users to filter searches based on geographic regions, time intervals, and the type of search, such as web, photos, products, and news.
On Google Trends, Pakistan topped all of the aforementioned queries, but only some of them on Google Insights.
In Pakistan, the quest to make technology even more approachable for Pakistani youth has also resulted in an alarming rise in the consumption of pornographic material.
Viewing such material not only damages their mental health but also renders them morally bankrupt, leading to sexual frustration in them. It all begins with curiosity—clicking on a specific link to explore your sexuality on the internet—but as soon as the same adolescent participates in a sexual crime, that curiosity quickly turns into a mental illness.
When news broke in 2020 that a kitten had allegedly been gang-raped by a 15-year-old boy and his companions, people were horrified. The fact that sexual frustration among youths is on the rise in Pakistan cannot be denied, despite the fact that there is still a lot of confusion surrounding the case and that people are still attempting to explain and characterize the entire incident. We frequently hear about incidents of sexual assault, including women being raped, children being raped, women being the targets of cyberbullying, and the list goes on. Realizing that a young boy who was once innocent could one day develop into a monster is horrifying. 
The increasing outcry over recent instances of sexual violence in the nation was further heightened in July 2021 when police in Pakistan's Okara arrested five men for sexual assault and the murder of a goat.
The five suspects tortured and killed a laborer's goat after taking it to a nearby compound where they had committed rape. Locals reportedly spotted the suspects running away after performing the terrible atrocity that has further stoked outrage in Pakistan.
With the rapidly increasing rape cases of both humans and animals by the Pakistani youth shows how sexually frustrated the Pakistani youth is. Where "Pak" in Urdu simply means "Pure", the land has witnessed gross terrorism and exploitation in recent years. On one hand, they want to compete with India and do Gazhwa-e-hind while on the other hand, they do not even spare animals to release frustration.
DISCLAIMER: The author is solely responsible for the views expressed in this article. The author carries the responsibility for citing and/or licensing of images utilized within the text.