Parenting Teenagers – Difficult or Easy?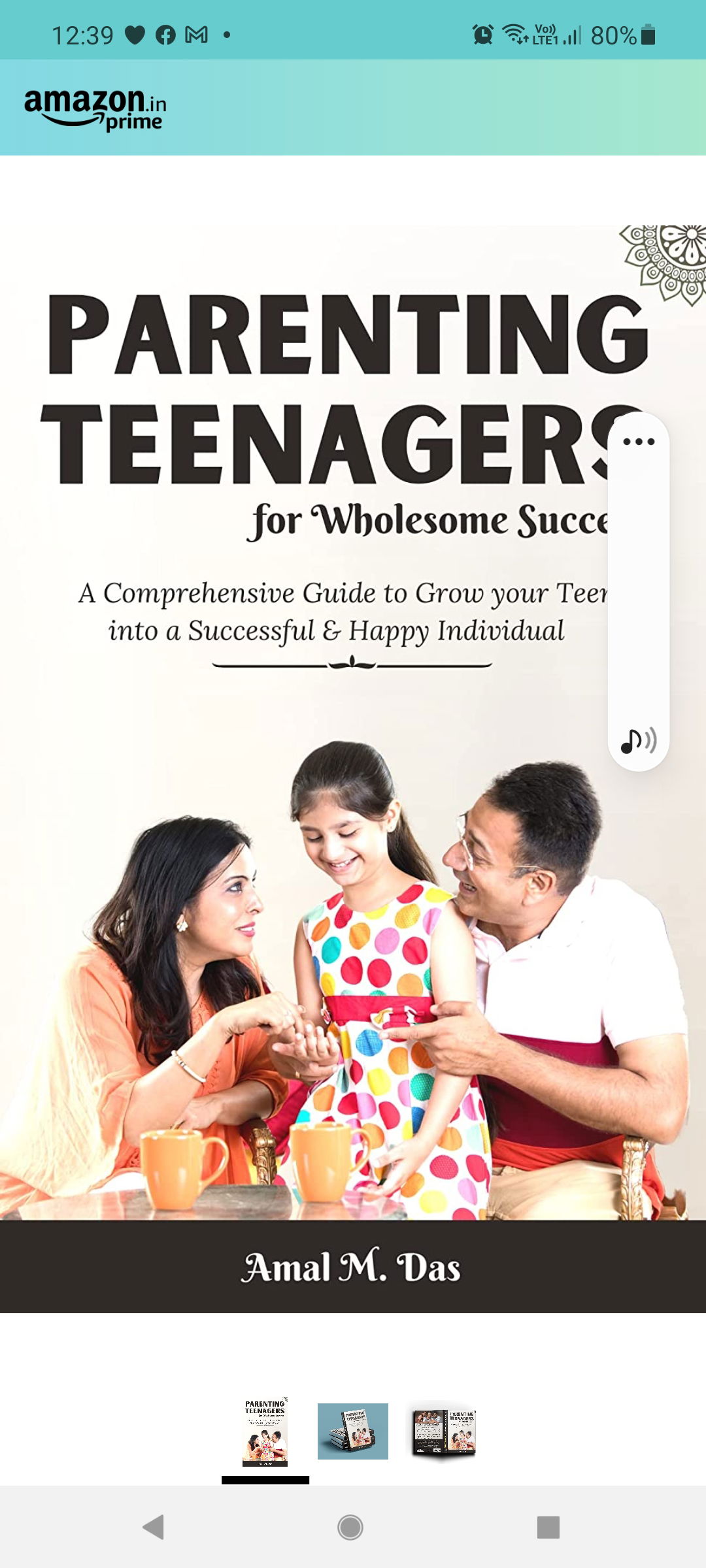 Note : This is the review of a wonderful book on how to guide teenagers to get the best out of them..
As a person who loves observing people I have always noticed that both, parents and children, wear the same harassed look when discussing about education or career. And almost always I have heard the parents claim that the children these days have it easy and yet they neither value their parent's money or advice. A few years back I had heard of the suicide of a brilliant, sweet natured boy who got into engineering because his father felt that his brilliance would be put to good use if he were to take up engineering. He took away his life as the ultimate form of revolt!
Amal M Das has come out with a wonderful book for parents, which gives tips and methods of guiding one's child into becoming a happy, successful and dharmic individual. The author who is an IIT Kharagpur graduate, left his successful career in the corporate world to embrace the world of education and youngsters. This change of a career path couldn't have come easily unless one is rooted in the right values and understanding of the self. Because of his work with students in Kota, Rajasthan (the coaching class centre for IIT aspirants), he could see the sacrifices of the parents as against the struggle of the students, on a daily basis. He could understand how both, parents and their children went through the same emotions of sacrifice, struggle, betrayal, misunderstanding, frustration, loneliness but from a different spectrum depending on whether it was the parent or the student. This made him realize that in this new world, devoid of the wisdom of the past and the glue of family relations, people are making mistakes which end up making them unhappy or lonely or dissatisfied with the way life turns out.
The book starts with some fantastic explanations on why one needs to learn "parenting wisdom" – I can tell from my experience of raising three children that every point is bang on. In today's increasingly impersonal world, every parent needs to take the help of books and the written word more than ever before to learn how to bring up a child and make him/her a well-adjusted, rooted adult. The teenage years are indeed the years when the child goes through the most trying phase in one's life – it is trying for the parent too, because it is at this age when the child explores his/her individuality, standing and acceptance in society, selection of a career choice (through education) and understanding trust issues the most. It is the age of brooding, revolt, unexpected happiness, unexplained sorrows and more. A strong moral compass, a grooming in Dharma and open communication between parents and children could ensure that these tumultuous years pass off with little friction between both generations. Without this, these years could be the foundation of a lifetime of guilt, anger issues, unhappiness and other negative feelings. Amal Das's book "Parenting Teenagers for Wholesome Success" is indeed a good guide for parents. It has real life examples and simple, workable solutions given. Not just that, it also shines light on events that could take place in the future, even after issues have been ironed out.
For me, the highlight of the book was the 10th chapter – "The Fundamental Basis of Career Decisions" because i feel that almost every parent goes through this difficult phase in their life along with their children. On one hand is the child's aim to become the best student following one's interest and on the other hand is the parent's aim to provide for the best so that their child's future will not have any speed breakers on the way to "monetary" success. I feel that Amal has handled this difficult situation with balance and maturity in his approach and guidance. Another aspect of the book I loved were the relatable examples from our scriptures, especially the Mahabharata. A whole load of wisdom can be gleaned from our ancient scriptures and Amal has repeatedly made us realize this fact – I felt that he was directing parents to teach their children our scriptures indirectly and I am deeply grateful to him for this. Since my own attention span has reduced now, I felt that the book could have been about 50 pages slimmer, but that's about it as far as complaints go. Parents, do keep this book handy if you have a teen in the house. It will help you understand them better and know how to handle some delicate situations, especially the ones where the teen is mysteriously silent.
Happy Reading!
Here is the link for buying the book … https://www.amazon.in/Parenting-Teenagers-Wholesome-Success-Amal/dp/819363702X/ref=cm_cr_arp_d_bdcrb_top?ie=UTF8
DISCLAIMER: The author is solely responsible for the views expressed in this article. The author carries the responsibility for citing and/or licensing of images utilized within the text.