powerful women of India from history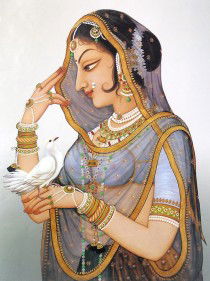 Rani Padmini (Padmavati)
Her skin was so beautiful and translucent that one could follow the trail of water she sipped as it went down her throat.
As The Legend Goes: Our Indian Helen of Troy, Rani Padmini of Chittorgarh has been the subject of many a poet's words and many an artist's vision. But she is a source of inspiration and strength for women because she refused to let the enemy get near her when her husband, King Ratan Singh lost a battle in the 14th Century, and committed jauhar along with 1,600 other women. Jauhar is the ultimate sacrifice of life by jumping into a pyre of fire.
Ala-ud-din Khilji, the emperor of Delhi, was so enamoured by tales of Rani Padmini that he declared war against her husband to get her. It is believed that the Rajputs realized that they were losing their turf and decided to raise a white flag to Khilji by promising to show him Rani Padmini's face. Khilji was brought in to a hall with a silver-plated mirror that held the queen's reflection while she stood in her palace located right opposite the hall. Even that gesture could not appease Khilji and the rest is history.
Panna Dai
If it were not for her, the long reign of the House of Mewar would have ended
As The Legend Goes: Panna Dai was a wet nurse to Udai Singh, the prince of Chittorgarh. She raised him along with her son Chandan who was also of the same age. Only time would tell how she would have to sacrifice one for the other. The young prince was the heir to the throne but his wicked cousin Banbir wanted to become king himself. So he planned to murder the young lad of 14 when Panna Dai overheard his plan. Taking matters in to her own hands, she dressed her son Chandan as Udai and put him to sleep in the prince's bed. Banbir's men killed Chandan thinking him to be the prince while Panna watched silently from a corner. Not just that, she kept Udai in safety until it was time to reveal his true identity so that he could take the throne.
Rani Karnavati
She gave a new meaning to the bond of Rakshabandhan
As The Legend Goes: Married to Rana Sanga of Chittorgarh, Rani Karnavati lost her husband in a war against Babur. Since her elder son was still a young kid, she was forced by circumstance to lead him to rule the kingdom. All went smooth until 1536 when Bahadur Shah of Gujarat laid his eyes on this rich-in-minerals land and decided to strike. The queen learnt of his intentions and requested the nobles to step in and take charge of the situation. And they only hummed and hawed. Finally, Rani Karnavati sent a rakhi to Humayun, the emperor of Delhi, asking him to come to her aid. Unfortunately, Delhi was a day's travel and Humayun couldn't make it in time. Living up to the tradition of Sisodia women, Rani Karnavati chose jauhar to die with dignity than live in disgrace. It is said that Humayun did come to battle with Bahadur Shah, defeated him and reinstated Rani Karnavati's eldest as the king of Chittorgarh.
Meera
Her unconditional love for Lord Krishna made her believe that she was truly married to him
As The Legend Goes: Although the Rajput princess Meera was the wife of Bhoj Raj, the ruler of Chittor, but she believed herself to be truly married to Lord Krishna. Her husband appreciated her devotion to the God and even built her a temple to worship him. Bhoj Raj died in a battle in 1521 and thus came upon Meera, the wrath of her in-laws. They did not appreciate her keeping company with sadhus and saints and tried to reason with her, but to no avail. It is said that her brother-in-law Vikramaditya tried to poison her but at the last minute it transformed in to amrit. Unhappy, Meera left Chittorgarh and went to Dwarka in Gujarat where she is believed to have become one with her deity's idol.
DISCLAIMER: The author is solely responsible for the views expressed in this article. The author carries the responsibility for citing and/or licensing of images utilized within the text.