PPE Kit Production & Export – One of the Biggest Success Stories of PM Modi's Atmanirbhar Bharat Project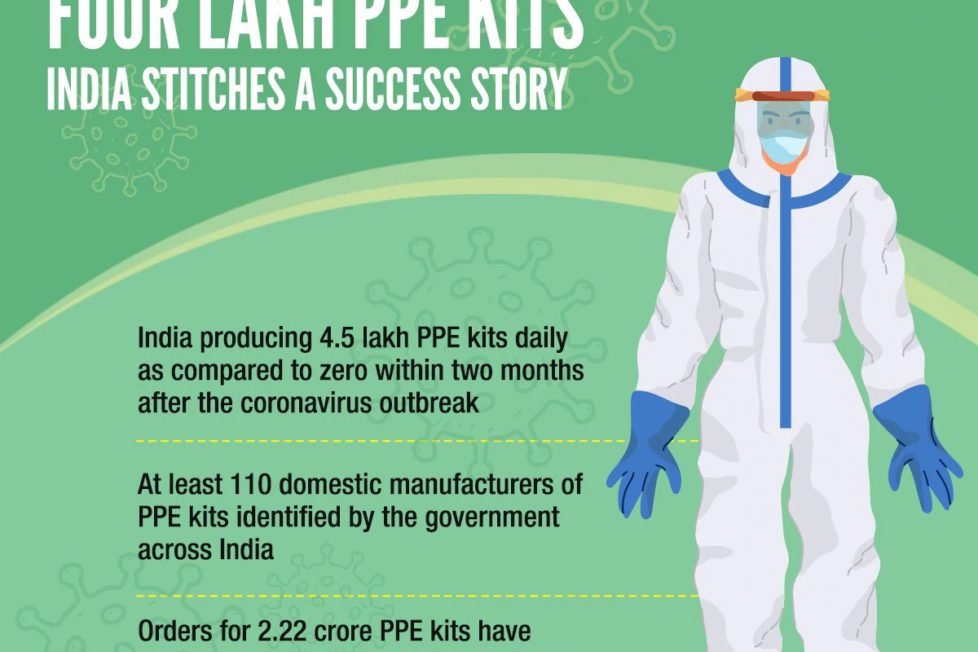 PM Modi's Atmanirbhar Bharat Abhiyan centering around the slogan – 'Be Vocal About Local' – is aimed at addressing a serious weakness in India's growth story, i.e. low share of manufacturing in the country's GDP vis-à-vis China. Blessed with a unique ability to identify future trends, combined with the appetite to take risks, and also the ability to make common Indians believe in his dreams, PM Modi's call for Swadeshi/self-reliance is based on India trying to leverage to its maximum advantage the opportunities offered by the COVID-19 pandemic.
However, at the very outset, it is important to clarify that this idea of self-reliance does not mean a return to the Nehruvian economics of import substitution or isolationism behind "narrow domestic walls". The PM has clearly emphasised in the course of his speeches to the nation that his vision for Atmanirbharta and Atmanirbhar Bharat envisions India's active participation in the post-COVID global supply chains and as well as the need to attract Foreign Direct Investments (FDIs). It is because the pandemic has laid bare the fact that over-dependence on a single country can choke any key industry when it is required the most.
The PM has also hinted at freeing Indian businesses and entrepreneurship from the clutches of the bureaucracy. Hence, Atmanirbhar Bharat does not imply an emulation of the license-permit raj and inspector raj systems of the socialist era. It is all about decentralised localism, leveraging citizens' internal strengths of dealing with adversities, and a sense of national mission that takes pride in local brands, with emphasis on flexibility and resilience. It also encourages local capacity-building and indigenisation of the manufacturing processes, i.e. manufacturing within the country itself.
Until March this year, India did not produce a single Personal Protective Equipment (PPE) kit and around 50,000 such kits were imported every year, mainly from China, in order to meet the demands of India's health and biomedical sectors. But now, at present, the country is in a position to export it to other countries so as to improve its diplomatic relations at the global level amidst the COVID-19 pandemic. The same happens to be the case with N-95 masks as well which are being manufactured by India enough not only to meet its own demand but also to supply abroad.
While the first cases of COVID-19 came to be reported in India as early as in January 2020, the government acted with an urgency to procure PPEs after the Prime Minister announced a three-week nationwide lockdown in late March to ramp up the country's healthcare infrastructure. Amid a global shortage and one of the world's strictest lockdowns that halted the production of all but essential items, apparel makers sensed a golden opportunity.
The demand for PPE kits shot up abruptly following the outbreak of the COVID-19 pandemic and the Government of India immediately formed a committee of senior officers so as to facilitate the process of production of these kits by private business houses and factories. As of now, the country is producing almost around 5 lakh PPE kits a day, which is, in fact, much more than its actual requirement.
Around mid-April, three production outlets of Nair's Matrix Clothing in Gurugram, Haryana, started making 3,000-4,000 pieces a day of protective body gears and shoe covers that has now almost doubled. Others like Alok Industries, JCT Phagwara, Aditya Birla, and Gokaldas Exports are among a thousand Indian companies that have started manufacturing such gear of late. This, according to a government statement, has made India the world's second largest producer of PPE kits.
In order to ensure that the price is maintained, the government has now put the item in the list of essential commodities. It may be recalled here that in the initial stages of the pandemic, export of PPE kits was not allowed. But, from the month of July onwards, primarily with an aim to boost 'Make in India' exports, PPE medical coveralls for COVID-19 have been allowed by the DGFT, Ministry of Commerce and Industry, with a monthly export quota of 50 lakh. In July itself, around 23 lakh PPE kits were exported to different countries and it is expected that by the beginning of September, 50 lakh such kits will be exported, thereby bringing in much valuable foreign exchange for India.
Apart from exports, the government has also started supplying PPE kits free of cost to countries such as Bhutan with which it shares friendly relations. This would also help India in boosting its capabilities further in the arena of soft-power. Under the SAARC COVID-19 Emergency Fund, with a view to improve diplomatic relations with Bangladesh, the government has allowed the neighbouring country to avail of the PPE kit testing facilities in India.
It is prescribed that the PPE kits should go through rigorous tests before they are put into use and till date, Bangladesh does not have facilities to carry out such tests. Hence, the PPE kits that are used in Bangladesh are tested in the laboratories of India. India has also provided more than 50,000 sterile surgical latex gloves and 1,00,000 hydroxychloroquine medicine tablets to Bangladesh for mitigating the health and economic impact of the pandemic. However, the government has not yet allowed the export of the fabric that is used to manufacture PPE kits.
Although there were initial hiccups when some companies were encouraged to manufacture PPE kits because at that time, the country was in a total lockdown and as such, transportation of materials to the factories was a matter of serious concern. But, the high-level committee that was formed by the government to facilitate the process worked very hard to coordinate between the concerned agencies and the police in order to make sure that the raw materials, fabric and other necessary materials reach the factories on time so that the finished products could be transported easily to their final destinations.
PM Modi's call for Atmanirbhar Bharat has given a push to India's domestic production capabilities so as to be able to absorb supply-chain shocks and cater to the market demands, both within and outside. In fact, the pandemic has come in as a much-needed but quite unprecedented opportunity to introduce efficiency-enhancing reforms that could make Indian producers and production houses equally competitive in the global market. India's ability to recover from the downward economic fallouts of the pandemic greatly depends upon its capability to protect domestic businesses and industries in the coming times. Hence, it has become all the more important to promote Indian industries and local start-ups, while at the same time, making them globally competitive through necessary reforms and government interventions.
References:
https://www.google.com/amp/s/www.boomlive.in/amp/videos/fact-file/covid-19-how-india-became-a-ppe-kit-manufacturing-hub-8408
The Indian Express. (June 06, 2020). Self-reliance is about resilience and decentralisation, not isolationism.
DISCLAIMER: The author is solely responsible for the views expressed in this article. The author carries the responsibility for citing and/or licensing of images utilized within the text.