Pulitzer Prize winner Photojournalist, and separatist Sanna Irshad Mattoo stopped from boarding from New Delhi: Details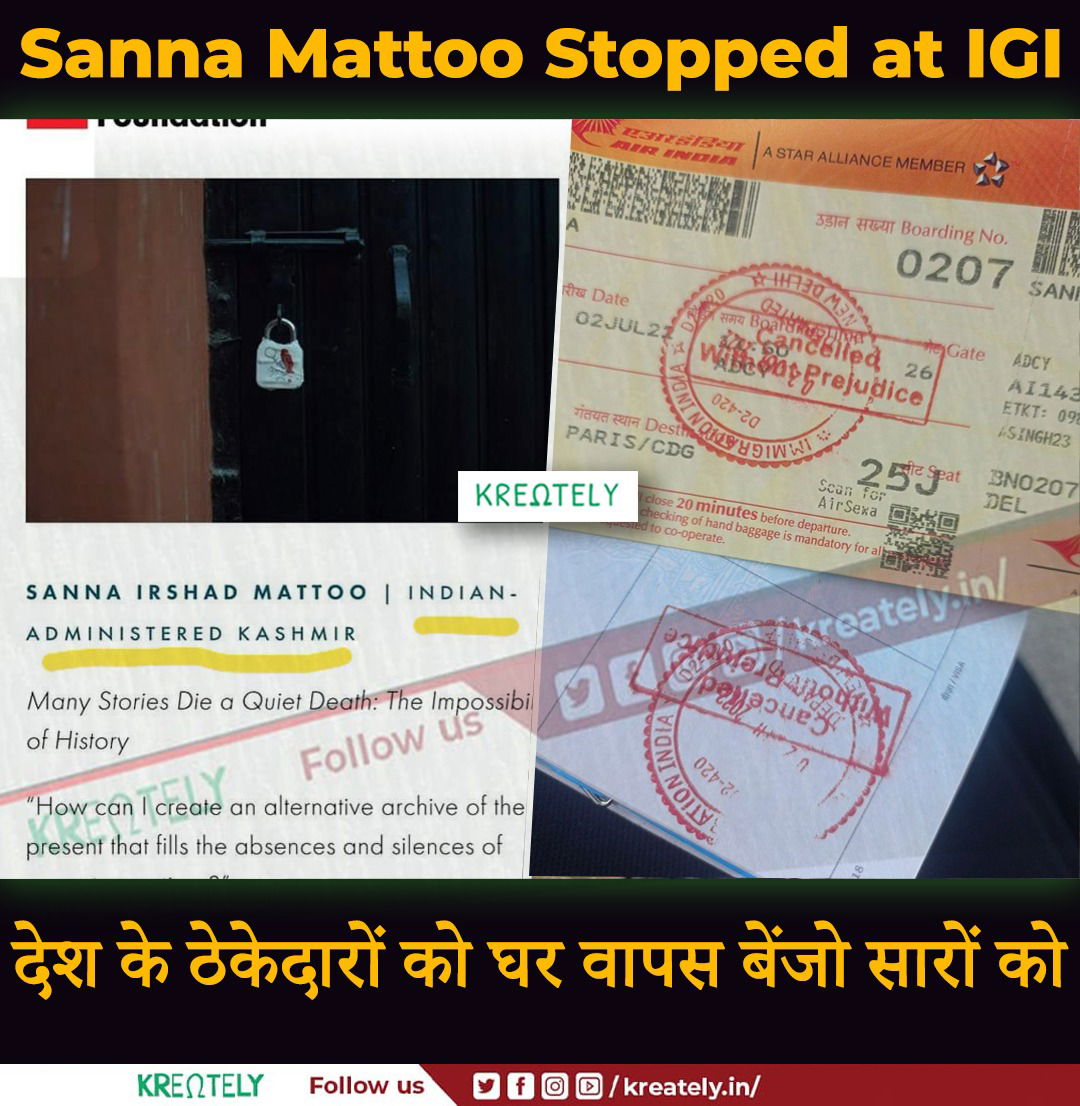 Sanna Irshad Mattoo, a separatist photojournalist, is again barred from traveling from New Delhi to get the Pulitzer Prize awarded to her in April. Sanna was awarded the Pulitzer Prize for covering the second wave of Coronavirus in India. Apart from her, the Pulitzer was awarded to the deceased Danish Siddiqui, Adnan Abidi, and Amit dave.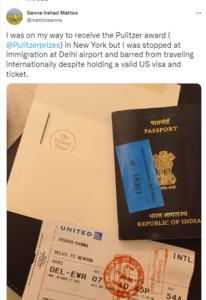 Sanna Irshad has been more focusing on Jammu and Kashmir. Meanwhile, her image is often used for Anti-India propaganda by Al-Jazeera, Reuters, and Caravan.
Sanna is one of the 11 individuals who the Magnum Foundation chose for their "2021 Photography and Social Justice Fellowship." The Open Society Foundation, which is infamous for promoting anti-Indian themes through the media and "civil society," is providing financial backing for the program.
Being a usual terror sympathizer, Sanna has been depicting the Indian security forces as "oppressive" and hostile to the people of the Kashmiri Valley. To prevent the possibility of a terrorist attack, armed forces are required to regularly undertake surveillance activities. Sanna took advantage of the chance to portray the armed forces as the bad guys despite knowing that all of them are intended to safeguard innocent Kashmiris.
"Forces check pedestrians in Srinagar. #Kashmir," the Reuters photojournalist wrote on Twitter.
Sanna Irshad is a terrorist sympathizer who mentions terrorists as 'rebels', sympathizers with Afzal Guru and Burhan Wani. Not only this, She's gone a way ahead and called Maqbool Bhat "Baba-e-quom" which means "Father of the nation" in English.
Azad Kashmir Plebiscite Front, a precursor to the current terrorist organization Jammu Kashmir Liberation Front, was founded by Maqbool Bhat (JKLF). Bhat participated in the murder of government officers while engaging in terrorist actions in Jammu and Kashmir. Bhat was given the death penalty by Justice Neelkanth Ganjoo, and Yasin Malik then killed him.
2. Terror sympathizer

▪️ In her social media posts she blatantly calls 'terrorists' as 'rebels'
▪️ Her social media is full of sympathizing posts about the likes of 'Afzal Guru', 'Burhan Wani' etc.
▪️ She even went to extent to call cop killer Maqbool Bhat as 'Father of Nation' pic.twitter.com/YsgU5jUypP

— Anti Propaganda Front (@APF_Ind) October 19, 2022
Sanna Irshad Mattoo was observed advocating for Pakistan. She refers to Kashmir as "Indian-administered" in a number of her tweets.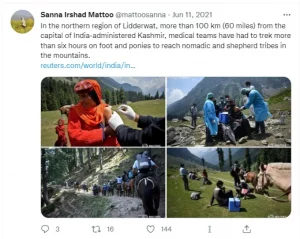 In one of her posts, She even stated that the "Indian State" narrative had failed while posting a picture with the caption, "You can cut all the flowers, but you can't stop spring from arriving."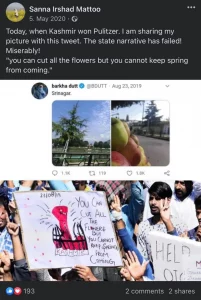 Despite the minority of Hindus in Kashmir, where the genocide took place, any kind of provocation can be lethal for the minority community there, but Sanna seems like an ardent follower of her religion that she mentions Hindu nationalists(non-believers/kafirs) as Nazis.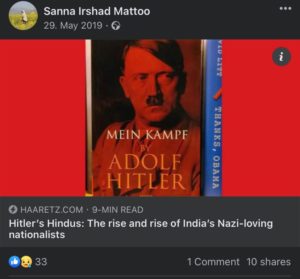 The separatist photojournalist is an ardent supporter of Syed Geelani. Yes, the separatist leader instigated Kashmiri youth to join mujahids.
Geelani has made it clear that he was a supporter of Pakistan and its plans for the Kashmir valley. His catchphrase was "Hum Pakistani Hain Aur Pakistan Hamara Hai."
She downplayed his contribution to the insurgency in the Valley despite being well aware of his pro-separatist activism by referring to him as a "senior pro-freedom" leader.
She downplayed his contribution to the insurgency in the Valley despite being well aware of his pro-separatist activism by referring to him as a "senior pro-freedom" leader.
One of the most horrible instances when she got a message on a website known as 'Sarahah'. The message was written by a Pakistani and it read as "Kufr ka nizam chal sakta ha zulm ka nahi."
Kufr is a word used for non-muslims that discriminates them from non-muslims and calls for their killing.
Sanna's thoughts and actions are something that reflects her extremist side and the portrayal she has been making about India is something the west wants.
DISCLAIMER: The author is solely responsible for the views expressed in this article. The author carries the responsibility for citing and/or licensing of images utilized within the text.