Quamist K T Jaleel finds saffron colour in the beard of Izlamists who killed Kanhaiya Lal.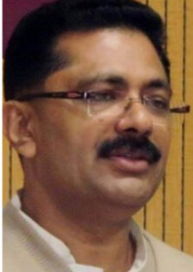 K T Jaleel, an Islamist dressed in Communist clothing and a present MLA for the CPM-led LDF camp, has proposed a conspiracy theory on the beheading in Udaipur.Jaleel claimed that the act was part of a plan to attack Muslim traders in the area in an effort to deflect attention from the Islamic attack in Udaipur, which saw two Jihadis behead an innocent Hindu tailor named Kanhaiya Lal for supposed blasphemy.Jaleel, a former state commander of the outlawed Islamist terrorist group SIMI, said in a Facebook post that Riyaz Akhtari and Ghouse Mohammad were simply posing as Muslims and may have been recruited by "someone" to carry out the murder. Jaleel wrote on Facebook that it should be investigated whether this murder was part of a business-related scheme to eliminate all Muslim businesspeople (and traders) in Udaipur.
It should be investigated whether these two "Muslim namdharis" were employed by being paid or receiving other attractive offers to end the quiet lives of Indian Muslims. He continued, "There is something odd about their outward appearance.K T Jaleel, a current Malappuram district MLA, previously held the positions of Minister of Higher Education, Welfare of Minorities, Waqf, and Hajj in the Left Democratic Front (LDF) administration, which is run by the CPM. He was forced to resign from the cabinet after being found guilty of "favouritism and nepotism" by the state's anti-corruption ombudsman.Jaleel was questioned by the Enforcement Directorate (ED) and the National Investigation Agency after being accused of having connections to the 2020 Kerala gold smuggling case (NIA). He was questioned by Customs as part of an investigation into the UAE Consulate in Thiruvananthapuram bringing in copies of the Quran in violation of diplomatic cargo movement rules.
DISCLAIMER: The author is solely responsible for the views expressed in this article. The author carries the responsibility for citing and/or licensing of images utilized within the text.