Kanhaiya Kumar refuses to recognise Umar Khalid as his friend. Quamists cry hoarse.
Kanhaiya Kumar, former JNUSU president and former CPI politician who is known for his Anti national activities recently shocked his bootlickers by refusing to recognise Umar Khalid as his friend.
Recently a media personnel went up to ask Kanhaiya Kumar about Umar Khalid with his opening words as "Umar Khalid has been your friend", where former JNUSU president and former CPI politician, Kanhaiya Kumar came up with a shocking response ," Who told you" and sidelined and dissociated himself from Umar Khalid who in turn came from the same Anti Bharat bracket like Kanhaiya Kumar. It needs to be noted that Kanhaiya Kumar few months ago ditched the Communist Party of India and went up to join Indian National Congress.
This response of Kanhaiya Kumar did not go well into the hands of Leftists and Islamists who were once the bootlickers of Kanhaiya Kumar. Kavita Krishnan who is a member of the politburo of the Communist Party of India (Marxist-Leninist) (CPI-ML) lashed out at Kanhaiya Kumar and wrote "In light of kanhaiyakumar refusing to recognise UmarKhalid as his friend, read my piece on the shallowness of his "anti fascist" politics (that he shares with most of our mainstream parties & their leaders). Proud that Umar is my friend & comrade.
Safoora Zargar, the one who was responsible for unleashing violence and giving hate speeches against Hindus got deeply hurt by the statements of Kanhaiya Kumar, she tweeted "Hey @kanhaiyakumar let me tell you @UmarKhalidJNU wouldn't want to be friends with you.Plz join the BJP/RSS soon so that u don't have to even PRETEND to be secular anymore. Would be a lot easier for you. You ll also win the seat u r so desperate for."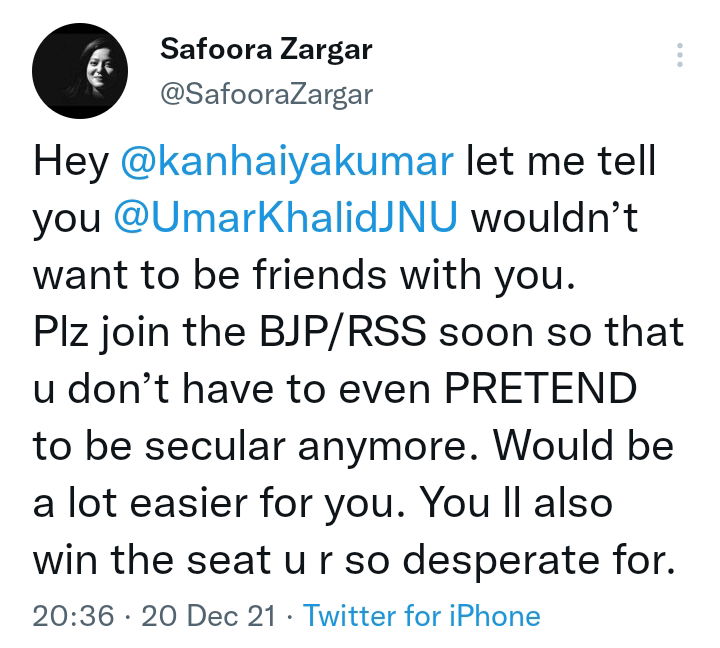 Just like these two Communist-Islamist many other came forward to hit out at their companion in anti Hindu and Anti Bharat activities.
DISCLAIMER: The author is solely responsible for the views expressed in this article. The author carries the responsibility for citing and/or licensing of images utilized within the text.