Why Rafale Celebrations are So Big : Because Sonia And Rahul Gandhi Did Everything To Stop It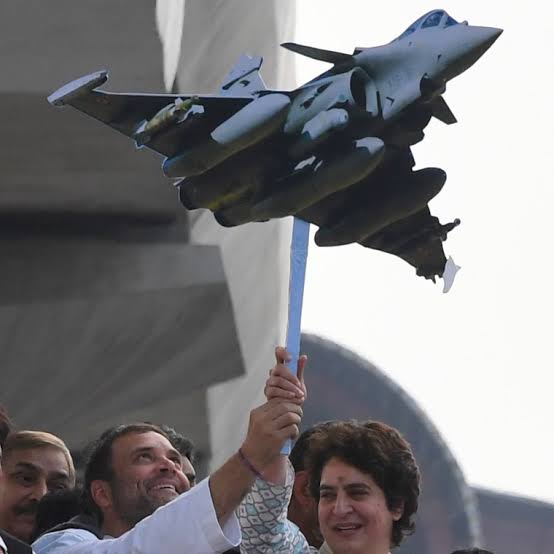 These big celebrations and hype around Rafale coming to India is basically common Indian's response to Rahul Gandhi's shameless lies and fake propaganda against Rafale.
India has witnessed how Sonia Gandhi and Rahul Gandhi when in Govt have crossed all the barriers to get VVIP helicopters for themselves but were very particular to ensure that Indian Armed forces should not be upgraded at all.
Indians have seen Rahul Gandhi trying every dirty trick to stop Indian Air Force from getting a modern fighter jet. Public campaign against it and even going to Supreme Court in an attempt to cancel the important and much awaited defence deal.
At one point Sonia Gandhi family was so brazen that Rahul Gandhi lied about his meeting with French President. French Govt was forced to respond officially and declare that Rahul Gandhi has lied.
Commmon indians were very worried looking at the desperate attempts of Rahul and Sonia Gandhi . There was this fear among Indians that through their old connections and lobbies in judiciary and media, Gandhi's will successfully fail the deal.
That's why such big celebrations are happening today all across India.
Indians are celebrating that Gandhis have failed and India has won. Indians are celebrating the fact that Rahul Gandhi once again failed in his attempt to stop modernization and upgradation of Indian defence forces.
Recent Anti India and pro china rant by Rahul Gandhi has also irked Indians. When Rahul Gandhi every morning tries to declare that Indian forces have lost to China and China has defeated Indian forces, common Indians feel an anger against Gandhis that is being reflected today.
The fact that Rahul Gandhi regularly saying that China has killed Indian soldiers but conveniently forgets to mention that brave Indian soldiers of Bihar and Sikh regiments have killed many more Chinese. This makes India angry.
Yes, India is celebrating and welcoming Rafale today but the celebrations are all the more bigger and brighter because India is celebrating the defeat of Anti India forces led by Rahul Gandhi.
DISCLAIMER: The author is solely responsible for the views expressed in this article. The author carries the responsibility for citing and/or licensing of images utilized within the text.