Remembering Dr. Shyama Prasad Mukherjee on his Punyathiti.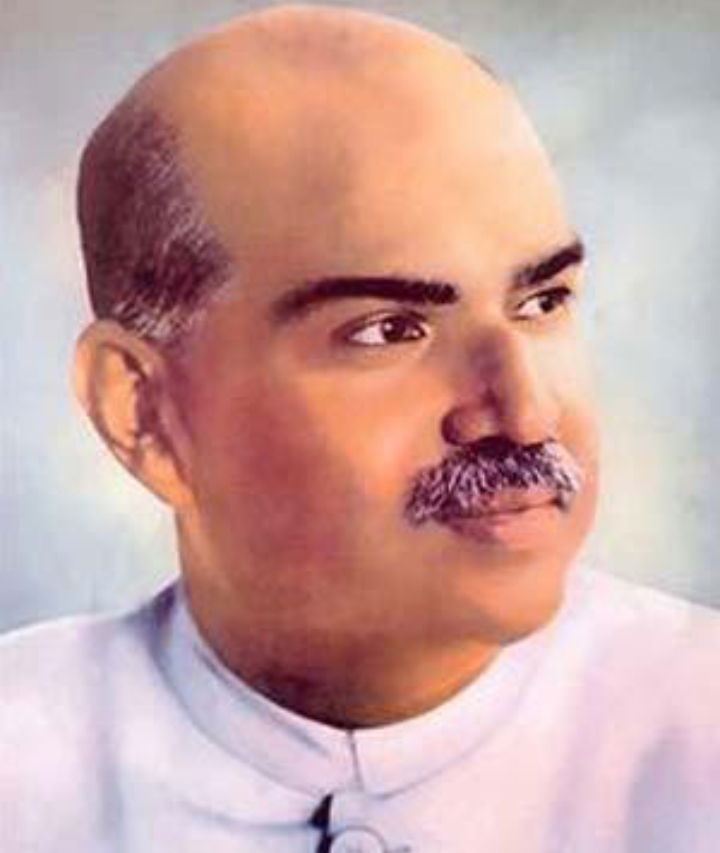 Dr. Shyama Prasad Mukherjee dies of a rather mysterious "heart attack" in Srinagar on this date in 1953. A death that to date has more questions than ever, and for which there has been no satisfactory answer.
Thread on his death anniversary.
Shyama Prasad Mukherjee, youngest VC of Kolkata University, served as Finance Minister of Bengal. He also served as Minister for Industries in Nehru's cabinet, and also formulated the first Industrial policy of Independent India.
Unfortunately Shyama Prasad Mukherjee has never been given his due, by historians, has been portrayed as a rabble rousing communal bigot. Which is rather unfortunate, this was the man who had wanted a Uniform Civil Code for both Hindus and Muslims.
This was the man who opposed the amendment to the Constitution putting restrictions on the Freedom of Speech. And who finally gave up his life, fighting for a basic cause, that an independent, sovereign nation could not have two constitutions( India and Kashmir).
Coming from quite an illustrious background, he inherited a tradition of scholarship and nationalism from his father Ashutosh Mukherjee. He graduated from University of Calcutta in 1921 and later his masters from the same institution in English.
He also had an MA in Bengali at the insistence of his father, who felt that vernacular languages should also be given importance. He had an early blow when he was just 23, with his father passing away in 1924, at Patna.
My life changed its course on 25th May,1924.All the mirth and joy disappeared from my life. A new chapter had began and it continues to this day.- On his father's death.
After his father's death, he became a Fellow of Kolkata University, and was appointed as a Syndicate member in place of his father. Having had to live up to an illustrious legacy, his father had served with distinction in his capacity, he soon proved to be equal to the task.
For close to 2 decades, he would serve Kolkata University in various capacities, with distinction. In 1926 he left to London, to study for the Bar and enrolled at Lincoln's Inn. He worked for some time with Kolkata High Court on return, and even practiced there.
He again had to suffer another personal loss, when his wife Sudha passed away, leaving his 4 children in his care. Fortunately his sister in law, Tara Debi, took good care of his children, bringing them up as her own.
In 1934, he became the Vice Chancellor of Kolkata University, at just 33 years, the youngest person to ascend that position, and for 4 years he served with distinction.
As Vice Chancellor of Kolkata University, he bought in many changes, and reforms to the education. He introduced a diploma course in Agriculture, implemented schemes for women's education.
He established Chinese and Tibetan studies, founded the Ashutosh Museum of Fine Arts and began construction of a new Central Library. He introduced Hindi in Arts course, as well as Bengali, Hindi, Urdu as second languages
He also prepared a Bengali Paribasha of scientific terms, and started a special series of publications in the language on various topics. He formulated the College Code, introduced system of supplementary exams for failed students, as also initiating military training.
He also started the practice of celebrating University Foundation Day on Jan 24, every year, and initiated a scheme in Applied Chemistry to impart training in production of industrial goods.
It was during his tenure that Rabindranath Tagore addressed a convocation in 1937 for the first time. He was also Member of Council for IISC, Bangalore and played his role there too.
It was after he finished his term as Vice Chancellor of Kolkata University, that he entered into active politics, joining the Congress party, and entering the Legislative Council in Bengal.
However with Congress boycotting the legislatures, he also quit, and later stood for elections as an Independent candidate, and won. He joined the Krishak Party-Muslim League coalition Govt in Bengal, and served as Finance Minister from 1941-42, joining hands with Fazlul Haq.
However he had a very stormy tenure, with the Government restricting his movements, not allowing him to speak. Even worse he was stopped from visiting Midnapore district, in 1924, after it was hit by heavy floods.
He resigned in protest, and mobilized relief along with the Ramakrishna Mission, Mahabodhi Society. And in 1946, he was once again elected as an Independent, and later to the Constituent Assembly.
On a side note he was an active member of the Mahabodhi Society, served as it's president, and managed to bring back the relics of Sariputta and Maudgalayana, two of Buddha's disciples from the British museum which he later placed in the Sanchi Stupa.
His association with the Hindu Mahasabha was quite long, he had had basically joined it as a protest against the Muslim League's communal politics. He had played a prominent role in the 1939 Hindu Mahasabha session at Kolkata presided over by Veer Savarkar.
He was arrested in Bhagalpur, when he proceeded there to defy the ban on the Hindu Mahasabha, of which he was President. He was also among the leaders to reject the Cripps Mission when it supported the demand for partition of India.
As President of the Hindu Mahasabha, he had organized large scale relief work for the drought affected in Bengal and also presided over the Amritsar session too. In between he served as President of Royal Asiatic Society of Bengal.
The event that influenced his ideology, was the Noakhali riots, that occured in 1946 during months of October and November. Occurring primarily in Chittagong division of East Bengal( now in Bangladesh), it was one of the worst genocides of Hindus, by Muslim League mobs.
Begining on Durga Puja, it was a series of planned forced attacks on the Hindu population in that region, which at the last count led to 5000 dead. Another was the Kolkata riots of 1946, carried out by the Muslim League leader Suhrawady, in response to Direct Action Day.
Rampant looting and arson of Hindu properties took place, many Hindus were massacred en masse. It was during this time that he stood firmly behind the Hindus, formed the Hindustan National Guard to save the affected people.
Though he was opposed to partition initially, after Noakhali and the Direct Action Day riots in Kolkata, he was convinced, that it would be equally wise to partition Bengal too, with the Hindu population living in the Western part, that would be a part of the Indian Union.
After independence, Shyama Prasad Mukherjee, was invited by Nehru to join the Union Cabinet as Minister for Industries and Supplies. He framed the first Industrial policy of India after independence, and was an able administrator, winning the admiration of many.
His resignation from the Union Cabinet in 1950 was over the Nehru-Liaqat Ali Pact, to which he was strongly opposed. It was due to the widespread massacres against Hindus in Eastern Pakistan( now Bangladesh) that in turn led to huge waves of migration into Kolkata and Bengal.
Around 50 lakh Hindus left their homes in Eastern Pakistan, and fled to India. When he called for strong action against Pakistan, Nehru instead went ahead and signed a pact with Liaqat Ali, the Prime Minister of Pakistan
Terming this a gross act of appeasement, he resigned from the cabinet, again becoming the first ever to do so in Independent India. He devoted his life now to the RSS and resettlement of the refugees.
Post his resignation he devoted his work full time to the RSS, became it's lifelong pracharak, worked extensively in Lakhimpur district of Assam. The Bharatiya Jan Sangh, was founded by him in Oct, 1951 after due consultation with Guru Golwalkar, the then RSS head.
In 1952, the Jan Sangh won 3 seats in the Lok Sabha elections, with Mukherjee himself winning from Kolkata South defeating both the Congress and Left candidates. Along with other opposition members in Parliament he founded a National Democratic party.
As an opposition leader, he firmly believed in individual liberty, and freedom of expression. He opposed the amendment to the Indian Constitution, putting restrictions on Freedom of Expression and also detention without trial.
The main ideological points of BJS which were laid down by Shyama Prasad Mukherjee were Uniform Civil Code for everyone, including Muslims and Hindus, scrapping Article 370 and full integration of Jammu and Kashmir with Indian Union and a ban on Cow Slaughter.
In 1953, he planned to travel to Jammu in solidarity with the protests by the Praja Parishad there, which was demanding full integration of Jammu and Kashmir with the Indian Union.
The Prime Minister of Kashmir had full powers to decide who could or could not enter the state, and this was protested by Mukherjee. He famously claimed Ek desh mein do Vidhan, do Pradhan aur Do Nishan nahi chalega.
One country can't have 2 Prime Ministers, 2 Constitutions and 2 Emblems. His reference was to the fact that Kashmir then had it's own emblem, own status, own Constitution.
He entered Kashmir illegally on May 1953 protesting against the law, which demanded special permission to visit it as well as ID cards.Arrested on May 11, 1953, when he crossed the border into Kashmir,along with Guru Dutt Vaid and Tekchand Sharma, he was put into a prison.
Later they were transferred to a cottage outside the city, where his condition started deteriorating. On 19th June he was suddenly diagnosed with "dry pleurisy and coronary troubles".
The doctor Ali Mohammed, prescribed a streptomycin injection, inspite of Shyama Prasad informing him, that it did not suit his system. The doctor reassured him, that as per new information that came to light, the drug would cause no harm.
On June 22, he began to feel pain in the heart region and was later shifted to the hospital. Only one nurse Rajdulari Tikoo was present by his side, and when his condition worsened, she called Dr. Jagannath Zutshi.
However his health deteriorated even more and around 2:25AM, June 23, 1953 he was pronounced dead of a "heart attack". Not many were willing to buy into this theory of natural death, and his mother Jogamaya Devi among others raised, request for an enquiry into his death.
Dr.Shyama Prasad Mukherjee died a martyr for the cause of India, for demanding, that no indepdendent sovereign nation could have more than one PM or more than one constitution.
This was a man who stood up for individual rights, demanded a Uniform Civil Code and built up Kolkata University to what it is today, Dr. Shyama Prasad Mukherjee was a true colossus whose contribution has been forgotten sadly by modern India.
DISCLAIMER: The author is solely responsible for the views expressed in this article. The author carries the responsibility for citing and/or licensing of images utilized within the text.