Rulers of Kashmir: A Chronological set up (Part-5)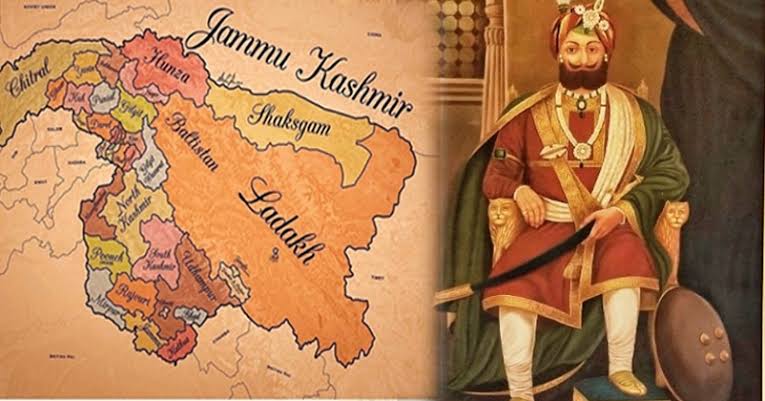 Dogras in Kashmir
190. Maharaja Gulab Singh (1846-1857 A.D.)
Lord Hardinge visited the valley in 1844. Punch, Ramnagar, Bhadrawah, Kishtwar, Bhimbar, Rajowri, Skardu were added to the dominion of Jammu & Kashmir by Gulab Singh.
Baltistan subdued.
The Trigonometrical Survey and first map of Kashmir during 1855-63.
Mirza Saif-ud-din Beg wrote Khulasat-ul-Tawarikh.
Mulla Muhammad Khalil Mirjanpuri wrote Tarikh-i-Kashmir.
Mir Azizullah Qalandhar wrote Tarikh-i-Kashmir.
Muhamud Gami wrote Yusuf Zulaikha, Laila-wa-Majnu, Shrin-o-Khusrav and Harun-ur-Rashid.
Lt. Col. Torrens visits Kashmir in the 1860s and calls Shawl traders the "merchant princes of Kashmir". They were selling shawls at 500 percent profit on its original cost of production in Kashmir. Mukhtar Shah tells John Ireland, an American visitor to Kashmir, if labor was as cheap in France as Kashmir, they could make shawls as well as he did.
191. Maharaja Ranbir Singh (1857-1885 A.D.)
British Residency established in Srinagar in 1855. Ranbir Singh helped the British during the mutiny of 1857.
In 1847, weavers protested their living conditions. They are living hand-to-mouth. They threatened mass migration to Punjab. Gulab Singh accepts that conditions are bad but suggests that they can change employers for better wages. On the ground nothing changes. Amritsar becomes the new centre of Shawl trade.
In 1865, weavers protested the high cost of Shali and high taxes on Shawl manufacture. Governor Kripa Ram (of Jammu, famous for his leisurely lifestyle in Kashmir) ignores the demand. Shawl Baafs (Shawl industry workers) revolt in April 1865 against the Dagh-Shawl department headed by Pandit Raj Kak Dhar. They take out effigy of Raj Kak Dhar and claim Dhar is dead. Dhar panics.
Infantry called in, about 28 die and leaders were put in prison. The department was later abolished in 1890 when the trade had almost collapsed.
Dogri language received great impetus under him. The Dharmath Trust brought into being. Attempts on the life of Jawahir Singh of Punch and Miyan Hethu of Rajanri. Gilgit reconquered. Setback to the Shawl trade of Kashmir due to the Franco-Prussian war of 1870 between the French empire and German states.
Severe famine in 1877. Advent of church Missionary society. Clash between Shias and Sunnis in 1872 at Zadibal. Ranbir's Durbar on Akbar's model.
Diwan Kirpa ram wrote Gulzar-i-Kashmir (1870) and Gulabnama. Pir Hassan Shah writes Tarikh-i-Kashmir. He ends his work on the death of the Shawl trade. He calls it "God's punishment" for the dissolute lifestyle of the wealthy shawl manufacturers.
Abdul Wahhab Pare writes Divan-i-Wahhab, Darveshi, Sailab Nama and Kar-i-Patwar.
Raghunatha and Shiv temples at Jammu.
Collection of manuscripts (Georg Bühler ) and their translations.
In 1888, with the shawl trade declined, the shawl merchants like Hajji Mukhtar Shah Ashai (d.1892, in business since 1811), who were also patron donors of various Muslim shrines in the Valley, asserted their dominance of these institutions.
They get the Maharaja to pass a law that Mirwaiz Kashmir Yahya Shah cannot preach in a shrine where 100 people oppose him. Thus Mirwaiz is forbidden from preaching at Khanwah-i-Maulla.
192. Maharaja Pratap Singh (1885-1925 A.D.)
In 1890, Germany chose to support Austria against Russia over competing influence in the Balkans, setting stage for World War 1.
Powers of the Maharaja were withdrawn by the British in 1889. Severe Cholera in 1888, 1892, 1900-02, 1906-07 and 1910. Appointment of Lawrence for land settlement of the valley in 1887. Persian as a court language replaced by Urdu. First college opened in 1905. Prince of Wales College, Jammu, opened in 1907.
Railway extended to the state. Power house set up in 1907-08. Conquest of Hunza Nagar and Chitral.
The State Council in 1891 first recognised inhabitants of the state as "State Subject" and their right to jobs. Maharaja would talk about it in court. But, nothing was formalised.
This triggered the pandit agitation about jobs. It was voiced first in writing in 1894 by Saligram Kaul, in Sialkot. Saligram was brother of Hargogal Kaul, the man who started Sanatan Dharam Sabha. Hargogal Kaul was a man born and brought up in Punjab in a KP family that had settled there in earlier times of persecution. Hargogal arrived in the state around 1876. He was quickly branded a British agent and rumor started that he had drowned some KMs in a boat.
He was a fierce critic of the Maharaja and was even banished from the state for some years. He was charged by Wahabi leader Yahya Shah of hurting religious sentiments of muslims in around 1898.
State subject laws came up in 1917.
Kashmiri poetry of Krishna Das, Maqbool Shah Kralawari, Abdul Ahad Nazim and Rasul Mir Shabadi.
193. Maharaja Hari Singh (1925-1947 A.D.)
In 1907, KM representatives while asking for education funds for Islamia school were writing to Maharaja thanking him for protecting them from Arya Samajis , the evil brains behind Congress whose main agenda is Hindustan for Hindus.
"Kashmir for Kashmiris" movement started in the 1920s. Slogan was coined by Shankerlal Koul, product of Biscoe School.
Muslim revolt came to the forefront in 1931. In 1932, Muslim conference was born. The National Conference came out of Muslim Conference in 1939 with Congress support from the mainland. Pandits like Jia Lal Kilam, Kashyap Bandhu and Prem Nath Bazaz join.
Major communist/socialist influence in the movement. Subsequently 'Quit Kashmir' was modeled on 'Quit India' in 1946.
Kashmir acceded to the dominion of India in 1947. Tribal invasion took place in October of 1947. Popular rule established. Hereditary rulership was abolished as a result of the convening of the Constituent Assembly in 1951. Yuvraj Karan Singh, son of Hari Singh elected first head of the state under the new Constitution of Kashmir.
Palaces at Srinagar and Jammu. Boulevard. Hospitals at Srinagar and Jammu.
Kashmiri Poetry of Ghulam Ahmad Mahjur, Abdul Ahad Azad and Master Zinda Kaul.
Source: Search Kashmir
DISCLAIMER: The author is solely responsible for the views expressed in this article. The author carries the responsibility for citing and/or licensing of images utilized within the text.