Narendra Modi Please Sack Union Education Minister 'Dr' Ramesh Pokhriyal Nishank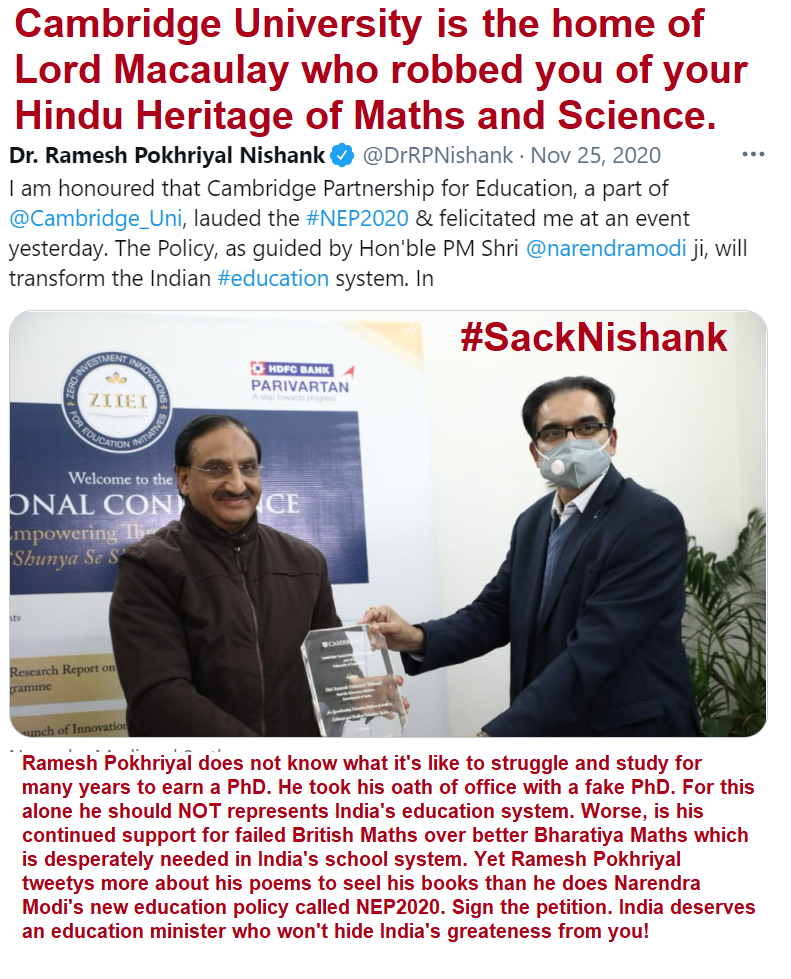 Proud Indian patriots should consider this…
India's Hindu heritage was stolen from it by the British.
India used to be a Vishwa Guru (world teacher) in mathematics.
Aryabhata, Bhaskara and Brahmagupta gifted the world a truly great maths legacy, yet it got lost in the Arabic World on its way West.
Union Education Minister 'Dr' Ramesh Pokhriyal Nishank refuses to revive the better Bharatiya Maths of Bharat's Rishis and Gurus preferring British Maths that led to India ranking second-last in maths education.
Union Education Minister 'Dr' Ramesh Pokhriyal Nishank did NOT study for a PhD.
After previously resigning due to a land scandal, he took his oath of office as 'Dr' with a FAKE PhD. This is an INSULT to education.
He tweets MORE about his poetry to sell his books than he does NEP2020 education policy.
China ranks #1 in Maths Education
Indian ranks #73 in Maths Education
Nishank is NOT taking the action needed to teach better Bharatiya Maths that will lift India's rankings to the Top 10.
For these and many more reasons:
Prime Minister Narendra Modi Ji India would be better served with a dedicated hard-working Union Education Minister that does NOT covert Cambridge University, the home of Lord Macaulay, who destroyed India's original education system.
India would be better served by a man not implicated in fraud or passing himself off as having earned a PhD when he has not.
Whilst Nishank remains at the top of India's Education bureaucracy, India will be seen as a fake and fraud when it comes to nation-building campaigns such as #MakeinIndia and #AtmanirbharBharat
Nishank is stealing your rightful heritage of Bharatiya Maths from you and your children.
Don't get mad. Sign the petition!
DISCLAIMER: The author is solely responsible for the views expressed in this article. The author carries the responsibility for citing and/or licensing of images utilized within the text.