Unmatched Valor of Guru Gobind Singh ji's Son's: Zorawar Singh ji & Fateh Singh ji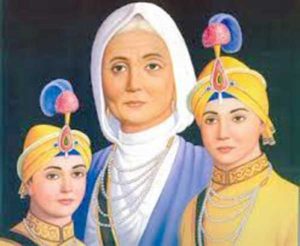 The Martyrdom of 2 Youngest son of Guru Govind Singh occupies one of the most prestigious position in the Sikh War History. Sikh has always played a very pivotal role in stumbling and uprooting the Mughal empire especially in North India and very firmly raised not only their voice but fought many armed battles against the Mughals who were desecrating the temples, killing innocent Hindus, took Jaziya from them,converting them to Islam by means of Sword and raping the daughters of Kafirs. If the adherents of Sikh Gurus wouldn't have challenged the Mughals during that era of darkness then Hindu religion would have been completely wiped out from India forever as such was the degree of brutality and havoc played on them by Jihadist Mughal.
In Anandpur Sahib where Guru Gobind Singh along with other khalsas were residing, Coalition forces of Mughal army and 22 Hindu kings of Hilly region of Northern India surrounded the City whose only aim was to kill Guru Gobind Singh but even after 7 months of seizing the City from outside didn't get any success to mughal which irked Aurangzeb so much that he played deceit move of sending letter to Guru ji stating that he wouldn't cause any harm to Sikhs if they willingly Vacate the city, he took false oath of Quran so that he could win trust of Guru ji, Guru ji agreed to this proposal and as he was leaving the city, Mughal forces attacked them since they were heavily outnumbered they had no choice but to run from them, in front of them Sirsa river was ferociously flowing so Guru ji decided to cross the river and many Sikhs died on the way, the Family of Guru Gobind Singh got separated from them since his mother and 2 younger Son Fateh singh (6) and Jorawar Singh (9) were still on the opposite side of river.
The Mother of Guru Gobind singh and his both Sons headed towards the nearby Forest where they were reciting the path of Banis and they were so brave that even after seeing the sight of dangerous animals those brave hearts never trembled in fear. Finally they were able to cross forest and took shelter in the nearby cottage for one night, Gangu who was the worker in the LANGER of Guru Ji took them to his house but he betrayed them. When Mother of Guru ji and 2 sons were sleeping then Gangu stole the wealth and golds of Mata Gujri, she had seen him stealing but she didn't said anything to Gangu. But the biggest Betrayal he did when he informed the administration of Sirhind that Mata gurji and 2 sons of Guru Gobind Singh were in his house. Mughal forces leapt on to this opportunity and apprehended them.
The Nawab of Sirhind Wazir khan who was already annoyed at the failure in Chamkaur since his forces weren't able to Kill Guru ji, for him this was best moment to take avenge from Guru Gobind Singh by killing his 2 sons. Both sons of Guru ji were presented in the courtyard of Wazir Khan and he told them that Muslims would feel very happy if both of you would accept Islam, recite Kalima and become Muslim. Both of them at once answered explicitly that we will not become Muslim, our Grandfather Guru Teg Bahadur gave his head but not his religion and so as we.This raged Wazir Khan very much that he threatened them to punish but many people of his courtyard called it this as wrong and told Wazir khan that there fight is with Guru ji not with his 2 sons. On the next day both sons were asked by Wazir khan that what would they do if they were set free,then both of them said we would form the army and like our Father would combat all the atrocities and oppression.This filled both Wazir khan and Muslim clerics with so much anger that they issued a fatwa to Kill them by incarcerating them with wall. Even this decision of Wazir Khan was unable to traumatize sons of Guru Gobind Singh ji and they keep on chanting the religious slogans "Wahe Guru Ji da Khalsa Wahe Guru ji di Fateh"
Both of them told everything to Mata Gurji about the fatwa of death for them, Mata ji recalled the incident when Guru Teg bahadur ji sacrificed himself and told both of them that its turn of both of you to emulate it. Wazir khan on the next day called Executioner from Delhi for the Annihilation of both sons of Guru ji. These Executioner at first lured them to become Muslim but they refused and told them to make the wall of sins of Mughal to kill us, they started making wall putting brick by brick and both the brothers invoked the sacrifices made by Sikh Gurus, One brother Jorawar Singh got delighted and said that we both would go to heaven to play with our grandfather Guru Teg Bahadur ji and as the wall was increasing both of them ultimately fainted and so executioner decided that there is no need to increase the wall and then the silted the throat of both sons of Guru ji and they attained martyrdom, on seeing her both grandson dead, mata gurji also departed.
Just like Guru Gobind Singh ji his both of his Sons Zorawar Singh ji and Fateh Singh ji had the similar trait of bravery, courage, fearlessness. They were launched directly into the eye of the storm to witness the event which took their life but those gallant and Chivalrous Sons faced it with full enthusiasm, they had an option to live like a jackal for 100 years by accepting Islam but sons of Guru ji preferred to live with respect like lions and got martyrdom in this way, succeed in their life and thereafter. Wazir khan and mughal committed such a gruesome act that they can't be forgiven for their sin, whole incident was stigma and blot on the face of humanity, it glued together with them ignominy permanently which they cannot remove. Sons of Guru ji exuded brashness, zest and remained unflappable till their last breath which shows their resolve to fight the injustice and paid the debt which wasn't even due on them. Even today in remembrance of both youngest sons of Guru ji, Sikhs and Hindus offer two bricks in river satluj in Punjab, the valor of both brothers had left deep footprints for the forthcoming generation that would inspire them to dutifully confront against evil forces of society and never compromise with your cherished principle, faiths and ideals and would build everyone courage, motivation to selflessly protect your culture from the atrocities, oppression and brutalities of oppressors.This was the saga of valor and sacrifice of both Sikh brother which is unforgettable and would remain in our heart forever.
DISCLAIMER: The author is solely responsible for the views expressed in this article. The author carries the responsibility for citing and/or licensing of images utilized within the text.