Saket Gokhale used the donations from anti-Modi brigade as salary!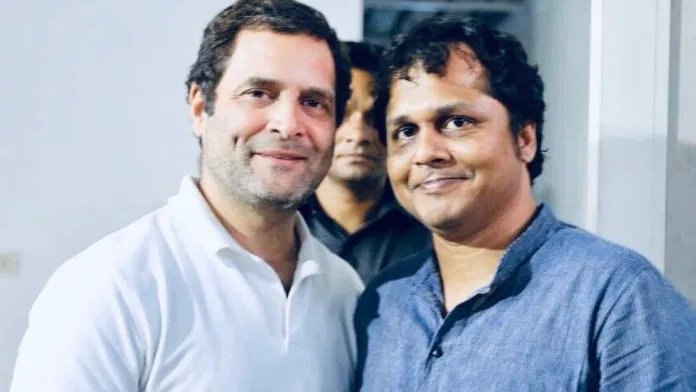 Saket Gokhale, a self-proclaimed social Activist, RTI activist who is fighting windmills in his fight against fascism, a Rahul Gandhi fanboy and a leader of TMC, has been accused of embezzlement of funds collected by him in his so-called tirade against Modi government.
Though his sanghi-minded opponents have accused Gokhale of merely filing complaints and RTI applications, and not following upon them. Particularly in cases involving courts, the man has been quick to file PILs, without actually following upon them. So, the legal costs incurred by him are practically zero, as alleged by the fascism enablers.
Saket Gokhale has been seeking crowdfunding and has been in the crowdfunding business with different platforms, for at least two to three years now. He begs people to donate to his cause of activism, so that he can sustain himself in this deadly fight. Therefore, liberals, far-left extremists, and Islamists ended up becoming a cash-cow for Gokhale's business model.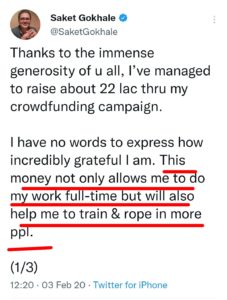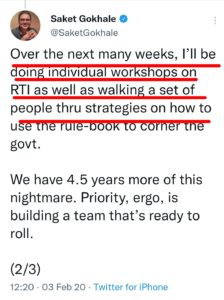 One such specimen – Hussain Haidry seems to be getting very annoyed and skeptical of Gokhale's activism, which he has displayed through various tweets. Haidry took to Twitter to claim how Gokhale never replies if one asks for CA audited receipts, payment accounts and status of work done till date in terms of FIR, PIL and RTI complaints filed with cost per case, among other details.  Also to other netizens dismay, Haidry was soon joined by other compatriots who claimed of getting conned by the self-declared activist.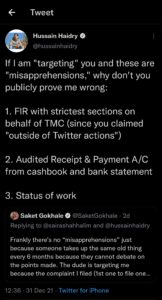 Hussain said that when people demand transparency from Saket Gokhale, he often responds with "You did not donate to me" or "Take your money back".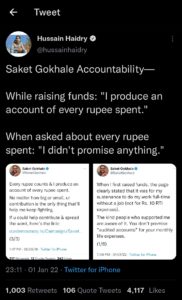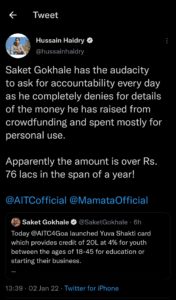 It is pertinent to note that, Saket Gokhale seems to have allegedly raised Rs. 76 lakhs in one year to fund his 'operations'. One user pointed that after people started demanding accountability from Saket Gokhale, he moved from a fundraising platform to a direct payment platform, thus removing even an ounce of transparency obligations. 
Saket Gokhale was previously a Congress supporter and claimed to be a Rahul Gandhi fanboy, is now a spokesperson for the TMC, since August 2021. However, Saket Gokhale has rubbished these frivolous claims and has replied befittingly that he raised the amount through crowdfunding was for his "monthly expenses" and "sustenance".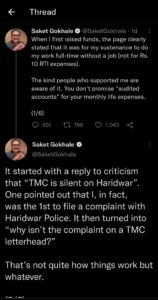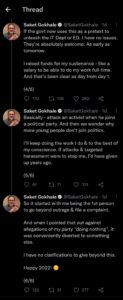 Interestingly, in February 2020, Saket had claimed that the money he has raised "helps pay my expenses for the work I do full-time". But finally, he has put an end to these specifications as he is claiming that the money raised is used in covering his expenses. Once Kejriwal took donations, then deleted the donors list from its website. Though for a greater cause, one can forego silly losses and make bigger contributions instead!
DISCLAIMER: The author is solely responsible for the views expressed in this article. The author carries the responsibility for citing and/or licensing of images utilized within the text.