Sam Manekshaw – The No Nonsense General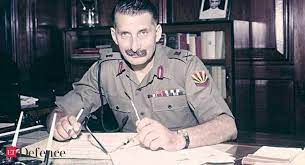 Reportedly, his last words were "I'm okay!".
Perhaps no military general in the history of independent Bharat has ever captured the national imagination in the way #FieldMarshalSamManekshaw did.
One of the chief architects of Bharats's 1971 victory against Pakistan, Manekshaw was born on this day in 1914 at Amritsar for Dr. Hormusji Maneckshaw & Heerabai.
In July 1932, he joined the Indian Military Academy as part of its first batch. It is believed that he did this as an act of rebellion against his father who refused to send the young boy to London to study medicine.
Manekshaw joined the first intake of the Indian Military Academy, Dehradun in 1932. After the partition of Bharat he was reassigned to the 8th Gorkha Rifles. Manekshaw was seconded to a planning role during the 1947 Indo-Pakistani War and the Hyderabad crisis.
In 1961, Manekshaw made derogatory comments about the political leadership of NEHRU AND KRISHNA MENON which allowed his opponents to label him as unpatriotic, and he was charged with sedition by Nehru Govt.
A court of inquiry held by military found him innocent & was promoted as Army Commander in 1964.
Having already commanded troops at division, corps and regional levels, Manekshaw became the eighth chief of the army staff in 1969. Under his command, Bharatiya forces conducted victorious campaigns against Pakistan & also to the creation of Bangladesh in December 1971. He was awarded the Padma Vibhushan and the Padma Bhushan.
In January 1973, he was conferred with the title Field Marshal Sam Hormusji Framji Jamshedji Manekshaw the first army officer of independent Bharat to get the honour.
Like Gen Thimmayya, Sam Maneckshaw also had bitter instances with Nehru and Defence minister Krishna Menon.
On 25th Oct 1947, Sam Maneckshaw asked for troops at Srinagar Airport & Nehru declined, but Sam approached Patel who had become close during Operation Polo & explained the need for troops, and Sardar made it available irking Nehru.
During a visit to Manekshaw's division, Menon asked him what he thought of Thimayya. Manekshaw replied that it was not appropriate for him to think of his chief in that way, as he considered it improper to evaluate his superior, and told Menon not to ask anybody again & stop acting as a fool.
This annoyed Menon a lot & nursed grudge against Sam. He was waiting for an opportunity & it came when Menon promoted a junior for a position ignoring the seniors, Gen Thimmayya resigned in protest & Nehru didn't approve, there were no changes as requested by Gen.
Meanwhile Menon proceeded with Sedition charges against Sam for openly disapproving Menons judgements.
It was widely believed that Manekshaw had come close to being dismissed from the service.
The court, presided over by the General Officer Commanding-in-Chief (GOC-in-C) of the Western Command, Lt. Gen. Daulet Singh, known for his integrity, exonerated Manekshaw. Before a formal 'no case to answer' could be announced, the Sino-Indian War broke out.
Manekshaw was not able to participate because of the court proceedings. The Indian Army suffered a debacle in the war, for which Kaul and Menon were held primarily responsible, and both were sacked. In November 1962, Nehru asked Manekshaw to take over the command of IV Corps.
Manekshaw told Nehru that the court action against him was a conspiracy, and that his promotion had been due for almost 18 months; Nehru apologised. Shortly after, on 2 December 1962, Manekshaw was promoted to acting lieutenant general and appointed GOC of IV Corps at Tezpur.
Soon after taking charge, Manekshaw reached the conclusion that poor leadership had been a significant factor in IV Corps' failure in the war with China. He felt that his foremost responsibility was to improve the morale of his demoralised soldiers, which he achieved by ordering them to operate more aggressively.
Nehru visited the headquarters with his daughter Indira, when they did some remarks which he disliked, Manekshaw retorted that he should be allowed to command his troops the way he wished, or he should be sent to a staff appointment.
Manekshaw was appointed as the eighth chief of the army staff on 8 June 1969. During his tenure, he developed the Indian Army into an efficient instrument of war, and was instrumental in stopping a plan to reserve positions in the army for Scheduled Castes and Scheduled Tribes.
During a cabinet meeting towards the end of April, Prime Minister Indira Gandhi asked Manekshaw if he was prepared to go to war with Pak Maneckshaw replied in negative & gave reasons for the same.
After the meet, Sam offered to resign, Indira declined ,instead sought his advice. He said he could guarantee victory if she would allow him to handle the conflict on his own terms, and set a date for it; Gandhi agreed and rest is history.
Although Manekshaw was conferred the rank of field marshal in 1973, he was not given the complete allowances to which he was entitled.
It was not until 2007 that President A. P. J. Abdul Kalam met Manekshaw in Wellington, and presented him with a cheque for ₹1.3 crore.
Manekshaw died of complications from pneumonia at the Military Hospital in Wellington, Tamil Nadu, at 12:30 a.m. on 27 June 2008 at the age of 94.
DISCLAIMER: The author is solely responsible for the views expressed in this article. The author carries the responsibility for citing and/or licensing of images utilized within the text.