Sanjay Raut threatens Navneet Rana and her husband of burying them 20 feets deep.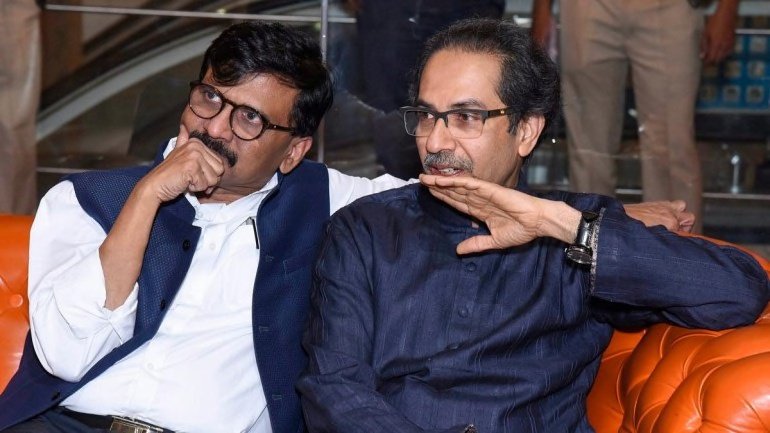 The government of Maharashtra led by Shiv sena or Sonia Sena to be precise has hit a new low after Independent MP Navneet Rana and her MLA husband Ravi Rana were arrested for their attempt to play Hanuman chalisa outside CM Uddhav Thackeray's house Matoshree.
Sanjay Raut of Shiv Sena amidst the ongoing controversy over loudspeakers, threatened independent MP Navneet Rana and her husband Ravi Rana . He said in a press conference in Nagpur on Saturday that "Do not dare to mess up with Matoshree. Will bury you 20ft under the ground,". He further added "I am saying this on record. Will bury you 20ft below if you mess with Matoshree," Sanjay Raut said. He alleged that the Hindutva of Ranas is riddled with poison. This is not real Hindutva. What you are spreading is a poison of hatred. We will suppress such tactics,".
It must be noted that the duo's arrest comes after they gave up their plan of reciting Hanuman Chalisa outside Maharashtra Chief Minster Uddhav Thackeray's residence here, citing that they do not want to disturb the law and order situation in view of Prime Minister Narendra Modi's visit to the city for an event.
Sanjay Raut of Shiv Sena earlier threatened the couple. He said "Do you think it is a game? Do not test Shiv Sena workers. If you challenge us with support from Bharatiya Janata Party (BJP), then be ready to get befitting reply, Do whatever you want, but do not expect us to remain calm if you challenge us to barge in to Matoshri,".
Also the duo went up to hit at Samay Raut. They said "We call Sanjay Raut a parrot, who wakes up in the morning and speaks, if someone gives him chilli, then maybe he will shut his mouth".
The Khar police have registered a case under section 153 (A) (promoting enmity between different groups on grounds of religion, race, place of birth, residence, language, etc., and doing acts prejudicial to maintenance of harmony) against the Rana couple.
DISCLAIMER: The author is solely responsible for the views expressed in this article. The author carries the responsibility for citing and/or licensing of images utilized within the text.