Seditious Statement passed by Farooq Abdullah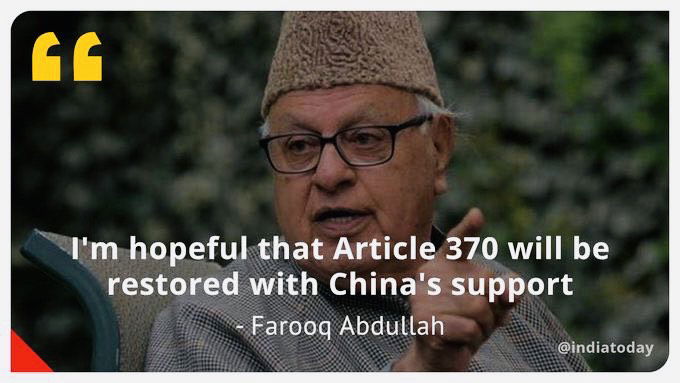 A Seditious statement passed by National Conference Chief Farooq Abdullah that he hoped , with China's support, Article 370 will be restored in Jammu & Kashmir.
Farooq Abdullah also said that china never accepted the nullification of Article 370. He said that till you restore Article 370, we won't stop because it has now become an open issue.
He even said "May Allah wish that our people get help from their might and our Articles 370 and 35A get restored".
BJP national spokesperson slammed Farooq Abdullah
BJP national spokesperson Sambit Patra slammed Farooq Abdullah . The BJP taunted Abdullah saying he can go to any place he wishes too if it irks him so much.
Sambit Patra said, "The kind of softness about Pakistan and China and the kind of shamelessness about India raise a lot of questions in themselves."
He further asked, "Does it suit an MP to question the sovereignty of the country, question the independence of the country? Are these not anti-nationals?"
"In a way, Farooq Abdullah justifies China's expansionist mindset in his interview. At the same time, he makes another anti-India comment that if he gets a chance in the future, he will bring Article 370 back with China's help," said Sambit Patra.
Sambit Patra said it is painful and worrisome that a former chief minister and sitting MP makes such a statement and "justifies the expansionist attitude of China".
Parliamentarians from opposition parties have the right to attack and criticize the government, but "does it suit a sitting MP to speak against the interests of his own country out of frustration against Prime Minister Narendra Modi", he said.
rahul Gandhi compared with Abdullah : Both has become a hero in China
Drawing parallels between the remarks of Abdullah and Congress leader Rahul Gandhi, Patra said they both have a similar mindset and are two sides of the same coin.
"It is not just Farooq Abdullah who makes such statements. Rahul Gandhi also does so. If you look back into history and listen to the recent statements of Rahul Gandhi, you will find that both these leaders are two sides of the same coin," Patra said.
He said that by questioning the Balakot airstrike, Rahul Gandhi had become a hero in Pakistan and, similarly, with the recent remarks "Abdullah has become a hero in China."
Abdullah was among a host of leaders and activists who were detained on August 5 when the centre abrogated Article 370 and divided the state into two union territories — Ladakh, and Jammu and Kashmir.
DISCLAIMER: The author is solely responsible for the views expressed in this article. The author carries the responsibility for citing and/or licensing of images utilized within the text.