Sharia Imposed in Murshidabad(WB): Ban/Fatwa on TV, Carrom, Music, Cellphones, Computers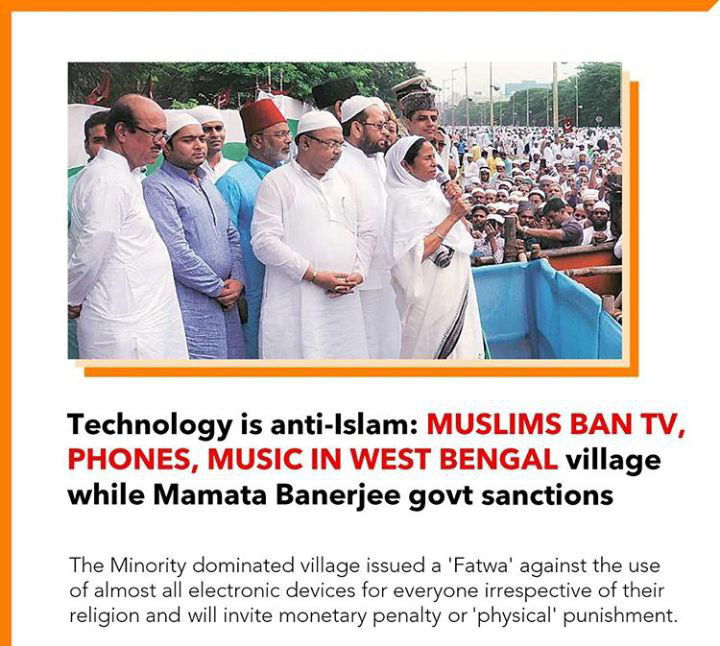 ​​Heads of a minority-dominated village in Murshidabad district issued a fatwa imposing a ban on a series of activities which include watching television, playing carrom, purchasing lottery, listening to music using cellphones and computers and much more.
The fatwa will also invite monetary penalties ranging from Rs. 500 to Rs. 7000, if the rules are not complied with along with physical 'punishment'.
The bizarre incident took place at Adwaita Nagar village, with a population of around 12,000, located along the Bengal-Jharkhand border area in Raghunathganj sub-division.
"We decided to impose a ban on a series of activities to stop the young generation from adopting methods which will lead to their moral and cultural degradation. We cannot allow them to listen to music and watch movies and serials which do not fit our religious culture," said Azharul Sheikh, the secretary of the Adwaita Nagar Social Reforms Committee as reported by TNIE.
The committee issued the fatwa on August 9 and posters listing the banned activities were put up in every corner of the villages warning the local people of the consequences if they violate the dictate.
The local Trinamool Congress-dominated Vasaipaikar panchayat chief, Abdur Rauf found nothing wrong in the fatwa. "Banning liquor is a good decision. Besides, I welcome the decision to ban carom and songs using mobile phones because the youths are getting addicted to it," he stated.
This goes on to show how the Trinamool Congress in West Bengal, only to save its vote bank and not to alienate them, is lying prostrate before a joke of a 'committee', which is brazenly trampling upon the freedom of Indians, just around the time the country celebrated its 74th Independence Day.
Source : The Sanghi Millennial
DISCLAIMER: The author is solely responsible for the views expressed in this article. The author carries the responsibility for citing and/or licensing of images utilized within the text.