Shoaib Akhtar is a bigger star than Anupam Kher and Mithun Chakraborty, as per Kapil Sharma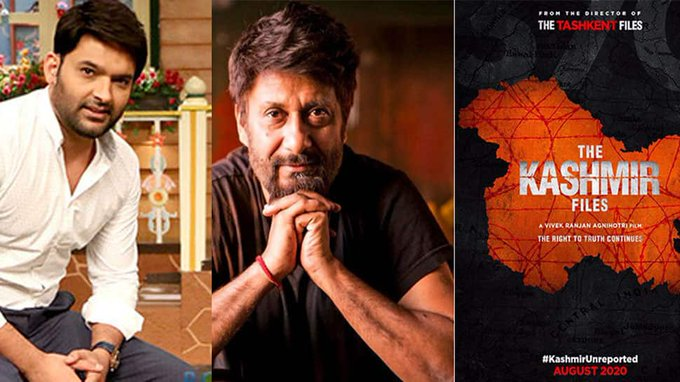 The Kashmir Files is a documentary film documenting the evacuation and deaths of Kashmiri Pandits in the region. Anupam, Mithun, and Pallavi Joshi appear in the film. The film will be released in theatres on March 11th. The Kashmir Files is the true-incident-based movie that has come on the stories of the victims of the Kashmir Genocide. The movie also has a powerhouse of talent involving National award winners Anupam Kher, Prakash Belavadi, Pallavi Joshi, Mithun Chakraborty, and some other acclaimed persons like Bhasha Sumbali, Darshan Kumar, Chinmay Mandlekar, Mrinal Kulkarni, Puneet Issar, Atul Srivastava, and Prithviraj Sarnaik.
Comedian Kapil Sharma, who is always in some kind of controversy has once again hit the newspaper and is trending on the social media platform, Twitter, but this time, it is claiming to be not funny. The movie "Kashmir Files" director Vivek Agnihotri said through his tweets that the creators of the very-well renowned "The Kapil Sharma Show" have refused to call them. He tweeted the reason that "because they don't have a big commercial star in the movie." Soon, netizens got angry over this and started to demand a boycott of Kapil Sharma's comedy show. Let me tell you something about the movie.
A fan tagged Vivek in a tweet, saying that they would love to watch the cast and crew promote the film on The Kapil Sharma Show. Vivek replied saying, "They refused to call on their show because we don't have a big commercial star."
In another tweet, he added, "Even I am a fan. But it's a fact that they refused to call us on their show because there is no big star. In Bollywood non-starter Directors, writers and Good actors are considered as NOBODIES."
It all began with filmmaker Vivek Agnihotri's remark against Kapil Sharma, which quickly trended on Twitter. In a tweet shared on Saturday, Vivek had claimed that Kapil refused to invite him on his hit show The Kapil Sharma Show to promote his upcoming film The Kashmir Files. Kapil and his programme are now trending on Twitter, with some fans asking for a boycott of the broadcast.
The fact that almost nobody will be able to recognise the script written below is a testament to how we as a nation, a society and even the constitutional framework have failed the indigenous people of Kashmir, from the first exodus to the seventh. Article 29 of the Indian Constitution postulates the right of the rights of any group of citizens, with distinct culture and script, to preserve the same. The efforts of Vivek Agnihotri and the team in showing the incidents as they happened must be lauded.
---
---
DISCLAIMER: The author is solely responsible for the views expressed in this article. The author carries the responsibility for citing and/or licensing of images utilized within the text.