Sindhi organizations demand independence from Pakistan amid UNGA session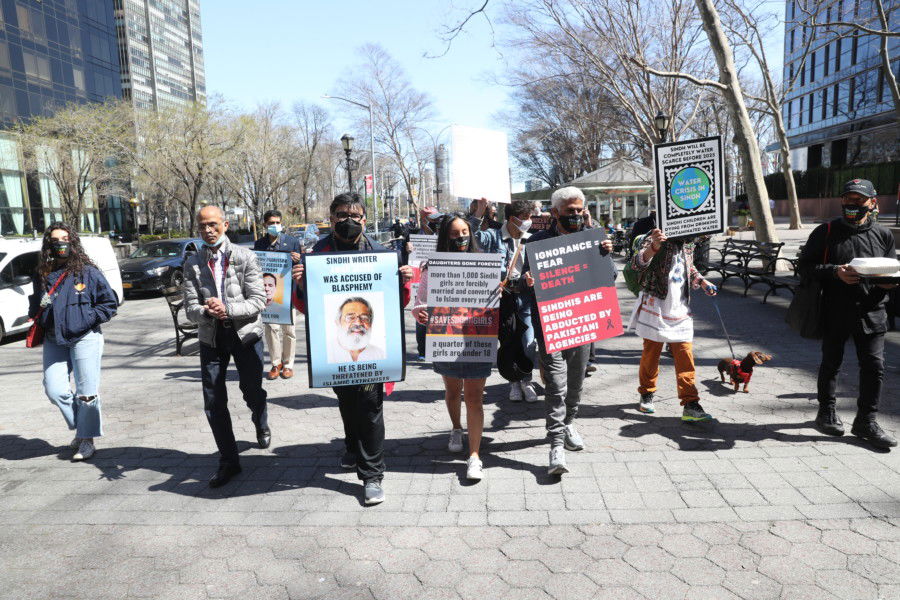 Sindhi organizations are protesting by holding placards amid the visit of Pakistani Prime Minister Shehbaz Sharif to New York for the UN General Assembly session (UNGA).
The Indus Freedom Conclave is being organized by the Jeay Sindh Freedom Movement (JSFM) and will take place September 23–24 in New York City. Along with the Sindhis, the organization has stated that it enjoys the support of Baloch, Afghan, and Pashtoon tribes in their quest for independence from Pakistan.
Zafar Sahito from the JSFM told India Narrative, "We are continuously reaching out against Pakistan before international organizations and advanced countries to prove that it is a failed terror state. We also want to highlight that the money Pakistan is collecting for flood relief will go into the accounts of military generals and Jihadi outfits. Why I say this is because the government, I mean military establishment and their selected elite class representatives, do not care for people."
Sahito added, "To give you an example, a few years back the money which was collected for the earthquake victims of Pakistan Occupied Kashmir (POK) was never given to them."
In order to persecute religious minorities, he continued, Pakistan has fostered Islamist Jihadi organizations.
The activists will hold a conference to discuss problems such as China's growing influence through the China Pakistan Economic Corridor, minority persecution, the right to self-determination for "historical nations," and terrorism supported by Pakistan's intelligence services (CPEC).
The lobbying efforts of several Sindhi organizations in the US have been successful. The problem of Hindu girls being coerced into conversion in the province of Sindh has been brought up by Congresswoman Carolyn B. Maloney.
Congressman Brad Sherman issued a letter to US Secretary of State Antony Blinken in 2021 while serving as the chair of the Sindh Caucus, requesting him to "urge the Administration to pay attention to the human rights abuses in Sindh, and to take quick action to mitigate climate change."
In order to reach the almost 30 million Sindhis who speak the language, or around 14% of Pakistanis, the Voice of America (VOA) launched a Sindhi language website this year. After extensive lobbying by Sindhi organizations calling for a separate Sindh, the website was launched.
Another Sindhi group began a one-week hunger strike earlier this week in protest of Pakistan's human rights abuses in Sindh, Pakistan's economic hub.
Both Baloch separatist organizations and Sindhi rebels have been waging periodic insurrections in Sindh. Due to the fusion of the two ethnic groups, this year has seen a number of attacks in Karachi, the metropolis of Sindh.
The floods, according to Sahito, provided the military establishment with an opportunity to request more funding from international organizations, a charge that many have leveled against the Pakistani army.
DISCLAIMER: The author is solely responsible for the views expressed in this article. The author carries the responsibility for citing and/or licensing of images utilized within the text.