Smriti Irani Tears Into Hypocrisy Of Rahul Gandhi's Love For Farmers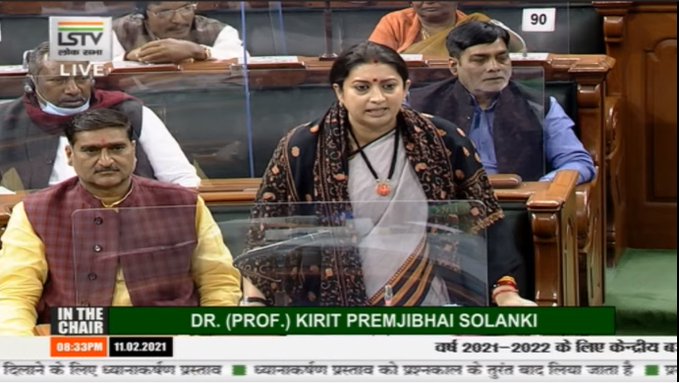 The redoubtable and feisty Union Minister Smriti Irani, who sent Rahul Gandhi packing from the traditional Nehru dynasty Lokh Sabha constituency in Amethi, Uttar Pradesh in the 2019 General elections making him seek refuge in Islamic jihadi Wayanad seat in Kerala, has now tore into the hypocrisy of Rahul Gandhi's rambling speech in the Lok Sabha today.
Smriti replied in Lok Sabha to Rahul Gandhi's speech by pointing out that while Rahul Gandhi sheds crocodile tears for farmers in his speeches in the Parliament and on the social media for the agitating farmers by misleading them with fake information, facts on the ground gives evidence of his family's apathy towards farmers.
She said that while Rahul Gandhi mischievously accuses PM Modi of facilitating the take over of farm lands by corporates like Adani and Ambani from small and marginal farmers in the guise of contract farming under the new Farm Laws, the truth was his own family has looted farmer's land in Amethi.
She buttressed her statement by pointing out the fact that when he was an MP in Amethi, a Trust owned by his family amassed farmers' lands under the pretext of opening a medical college. But they built a guest house for themselves there!
She added that if someone made provisions of a medical college at Amethi, it was Prime Minister Narendra Modi.
Smriti also took a dig at Rahul Gandhi's declaration in the Lok Sabha today that he is not concerned about discussing Budget. As reported by ANI, she said, "I am not surprised because Budget mentions about Atmanirbhar Swasth Bharat Yojana. He is not concerned even when there wasn't even a CT Scan facility at hospitals of his constituency when he was an MP there."
Smriti Irani's hardwork, commitment, oratorship and ease at conversing with the local villagers in Amethi, made her so popular that she gave a devastating blow to the Nehru dynastic politics by demolishing the perpetual heir apparent of Congress party and virtually folding up their political fortunes in Uttar Pradesh with the help of charismatic and powerful leader and BJP's Chief Minister Yogi Adityanath.
News Inputs:ANI
DISCLAIMER: The author is solely responsible for the views expressed in this article. The author carries the responsibility for citing and/or licensing of images utilized within the text.