SRK spilled millions into Pathan but it backfired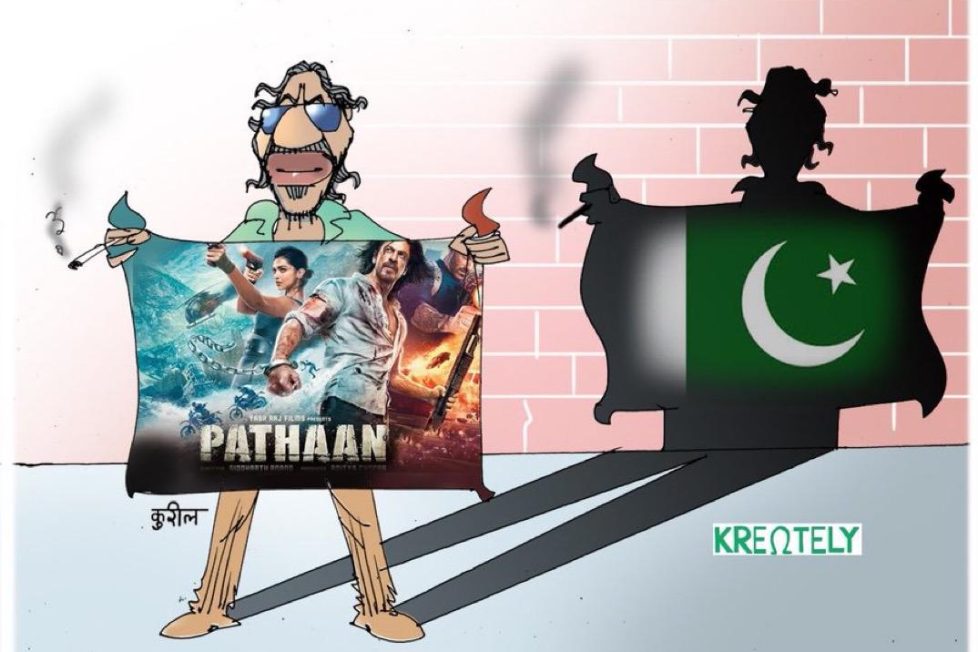 From the last 2 months since the teaser of Pathan was released we saw the deliberate attempt to make it a superhit by paid PR and by paying the critics. Why was this fuss about? Because the so called Mr perfectionist Aamir Khan has lost a great deposit after Lal Singh Chaddha and a high budget film like Brahmastra fell badly at the box office. All this happened not because their content was bad, but the Boycott Bollywood initiative taken by Gems of Bollywood, and kreately media gave a huge setback to film industry. The result of this initiative was so intense that those who made their career in 30+ years went into depression after facing a huge loss.
This is why Shahrukh Khan is investing millions into Pathan to save himself from the days Aamir Khan is currently going through. When the teaser of Pathan was released we saw bunch of trolls naming themselves 'SRKians' on social media thronging to other's timelines who criticized SRK for his pro-Pakistan stand and pledged not to watch his film Pathan. As we all know how one can pay others on social media and get themselves a voice to speak about.
In the case of Pathan, we saw that those handles were mainly coming from Pakistan and these are same handles who thronged into others timeline and twitter spaces, speaking ill of the participants and speaking ill of Hindus and were hailing Shahrukh Khan stating that he pays tax, he has Mannat, he is so rich blah! Blah! Blah!.
This video is another example how SRK has more following in Pakistan than in India.
Dear Indians, are you scared ?#BoycottPathaan #Pathaan #ShahrukhKhan pic.twitter.com/Q3peziJRNT

— Urduwood Exposed (@UrduwoodExposed) December 30, 2022
The deliberate bullying by the social media trolls only stated that they have IQ in negative but a blind fan following for Shahrukh Khan and all these efforts only indicate that they had a call or message from Shahrukh Khan that they have gone bonkers and trolling those are questioning Shah Rukh Khan.
Coming to the collection of the film, to give a befitting reply to the the Boycott gang Shah Rukh Khan amassed a number of critics but before that a huge corporate booking in order to show others how cinemas are being occupied as a result of stardom of Shah Rukh Khan. And how Pathan is a blockbuster. But in reality we saw 1 or 2 individual booking the whole cinema hall by the grace of Bad-shah of Bollywood.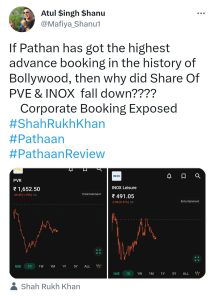 This is worth questioning how this film is earning that huge amount when multiple cinema halls went empty. And how the share prices of PVR and INOX are continuously falling.
Other than that, we saw that no critic questioning SRK on the story or screenwriting of this film. Taran Adarsh who is known as one of the best critic in the Bollywood industry ended up stating how Pathan is earning on its day one or day 2. Other than him, every critic noted can be seen only talking about how Pathan has earned and now what kind of Bollywood film it is.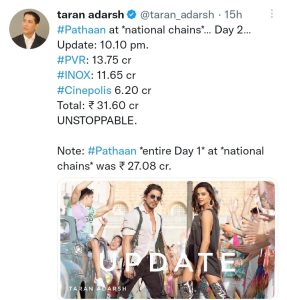 The left liberal journalists are circulating 1 video continuously showing how SRK's film Pathan is winning and boycott initiative has fallen.
Those who actually went to see the film and criticized it for the dumb screenwriting and manipulating story line are also hounded by these SRK fans online. The storyline which includes an ISI and Afghani saving India from a RAW agent is highly criticized not by those who were in favour of the boycott. But those who avoided boycott signals and went to watch the movie.
Summing up we can only say that if SRK wants himself to sustain more in the eyes of the audience he firstly need to shun his love for Pakistan and ISI. And then stop making movies.
DISCLAIMER: The author is solely responsible for the views expressed in this article. The author carries the responsibility for citing and/or licensing of images utilized within the text.