Teesta wanted to implicate Narendra Modi, claims in SIT chargesheet, false evidence fabricated with Sanjeev and Sreekumar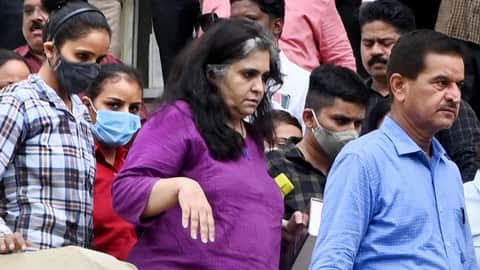 Special Investigation Team (SIT) has filed chargesheet against Teesta Setalvad and two others in Ahmedabad court. Serious allegations have been made against Teesta in the chargesheet. It said that a deep conspiracy was hatched to implicate the then Chief Minister Narendra Modi. Apart from Teesta, former IPS Sanjiv Bhatt and RB Sreekumar were involved. All three wanted Narendra Modi to be jailed. The SIT has filed a 100-page chargesheet in the Ahmedabad Sessions Court.
False evidence for execution of death sentence
The accused have been charged under sections 468 (forgery with intent to deceive), 194 (giving or fabricating false evidence with intent to lead to conviction of death sentence) and 218 (public servant giving false information to protect people from conviction) of the Indian Penal Code. The charges have been leveled under other provisions including recording of false information with intent to avoid punishment. Allegations have been made that an army of lawyers was employed to implicate the then Chief Minister. Fake documents were made and fictitious stories were signed by the victims. Those who were not ready to support Teesta were also threatened. Former IPS RB Sreekumar had also threatened a witness.
The chargesheet states that Teesta used to work closely with the Congress and tried to mislead people living in the relief camps through her visits. She used to instigate the victims for taking their matter to courts outside the state. Apart from this, it has also been said that she collected donations in the name of the victims. Teesta and Sanjeev Bhatt were in touch with each other. They wanted that the political innings of the then Chief Minister should be ended.
Setalvad, arrested in the last week of June, was released on interim bail following a September 2 order of the Supreme Court. While Sreekumar is in jail in this case, Bhatt, the third accused, is in Palanpur jail, where he is serving a life sentence in a custodial death case.
Former IPS was made Witness
Investigating Officer and Assistant Commissioner of Police B.V. Solanki said the charge sheet was filed in the Chief Metropolitan Magistrate's court there. He told that former IPS officer turned lawyer Rahul Sharma has also been made a witness in this case.
DISCLAIMER: The author is solely responsible for the views expressed in this article. The author carries the responsibility for citing and/or licensing of images utilized within the text.