"Tera bhi Sar Tan Se Juda karna Padega", Hindu family in Bijnor receives a threat letter
While the Azaadi ka Amrit Mahotsav was celebrated with fanfare all throughout the nation, the "Sir Tan Se Juda" gang has resumed its criminal activities. The recent incident is in the Budh Pada police station area of Kiratpur in the Bijnor district. Arun Kumar, the victim, said that his wife is an Anganwadi worker whom he was assisting in distributing the tricolor as part of the national initiative "Har Ghar Tiranga Abhiyan".
The victim said that on August 15, a letter threatening him to behead was discovered at her residence. According to media sources, the accused have written about beheading threats and disclosed their affiliation with the ISI. The victim then requested police protection.
The report claims that on August 15, Shashibala discovered a handwritten booklet stuck to the door outside her residence. "Arun, tujhe ghar-ghar tiranga baant rahe ho, tera bhi sar tan se juda karna padega". Translated as " Arun, you're distributing tricolor to every household, our body will be severed from your head as well." were inscribed there in ominous language. The supporter of the ISI was written below in the letter as well.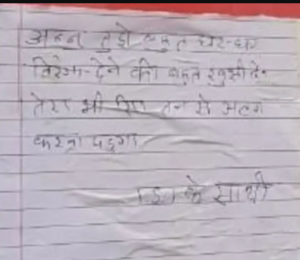 At the same time, SP City reported that police officers had been sent to the victim's home for security purposes. The Najibabad police station is conducting an investigation into the situation.
According to the report, the Anganwadi worker's family claims that their son also goes to Bijnor for academic purposes. After receiving this threat, they are unsure about whether to take their son to school or not because they don't know why the threat was made or who issued it.
They will continue to be afraid until the perpetrator is caught. On the other hand, it can be assumed that the individual posing a threat is uneducated based on the pamphlet's handwriting. A team from the police and intelligence departments has been assembled right now to look into the situation.
DISCLAIMER: The author is solely responsible for the views expressed in this article. The author carries the responsibility for citing and/or licensing of images utilized within the text.