The only Bhartiya Whose dead body was wrapped in the national flag of three countries.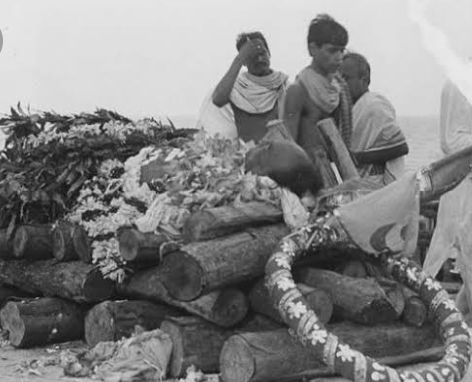 It is an honour for anyone to get wrapped in the national flag of his country after his death but there was one person in Bharat whose dead body was wrapped not only in his country's national flag but also in two other country's national flag making it total three.
BijayanandaPatnaik (1916-1997) often called as Biju Patnaik is the only person in India on whose death his body was wrapped in the national flag of three countries. Bharat , Russia and Indonesia.Biju Patnaik also served as the Chief Minister of Odisha for two terms.
Biju Patnaik was a pilot & when the Soviet Union was in trouble during World War II, he bombed Hitler's forces by flying a fighter aircraft Dakota, which forced Hitler to retreat.The highest award was also given to him and he was granted honorary citizenship by the Soviet Union.
When the Kavalis attacked Kashmir, it was Biju Patnaik who made several trips a day from Delhi to Srinagar on 27th Oct 1947 by flying a plane and transporting the soldiers to Srinagar.
Indonesia was once a colony of Dutch ie Holland and the Dutch occupied a large area of Indonesia. Dutch soldiers kept the whole sea around Indonesia under their control and they did not let any Indonesian citizen out. Indonesia was liberated from Dutch in 1945. In July 1947 Indonesian PM Sutan Sjahrir was house arrested by the Dutch. They sought India's help. Nehru asked Biju Patnaik to rescue the then Indonesian PM Sjahrir to India. On 22nd July 1947, Biju Patnaik and his wife took a Dakota plane & flew out.While flying over the control area of the Dutch, they landed on their soil &showing great bravery brought the Indonesian PM to India safely via Singapore. The incident developed a tremendous energy in them,they attacked the Dutch soldiers& Indonesia attained independence. Later, when the daughter of Indonesian President Sukarno was born,he called Biju Patnaik& his wife to name the infant.Biju Patnaik&his wife named the President's daughter as Meghawati.Indonesia had granted honorary citizenship award 'Bhumi Putra' to Biju Patnaik&his wife in 1950.
After the death of Biju Patnaik, seven days of state mourning was observed in Indonesia and one day state mourning was observed in Russia and all flags were lowered.
DISCLAIMER: The author is solely responsible for the views expressed in this article. The author carries the responsibility for citing and/or licensing of images utilized within the text.