The state of economy in Pakistan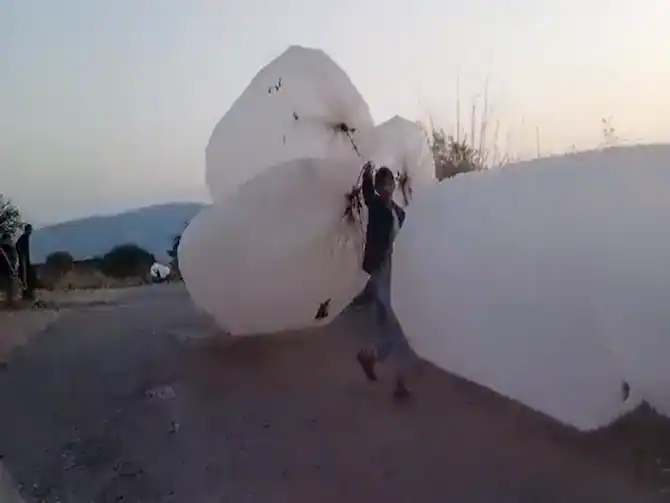 As shown in videos extensively disseminated on social media, people in Pakistan were forced to use plastic bags to satisfy their LPG (cooking gas) needs. In Pakistan's Khyber Pakhtunkhwa province, residents utilized plastic bags to store LPG as the nation struggled with a drop in its supply of cooking gas cylinders.
Local media sources state that citizens in Hangu city have been without a gas connection for the past two years, whereas people in the Karak area of Khyber Pakhtunkhwa have not had one since 2007.
In videos posted to social media, people could be seen hoarding gas in plastic bags. Hindustan Times is unable to independently verify the videos.
In Pakistan, the practice of using gas packed in plastic bags instead of cylinders for cooking has increased. Gas is sold by filling bags inside the shops connected to the gas pipeline network. People use it in the kitchen with the help of a small electric suction pump.#pkmb pic.twitter.com/e1DpNp20Ku

— R Singh…🤸🤸 (@lonewolf_singh) December 31, 2022
In order to lessen the effects of unintended subsidies, the Pakistani government raised the costs of wheat flour, sugar, and ghee for sale through the Utility Stores Corporation (USC) immediate effect by 25 to 62 percent, according to The Dawn.
The Benazir Income Support Program (BISP) recipients would not be subject to the price hike, and the USC's subsidy purchasing cap had also been reduced, according to the report.
In accordance with the revised rates, the price of sugar has climbed by 27% to 89 kg from 70 kg, while the price of ghee has jumped by 375 kg from 75 kg. The cost of wheat flour has also jumped by 62 percent, from 40 to 64.8 cents per kilogram.
To prevent the abuse of subsidies, their monthly spending caps have been implemented. Thus, under PMT-32, BISP recipients are only permitted to purchase a maximum of 40 kg of wheat flour, 5 kg of sugar, and 5 kg of ghee per month, according to The Dawn.
The Pakistan government increased the prices of wheat flour, sugar, and ghee by 25 to 62 percent for sale through the Utility Stores Corporation (USC) with immediate effect to reduce the impact of untargeted subsidies.
◆ The price of sugar under the new rates has been increased to 89 per kg from 70 per kg, an increase of 27 percent
◆ The price of ghee has increased to 375 per kg from 75 per kg.
◆ The Wheat flour price has also been increased to 64.8 per kg from 40 per kg, marking a 62 percent increase.
The YoY top few commodities which varied from the corresponding month of the previous year among food items which increased
◆ Onions (414.98 percent)
◆ Tea (63.81 percent)
◆ Eggs (54.38 percent)
◆ Gram Whole (53.18 percent)
◆ Rice (46.61 percent)
◆ Besan (46.41 percent)
◆ Pulse Gram (45.2 percent)
◆ Chicken (43.76 per cent)
◆ Pulse Moong (42.82 percent)
◆ Mustard Oil (41.48 percent)
◆ Pulse Mash (38.28 percent)
◆ Cooking Oil (31.97 percent)
◆ Milk Fresh (26 percent)
◆ Potatoes (24.72 percent)
◆ Dry Fruits (36.25 percent)
◆ Fresh Fruits (33.94 percent)
◆ Pulse Masoor (24.61 percent) and decreased in condiments
◆ Spices (8.05 percent)
◆ Gur (2.68 percent)
Among non-food items which increased
◆ Motor Fuel (49.45 percent
◆ Washing Soap/ Detergents/Match Box (46.65 percent)
◆ Stationery (46.56 percent)
◆ Construction input items (30.59 percent)
◆ Motor Vehicle Accessories (29.36 percent)
◆ Solid Fuel (28.62 percent)
◆ Woollen Readymade Garments (24.12 percent)
◆ Household Servant (20.46 percent)
◆ Construction Wage Rates (13.7 percent)
◆ Decreased in Electricity Charges (2.69 percent)
Pakistan has been reeling under the extremely high cost of food and transport costs over the last several months.
Pakistan's consumer price index (CPI), a main gauge of inflation, rose 24.5% in December 2022 as compared to the same month a year ago when it was recorded at 12.28 percent.
DISCLAIMER: The author is solely responsible for the views expressed in this article. The author carries the responsibility for citing and/or licensing of images utilized within the text.