USA President's Joseph R Biden Falling Rating needs life support, Can Someone Please call 911?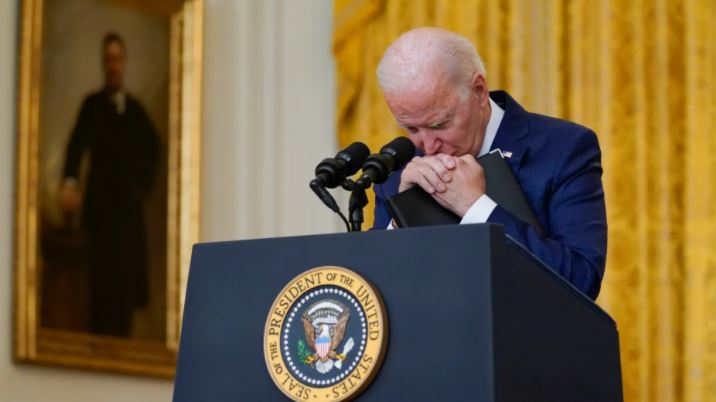 Last year in November 2021, just before thanksgiving, one billboard was the talking point in almost every house in the United States of America. And, that Billboard was none other than Head of State, US President Joseph R Biden, and Vice President Kamala Harris.
Now, one can be wondering that there may be hundreds of Billboards across the United States of America portraying the President and his deputy, so how one Billboard can go so viral and catches everyone's attention.
Let me tell you the reason, why? The reason is that this billboard of Vice President Kamala Harris and Commander-in-Chief Joseph R Biden was cited with the film title "Dumb and Dumber" underneath.
The billboard is believed to be in Richland County in Wisconsin and has been met with a mixed response.
The picture was shared on the social media platform Twitter by JonCover (@JonCover2) on November 27, 2021, to his over 6,000 followers and has since been liked more than 14,000 times and retweeted over 3,000 times and still counting.
American Public responded enthusiastically to their President and Vice-President billboard.
One user wrote: "I drive by this regularly in southern Wisconsin. Makes me smile."

Another added: "This billboard is needed everywhere from East to West coast".

And, another tweeted: "I disagree – clearly Biden is the Dumb and Kamala is the Dumber[1]."
Biden Rating Falling at Apollo 11 Speed
President Biden's approval rating since taking office in January 2021, has fallen significantly and the President has faced constant criticism not only from Republican voters but equally by his own supporters Democrats.
During one of the interviews at Orlando's WDBO President Trump spoke about the Biden administration's performance by saying: "I would give them an F- if permissible an F minus".
As per The Associated Press, "Fewer than 4 in 10 U.S. adults (39%) approve of the president's job performance", and "Deepening Pessimism" is emerging within the Democratic Party.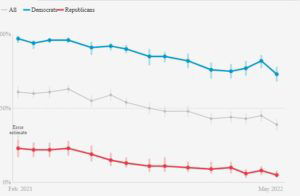 "Biden's approval among Democrats stands at 73%, a substantial drop since earlier in his presidency. In AP-NORC polls conducted in 2021, Biden's approval rating among Democrats never dropped below 82%," the AP article noted.
President Joe Biden's Administration "A Failed Affair"
Joe Bien has failed drastically both at home and abroad.
As per the NBC News, Forty percent of adults in the poll approve of Biden's performance, and 55 percent disapprove — the lowest mark of his presidency in the NBC News poll. The movement is within the poll's margin of error — in January, Biden's overall job rating stood at 43 percent approve and 54 percent disapprove[2].

Home Front
Joe is receiving heavy criticism from the American public for his handling of the Economy, COVID-19, Baby Formula, Gas Price, and Gun Violence, as per the latest ABC News/Ipsos polls.
The Biden administration has faced strong criticism over an ongoing shortage of baby formula. The president has invoked the Defense Production Act in order to ease shortages, but there is no immediate end to the crisis in sight.
Inflation remains at near-40-year highs and stood at an annualized rate of 8.3 percent in April, while the price of a gallon of gas has continued to hit new record highs.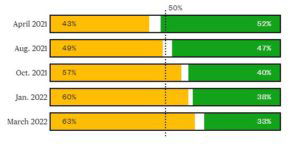 Meanwhile, the American economy is in retreat—U.S. Gross Domestic Product (GDP) also declined by 1.4 in the first quarter of 2022 and JP Morgan has cut its GPD forecast for the second half of the year from 3 percent to 2.4 percent.
Beyond the economy, there has been a recent rise in cases of COVID-19 and hospitalizations arising from the virus, which has led to calls for children between five to 11 to be vaccinated.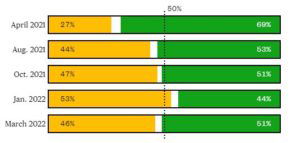 The cases have also now been identified in the U.S., creating new alarm about public health, though the disease appears to be less transmissible and dangerous than COVID.
With the inflation highest in 40 years, Americans are draining their wallets in order to keep themselves going but they are falling behind on this.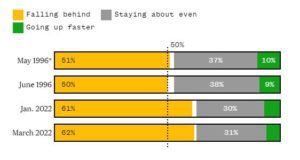 Failed Foreign Policies
Not only at home but Biden is also a big mess in handling foreign affairs too.  Let's have a glimpse of his failed policies
Biden failed foreign policy started with the exit from Afghanistan. After the fall of Kabul, EU defense and security officials have been critical of the US decision to send home its 2,500 troops, saying it has weakened NATO and raised questions about Europe's security dependence on Washington. Their reaction marks a bitter end to the alliance's longest-running mission, which involved 10,000 personnel from 36 countries[3]
The White House has deep concerns about recent North Korean missile tests and the possibility of further tests of long-range missiles amid an increase of what the Biden administration said was destabilizing activity, but North Korea is only just one failed feather in the cap of Biden.
Biden also has failed to deal with a brewing crisis in the NATO military alliance as Finland and Sweden are seeking membership but Turkey, already a member, has moved to block their accession.
Biden Administration's efforts to revive a nuclear deal with Iran have stalled as the country wants Islamic Revolutionary Guard Corps (IRGC) removed from the U.S. list of foreign terrorist organizations, which has proven a major stumbling block[4].
Biden signed a near-$40 billion aid package for Ukraine during his visit to South Korea after it finally cleared the Senate.
That package was subject to vocal criticism from Republicans who said the money could be better spent at home due to the ongoing cost of living crisis, while polls have recently indicated that Americans' support for assisting Ukraine may be slipping.
"Amid Europe's largest land war since World War II, 7 in 10 Americans expressed low confidence in President Joe Biden's ability to deal with Russia's invasion of Ukraine in an NBC News poll, and 8 in 10 voiced worries that the war will increase gas prices and possibly involve nuclear weapons"[5].
President Biden has been fixated since taking office on the weaker of America's two main foes, Russia and China. Biden is being criticized worldwide for letting China escape scot-free for covering up the COVID-19 virus's origins and for detaining more than a million Muslims in internment camps. Indeed, the Biden administration labels only Russia as an adversary, while calling China merely a competitor[6].
Another survey on Biden's rating by Gallop also shows a steep fall in Biden's rating.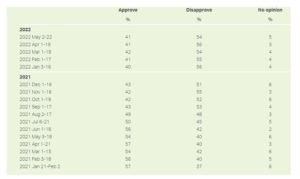 Biden has failed both domestic and international and it's high time that he should listen to American citizens' issues as they had voted him for the White House.
Among all the issues, One issue that should be Biden's top priority (as per the survey) whether reducing inflation and improving the economy or working to end the war in Ukraine, 68 percent of Americans picked Inflation/Economy, compared to 29 percent who picked the war in Ukraine.

Comparison of Biden with his Predecessor Trump
Redfield and Wilton Strategies posted polling results in November 2021 of a hypothetical matchup again between Biden and Trump.
The results showed that "44 percent of Americans would cast ballots for Trump while just 39 percent would support Biden".
President Joe Biden's latest approval rating for May 2022 is lower than former President Donald Trump's rating for May 2018, showing that the latter was more highly regarded by the public at the same points in their presidencies.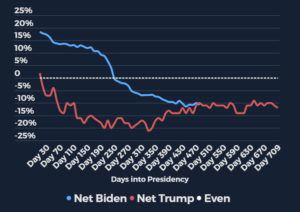 Comparing May 20, 2018, to May 20, 2022, Trump's lead over Biden was not by much, according to the data shared by FiveThirtyEight. Biden scored an approval rating of 40.7 percent, while Trump scored 42.4 percent, a lead of less than 2 percentage points.
A FiveThirtyEight graph of Biden's approval and disapproval ratings over time shows that he started his presidency with a higher approval than disapproval rating on the first recorded day shortly after his January 20, 2021, inauguration.
On January 23 last year, he had a 53 percent approval rating and a 36 percent disapproval rating. But as more time has passed, the two ratings have flipped.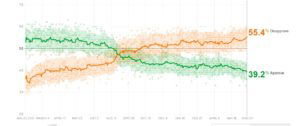 Since the end of August 2021, Bidendisapproval rating has been the higher of the two measures and has steadily ticked up as his approval rating steadily ticked down. As of the latest, his disapproval rating stood at 53.9 percent[7].
For Trump, a separate FiveThirtyEight graph showed that he also entered his presidency with a higher approval than disapproval rating. Though the difference between his two ratings was not as large as Biden's—he had a 45.5 percent approval rating and a 41.3 percent disapproval rating on January 23, 2017.
By early February 2017, Trump's approval rating was the higher of the two measures. Both ratings maintained a mostly straight course throughout the rest of his presidency.
 Bidens Ranks Top in Unpopularity as compared with US Presidents
During the election campaign, President Biden refers to him as the "Most seasoned Politicians", having more than 50 years But now Americans are referring to him as the "Most Failed President" in decades.
Below is the graphical comparison of President Joseph R Biden's approval rating with his predecessors.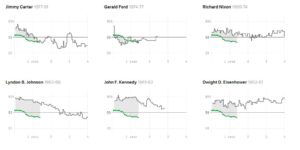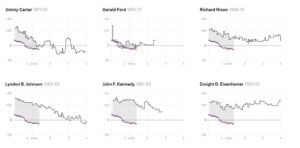 Below is the graphical comparison of President Joseph R Biden's disapproval rating with his predecessors.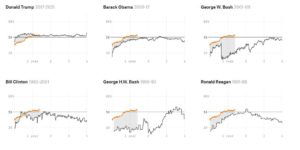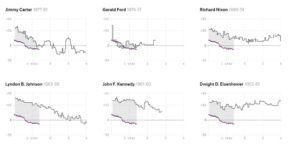 As per the FiveThirtyEight survey, the below number clearly show that Biden is in big trouble as November mid-term elections are just around the corner.

According to the NBC News poll, 46 percent of registered voters prefer a Republican-controlled Congress, compared to 44 percent who said they want Democrats in charge.
The 2-point GOP lead — within the poll's margin of error — is the first the Republicans have held on this question since 2014.
As Biden's Rating Is Hitting New Bottom Every Week, USA President Joseph R Biden Needs To Call 911 As His Falling Rating Needs Immediate Life Support…
[1] Biden faces lowest approval ratings yet in handling of inflation, COVID-19, gun violence (msn.com)
[2] Biden's job approval falls to lowest level of his presidency amid war and inflation fears (nbcnews.com)
[3] Can the USA Allies still rely on her after Afghanistan Debacle? – Kreately
[4] Joe Biden Approval Rating Hits New Low as Pile of Problems Becomes Mountain (msn.com)
[5] Biden's job approval falls to lowest level of his presidency amid war and inflation fears (nbcnews.com)
[6] Why is Biden appeasing China? | The Hill
[7] Joe Biden's Approval Rating Sinks Below Donald Trump's (newsweek.com)
DISCLAIMER: The author is solely responsible for the views expressed in this article. The author carries the responsibility for citing and/or licensing of images utilized within the text.