Varun Grover and the hypocrisy of so called feminists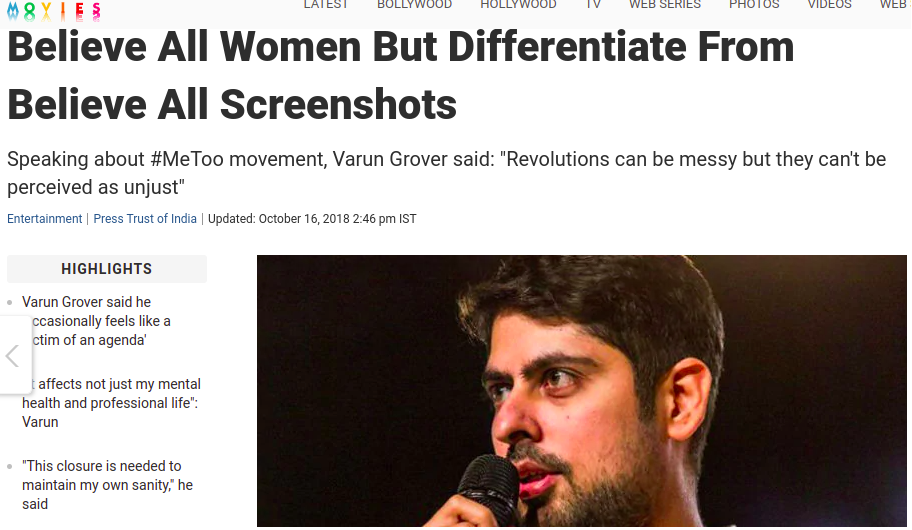 I recently saw an RT by self declared feminist Varun grover , yes the came Varun grover who was accused fo sexually molesting a woman and called out in #MeToo movement and given the moniker Varun GROPER .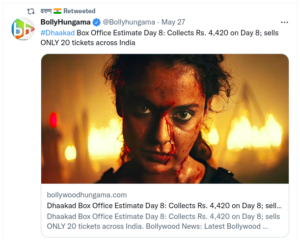 Here he was celebrating the failure of Kangna Ranaut Starrrer Dhaakad , by RTing the dismal performance of the film .
Varun GROPER has long reiterated and screamed form the rooftops about being a feminist who supports all causes of women and fights and for their betterment etc etc.
And here he si publicly mocking , demeaning , mocking the failure of a woman starrrer movie . WHY  ?Just because she is pro BJP anti COngress, Shiv Sena whom she has called out openly , took on the bolywood Mafia.
We get it Varun your bread and butter comes from FIlm Fraternity where you need to lick ass to get work , money and stay relevant .
And you live in mumbai so you also need to kick ass of Shiv Sena else you will punched , kicked and thrown out .
So cut the cfrap about being a feminist , a secular , a liberal because you are not ANY OF THEM, you are a cheap , attention hungry , low life , who wants to stay relevant , wants to wear the shiny badge of being an activist .
We know what an activist you are Varun GROPER when you deleted all tweets critical of Shiv Sena the moment they came to power
The everyday unhinged hypocrisy of @varungrover and @ghaywan
You are nothing but a fake , hypocrite , low life you wants attentions and be an activist at all costs. Do dharna when Bullet trains an dmetros are being constructed but stay silent when so called environmental activists buy gas guzzling cars and celebare eid.
Call your self a feminist , tweet #believeallwomen but go defensive and add exception clauses , go on TV and play falsely accused when you are accused.
Call yourself a secular , protest agianst CAA but stay silent when hindus , sikhs and Christian teenage girls are being gangraped , married off to 50+ men with 2 wives and ten kids and forcibly converted .
CHEAP HYPOCRITE . 83 was a BIG FLOP . Thugs of Hindustan was a BIG flop . Jayeshbhai Jordaar was a big flop . Why not call them out as well ? Zeo was a big flop . Radhe, Tubelight was a flop . Did you call  them out ? NO
Oh wait , ass licked need to be in good books of bollywood to get work , money , show loyalty by demeaning a self made women's film .
Is this was feminism is all about?
Conditional feminist , Conditional Liberal , Conditional Secular , Conditional Environmentalist .
DISCLAIMER: The author is solely responsible for the views expressed in this article. The author carries the responsibility for citing and/or licensing of images utilized within the text.