'Victim card' gets activated again after NIA arrests suspected terrorist of ISIS from Batla House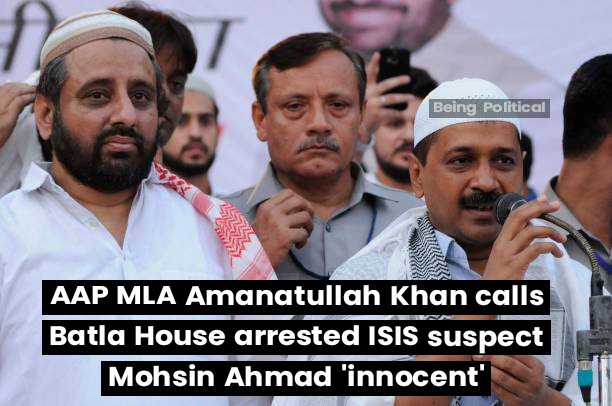 ISIS operative arrest from Batla House: NIA has arrested a suspected ISIS terrorist from Batla House area of ​​Delhi. He is accused of spreading Jihadi ideology in the country. Since his arrest, AAP leader Amanatullah Khan has come against it.
ISIS operative arrested from Batla House: There are many such leaders in our country who will often find you crying over something or the other. The most important thing is that their tears are also very selective. When questions are raised on a person of a particular religion, then only these leaders come to cry. Then it has nothing to do with truth or falsehood. They do not even understand the difference between right or wrong. The 'Victim Card' of such leaders is limited to one religion, so they do not hesitate to question anyone on this.
To address their vote bank, these leaders point fingers at the constitution, system, rules and regulations of the country. Apart from this, you will see another feature in these leaders. They are such that before the investigating agency investigates in a case, before the court or the judge pronounces the decision itself.
Suspected terrorist arrested from Batla House area
The National Investigation Agency (NIA) has arrested a suspected ISIS terrorist Mohsin Ahmed from Batla House area of ​​Delhi. On Monday, Mohsin Ahmed was produced in the Patiala House Court, after which the court gave him on NIA remand till August 16. That is, for 10 days, the NIA will interrogate him and find out his conspiracy. It will also find out how far are the strings of his conspiracy and who are the people involved in it.
We will also tell you what are the charges against Mohsin Ahmed and what is the significance of his arrest. But before that you see the features of the politics we were talking about now. Since this suspected terrorist of ISIS was arrested from Batla House in Delhi. There are more voters of a particular religion in this entire area, so Aam Aadmi Party MLA Amanatullah Khan became active immediately in Delhi. Amanatullah Khan neither tried to understand the seriousness of the allegations nor saw that the one who arrested Mohsin was the country's National Investigation Agency.
MLA Amanatullah Khan started Victim Card
Amanatullah Khan immediately concluded that Mohsin has been arrested just for being a Muslim. Since Batla House is a Muslim-dominated area, arrests have been made from there. We will tell you the charges against Mohsin. First listen to Amanatullah Khan what he said. He alleged by tweeting, 'The arrest of Jamia student Mohsin by the NIA is absolutely wrong and unconstitutional. BJP and RSS have found a new way to defame and harass Muslims in the name of ISIS. Mohsin is innocent and has no relation with any anti-social element. Mohsin should be released soon.'
In fact, NIA's social media cell had taken some social media sites on surveillance in June. The activities of these social sites were suspicious. After a long monitoring, it was found that youth are being radicalized and incited to terrorist activities through these social sites. On June 25, the NIA itself registered an FIR in this case. After this, on July 31, simultaneous raids were conducted on ISIS-linked people and their 13 locations in 6 states.
NIA conducted raids in many cities
After these raids in Deoband of Madhya Pradesh, Gujarat, Karnataka, Maharashtra, Bihar and UP, the suspicion of the NIA was further strengthened that a large network of ISIS is operating in the country. In these raids, the NIA had also recovered many sensitive incriminating documents. After the lead obtained from this action, on 6 August, the NIA team reached the Japanese street at Batla House in Delhi, from where Mohsin Ahmed was arrested.
Originally from Patna, Mohsin had prepared for engineering entrances in Kota, Rajasthan, and had come to Delhi three months ago to take admission in BTech-first year at Jamia University. Mohsin was living on rent in a house in Batla House.
The NIA also placed in the court the details of several e-mails received from Mohsin's laptop and two mobile phones. The NIA also cited several videos and documents, which according to it are sufficient to suspect Mohsin of being an ISIS terrorist and working against the country. Let us tell you how serious are the allegations made by NIA while seeking remand of Mohsin from the court. According to the NIA, Mohsin is an active member of ISIS and was running the network in India.
Mohsin was working for ISIS
Mohsin and his associates used to run ISIS campaigns on social media. Mohsin's main task was to instigate the youth and connect them with ISIS. He was also in constant contact with the ISIS organization operating in Syria. He was also collecting funds from ISIS supporters inside India. After collecting the funds, he used to send it to Syria through cryptocurrency. Mohsin Ahmed was also in contact with some people in Pakistan and Maldives.
The NIA also told that Mohsin used to forward video and audio messages of ISIS to his colleagues in the university. Apart from this, news related to ISIS was also shared frequently.
After the July 13 raid, the NIA arrested Anas Ali, an engineering student of a private college in Tamil Nadu. This was the first arrest in this case. NIA sources have also come to know about the presence of a woman in this network. It is being told that this woman has an important role in connecting Mohsin to the ISIS network.
South Indian women on radar for a long time 
The woman from South India has been on the radar of the intelligence agencies for a long time. The husband of this woman is also in jail at this time due to his involvement in suspicious activities. This woman has been recruiting for ISIS in India for a long time. In the recruitment of ISIS, such people are being selected who are technically strong.
According to NIA sources, ISIS is systematically engaging youths who are technically strong so that they can take advantage of their ability to advance their agenda on social media and dodge the investigating agencies through hi-tech routes to ISIS in Syria. To collect and deliver funds. Mohsin Ahmed was also selected for this work, along with he was given a target to connect others with the network.
So these are the facts and the information that the country's largest investigative agency has so far placed before the court. The investigating agency has not called Mohsin Ahmed a terrorist, but has expressed suspicion of being a terrorist. Because whether he is a terrorist or not, it is not even the job of the investigating agency to come to this conclusion. His job is only to investigate and put the facts related to it before the court. The court has to decide whether Mohsin is a terrorist or not, whether his work is anti-national or not. In this sense, the investigating agency completed its work. Now it is the duty of the judiciary to test it and find out right and wrong in it. Everyone has their own set of tasks.
Leaders giving their decision without investigation
But as we mentioned in the beginning, there is a special species of politicians in the country who, knowing and understanding the whole system, stand against it, because vote is most important for them. Democracy, Constitution, Judiciary; these are the words that you will often hear from the mouths of these leaders. They call upon democracy at times. You will often hear him saying that he has full faith in the justice system and has full faith in his judiciary. But as soon as a case like Mohsin comes to the fore, these leaders start wiping the tears of the accused in order to cultivate their vote bank and they themselves start shedding tears.
To get the sympathy of their vote bank, these leaders start rejecting the entire judicial system. They start showing distrust in the constitution. The victims start playing cards. These people openly start defending the criminals, they start lobbying the terrorists. And in order to stop the hanging of any terrorist, they reach to open the doors of the court at midnight.
Leading in playing the religion card in every government work
Aam Aadmi Party MLA, Amanatullah Khan gave his verdict even before the decision of court in this matter. They reached the conclusion even before the investigation that Mohsin was being implicated just because he was a Muslim. Amanatullah got away faster than the investigating agency and gave a clean chit that Mohsin has no relation with any anti-social element.
A few days ago, when the Municipal Corporation started action against encroachment in Delhi, even then Amanatullah Khan had reached to play the victim card. Till the time the municipal bulldozers moved to other areas of Delhi, they did not suffer. But as soon as the bulldozer reached Shaheen Bagh, he sat in front of the bulldozer and alleged that Muslims were being targeted. He said that the bulldozer is being run because Muslims are in majority in Shaheen Bagh.
Here you should also understand the Batla House pattern of politics. In fact, whatever Amanatullah Khan did and said on Monday, he has learned from some big leaders of the country. For this we will take you 14 years in flashback.
Digvijay Singh and Salman Khurshid are old players
You will remember that on September 13, 2008, there were serial bomb blasts at 4 places in Delhi in which 26 people were killed and 133 people were injured. This was the work of the banned organization Indian Mujahideen. After these blasts, the terrorists went and hid in the Batla House of Jamia Nagar. After intelligence information, on September 19, Delhi Police laid siege to house number L-18 of Batla House. There was a direct encounter with the terrorists in which 2 terrorists were killed, 1 was arrested, and 2 terrorists escaped. In this encounter, Delhi Police Inspector Mohanchand Sharma was martyred by the bullets of terrorists.
It was purely a terrorist incident. Terrorists had killed common people by bomb blasts in Delhi. This was a matter related to national security. The police had an encounter with the main terrorists within 4 days. He also gave the martyrdom of his brave officer. But instead of saluting the valor of the police, many leaders belonging to Congress and other parties raised questions on the encounter itself. The entire encounter was termed as fake. Even tears were shed. Why? Only for vote bank. These leaders did not see terrorists among terrorists, but a Muslim. They saw a bulk vote bank of a particular community, not common people in Batla House. Only for this the whole encounter was questioned and tears of sympathy were shed for this.
Batla House encounter was told fake
Only two days after the encounter, senior Congress leader Digvijay Singh had raised questions on this. He had said that… this encounter is fake and it is clear from the bullets in the heads of the terrorists that an attempt has been made to show it as an encounter. Then Digvijay Singh had also demanded a judicial inquiry into it.
In his statements in the years 2012, 2013 and 2016, he reiterated the same things and called the Batla House encounter a fake. It is worth noting here that the National Human Rights Commission had rejected the claims of this encounter being fake in 2009 itself. The same report was later upheld by the Delhi High Court as well.
The second leader to pursue this politics is former Union Minister Salman Khurshid, who said in 2012 that Sonia Gandhi had tears in her eyes after seeing the pictures after the encounter. Then he also said that Sonia Gandhi had asked him to investigate the matter.
Mamta Banerjee and Kejriwal had also made allegations
West Bengal Chief Minister, Mamata Banerjee had also raised many serious questions on the Delhi Police at that time. She had said that this is a fake Encounter. If she is proved wrong, she will retire from politics.
Here the leader of Amanatullah Khan's party, Arvind Kejriwal will also find his mention. It was he, who had demanded an inquiry into the Batla House encounter. Before the Delhi Legislative Assembly elections in 2013, he had also written a letter to the people of the Muslim community saying that he supports the demand for an inquiry into the matter.
Last year i.e. in 2021, the Saket Court of Delhi had also stamped the truth of the Batla House encounter. The court had said in its decision that this encounter was not FAKE. That is, the allegations made were politically motivated. Secondly, Delhi Special Cell's Inspector Shaheed Mohan Chand Sharma was shot by terrorists during the encounter. And the third most important thing is that the people hiding in Batla House were not innocent boys or students, they were terrorists.
Court has already given its verdict
So you can understand that when not one, many courts have given their decision. And made it clear that the country's judiciary is capable of distinguishing between an innocent and a terrorist, even then a section of our leaders starts taking decisions only for the politics of appeasement and become the judge themselves. These leaders start giving judgment after seeing the religion of criminals and terrorists. Victims card mode gets activated on this and they start shedding tears as per the convenience of the vote. This trend was wrong yesterday also and this trend is not good for the country even today too.
DISCLAIMER: The author is solely responsible for the views expressed in this article. The author carries the responsibility for citing and/or licensing of images utilized within the text.