who is an extremist ? – a journey from tilak to kapil Mishra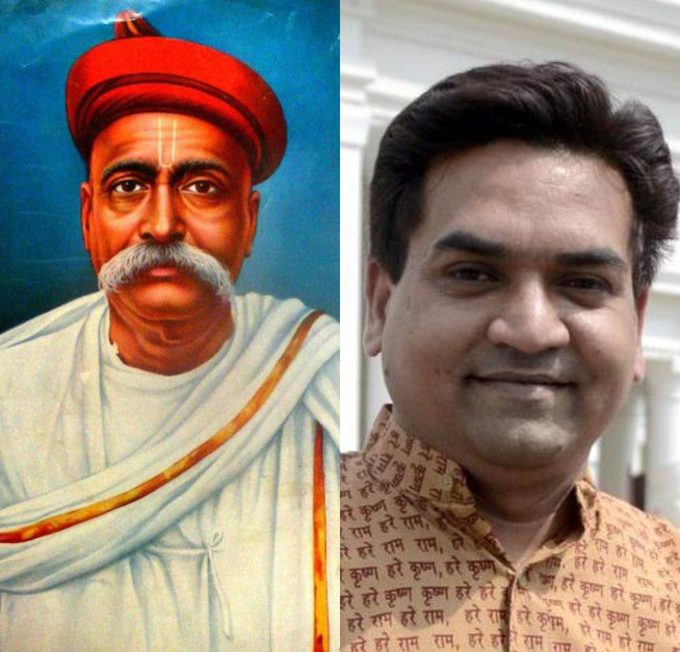 History is always written by winners and the same is the case with India. words like extremist and communal are grossly misused by pseudo-liberals, Clergy media, and communist historians who were close to the post-independence Govt. of Congress which dominated the Indian political arena directly or indirectly from 1947 to 2014 barring Atal ji period of 1998-2004.
The abuse of the words like extremist/ communal has its history of over one century when the nationalists like Bal Gangadhar Tilak, Lala Lajpat Rai, and Bipin Chandra pal were called extremist in 1905 for taking a strong proactive step against British Govt. and staged a swadeshi protest against the partition of Bengal on Hindu Muslim line to divide the unity of Bengal. but those leaders who were loyal to British Govt. were termed as "liberal" by historians. the so-called liberal in congress in the early phase of congress from 1885 to 1905 was following the 3P policy of PRAYER, PROTEST, PETITION. And for liberal Congressi the word protest didn't mean to confront the British but to convey their sentiment in a more polite manner.
The Indian media often term Congress as an ideologically "secular and liberal party" and gives a prefix to leftist parties as "Left-Liberals".
The day we celebrate as the Independence day of India is also sadly the partition day of India too on the communal line under the watch of Congress and Left.
Unlike the previous promise the congress Govt. had brought Hindu code law in the 1950s primarily to restrict polygamy in Hindu only while allowing Muslims to retain their Muslim personal law(Shariat) , 1937 which allows polygamy to Muslim.
numbers of sadhus were ordered to kill in 1966 when sadhus were protesting against Cow-slaughtering which article 48 of the Indian constitution talks about prohibition of slaughtering of cows. And again it was under the rule of Congress.
congress in 1972 constituted All India Muslim personal law board in 1972 to appease Muslims and to get their votes.
the killing of innocent Sikhs by under the congress Govt. in 1984 was one of the brutal killing. And the statement made by Rajiv Gandhi "Jab bada ped girta hai to dharti hilti hai" hinting "bada ped" means the death of Indira Gandhi and "dharti hilti he" means the killing of innocent Sikhs. Ironically Rajiv Gandhi was made the face of the Liberal face of India by clergy media of India who were beneficiaries of congress Govt. by getting all perks for showing pro-Govt. news.
And the so-called secular parties like Samajbadi party and Bahujan Samajwadi party of India were not behind congress and it reminded me the infamous slogan "Mile Mulayam Kanshiram, hawa mein ud gaye Jai Shree Ram" given by then BSP chief Kanshiram along with Mulayam singh yadav in 1993 after forming UP Govt. with Samajbadi party.
who can forget how the real inhabitants of Kashmir ( Kashmiri pundits) were thrown out of their home Kashmir on 19th January 1990 by the radical Muslims of Kashmir and for several years election could not be held. and congress was totally silent on it and didn't take any decision to rehabilitate Kashmiri pundits in Kashmir, resulting in Kashmiri pundit forced to go to other parts of India.
congress Govt. in 2006 created minority ministry in India for its policy of appeasement while the Indian constitution is silent on the definition of the minority on the basis of religion.
Congress Govt. was unable to control the Kokrajhar Assam violence in 2012 between the indigenous people of Assam and the Bengali speaking Muslims.
And the 2013 Muzaffarnagar riots between Hindu and Muslim in Uttar Pradesh was under 2 so-called secular or Liberal Govt. namely Samajbadi party in the state and congress in the center.
The history of left has been about killing, riot, anarchy which includes Sainbari incident of 1970, a mob of CPM workers caught sain brothers and It is reported that after the brothers were killed, their mother, Mriganayani, was made to eat rice smeared with the blood of these two brothers, her two sons.
CPI(M) was siding with Muslims in 1972 Thalassery Hindu Muslim riot in Kerela.
CPI(M) Govt. was behind the 1979 Marichjhapi massacre of Bengali Dalits.
The above examples are evident of the facts that the so called liberal and secular parties of India have been indulged in communal and radical activities since the India got independence. But the trend of pin pointing real extremist communal mindset was totally sidelined and the nationalist organization like RSS and BJP were termed Fascist, communal and extremist.
Before pointing fingers at BJP and RSS let us dig into the history and see how and why congress was made in the year 1885. In 1913 William Wedderburn published the biography of AO Hume. William Wedderburn who is also a founding member of INC along with AO Hume(British civil servant ). He served as congress president in 1889 and 1910. William Wedderburn said AO Hume got 7 volumes secret reports of discontent among lower class of the society and plan to overthrow British Govt. and to prevent this AO Hume made INC with help of Lord Dufferin. The main aim of making INC was to prevent big revolt against British govt by keeping INC as a middleman between people of India and British Govt. INC had no intention of overthrowing British govt from India as it was designed to appease the people only. furthermore the first president of INC W.C. Bannerjee in 1885 stated in 1898 that INC "as it was originally started and it has since been carried on , is in reality the work of Dufferin". Lala Lajpat Rai who was one of the tallest leader of INC and became INC president of 1920s special session wrote in 1916 "young India" and said congress "was a product of Lord Dufferin's brain" and argued "INC was started more with objective of saving British empire".
The nationalist organization like RSS is the reactionary force that was created against communal politics by Congress in the early 20th century.
The series of events that leads to the formation of RSS in 1925 started from 1905(partition of Bengal) to 1920s non-cooperation movement merged with the communal Khilafat movement.
It all started with partition of Bengal on communal Hindu Muslim line and the formation of Muslim league in 1906 who went showed loyalty to British Govt. and demanded special privilege in return of its loyalty to British Govt.
subsequently, in the 1909 Morley-Minto reform, Muslims were given separate electorates for the first time.
Hindu Mahasabha was created in 1915 in reaction to the Muslim appeasement by the British.
But in 1916 an agreement reached between the Indian National Congress and the Muslim League at a joint session of both the parties held in Lucknow, thus legitimizing a communal party in India which then became the reason for the partition of India in 1947.
Again in 1920s Non-cooperation movement was clubbed with religious movement like the Khilafat movement further infuriated nationalist members among congress and elsewhere.
Dr. Hedgewar was one such congress member who stepped out and formed nationalist organizations like RSS in 1925 in reaction to the communal appeasement policy of congress.
MY TAKE:-
The definition of extremist has been distorted in India. most nationalists who were committed to the nation were called extremists just to make them defensive be it LAL, BAL, PAL in the early 20th century, or Guru Golawalkar or Atal Bihari Vajpayee. The hunt for extremists by the clergy media of India found Lal Krishna Advani and current PM Narendra Modi in the early 1990s and 2000s. Now the same clergy media has found 3 new extremists namely Home minister Amit Shah, UP CM Yogi Adityanath, and Kapil Mishra since 2020 Anti-Hindu riot in Delhi. But the fact of the matter is all the above so-called extremists are great statesmen and patriots and unapologetic in their nature.
DISCLAIMER: The author is solely responsible for the views expressed in this article. The author carries the responsibility for citing and/or licensing of images utilized within the text.