Wooden Sculpture – The Beauteous Apsara – Muse Of The Gandharvas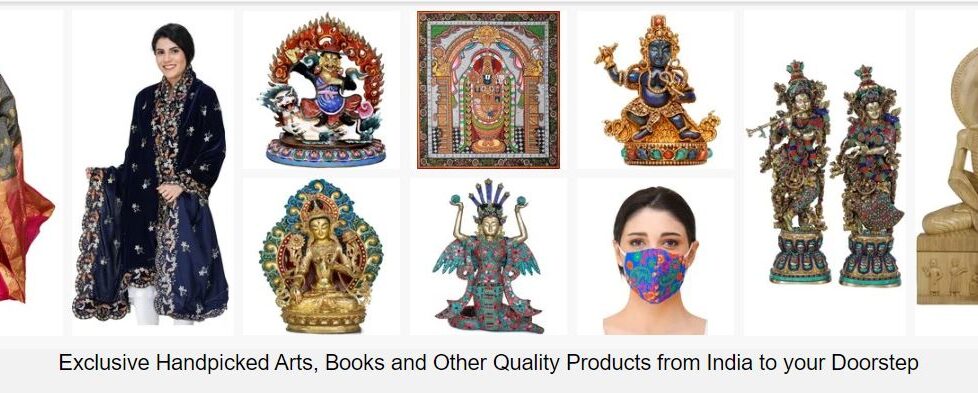 Exotic India Art is providing finest Indian products since 1998 based on Indian Culture, Tradition, and Religious values. Exotic India Art is an One stop platform where you can find collection of all kinds of Indian handmade products and many others under one point. Here you will find products based on Indian Art, Paintings, Books, Textiles, Sculptures, Jewelry, Beads, Beauty, Healthcare, CDs, DVDs, and much more. You must visit to Exotic India Art for your best one.
An otherworldly creature dances in lush wilderness. She is possessed of youth and vigour and beauty, infused with a stance as wild as the verdure that surrounds her. The nrtya apsara that you see on this page is a muse of the gandharvas of Indraloka. The ample curves of her body are carved from wood and infused with a stance so life like, one can almost witness the motion of her dance.
Indeed she is the very image of beauty and art in motion. One arm she raises above her head, adjusting the jaunty bun on her head; with the other she holds a stylish handheld mirror up to her face in order to see the effect. One of her gorgeous legs is bent at the knee and raised mid-air, with her hips jutting deliciously out in the opposite direction. Blue floral shells conceal the curves on her torso and a skirt of layered silk her hips, as a sea of sashes and vines float about her.
The style of composition is in keeping with ancient South Indian temple architecture. Her toes graze a lotus pedestal, from either side of which emerges an aureole of wild overgrowth. Thick snake-like vines interspersed with bits of juicy fruit, on which birds of luxuriant plumage are feeding. The intricate latticework is an example of superfine craftsmanship. Like a ripe fruit caught in the flora, the beauteous apsara continues her dance, much to the pleasure of the inhabitants of Indraloka whose fortune it is to witness her.
DISCLAIMER: The author is solely responsible for the views expressed in this article. The author carries the responsibility for citing and/or licensing of images utilized within the text.