Yogi government to conduct a survey in unrecognised madrassas across the state.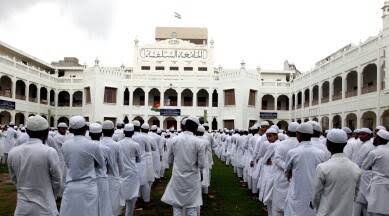 The Uttar Pradesh government announced on Wednesday that it will conduct a survey of unrecognised madrassas to determine the number of students, teachers, curriculum, and affiliation with any non-government organisation.
An executive order was issued to transfer the teaching and non-teaching staff of supported madrassas with the consent of the madrassas' managers and the approval of the Registrar, UP Madarsa Education Council.
Another reason why the Government of India's National Commission for Protection of Child Rights (Gol) has decided to conduct a study of unregistered Madrassas is to ensure the basic needs of Madrassa students.
According to Danish Azad Ansari, Minister of State for Minority Welfare, Muslim Waqf, and Waqf Department, the directive also requires women employees working in madrasas to take maternity and child care leave in accordance with the guidelines of the Department of Secondary Education and Basic Education.
The government of CM Yogi Adityanath is taking a proactive approach to the education system in madrassas, with all District Magistrates (DMs) receiving survey instructions.
Meanwhile, the government has directed that a survey of unrecognised madrassas be conducted by October 5, with teams comprised of Sub Divisional Magistrate (SDM), Basic Shiksha Adhikari (BSA), and District Minority Officers.
It has also been instructed that once the survey is completed, the report be handed over to the Additional District Magistrate (ADM), who would then deliver the consolidated reports to the District Magistrates (DMs).
Furthermore, in the event of a disputed management committee or the death of any employee in an aided Madrassas, a post-facto approval for appointment by the principal Madrassas and District Minority Welfare Officer in the dependent quota of the deceased, as well as the existence of a valid management committee, must be sought.
DISCLAIMER: The author is solely responsible for the views expressed in this article. The author carries the responsibility for citing and/or licensing of images utilized within the text.