Zero Tolerance against mischief-makers. Chairman M Venkaiah Naidu rejected revocation of the suspension of 12 Opposition MPs.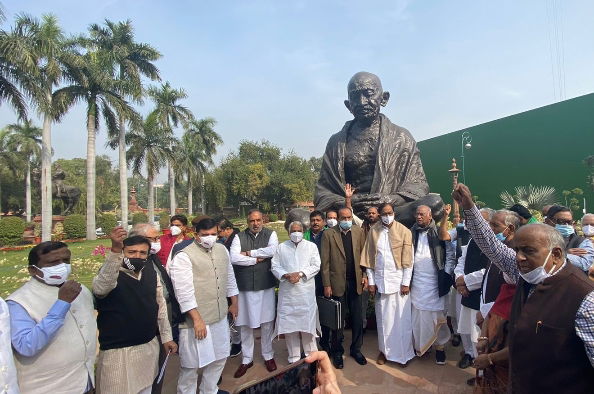 The Chairman of the Rajya Sabha M Venkaiah Naidu on Tuesday rejected revocation of the suspension of 12 Opposition MPs for their unruly behaviour in the parliament.
Chairman Naidu said; "The Members who have committed this sacrilege against the House, have not expressed any remorse. On the other hand, they are justifying it. So, I don't think the appeal of LOP (Leader of Opposition Kharge for revocation of suspension) is worth considering." Rajya Sabha Chairman Venkaiah Naidu on Tuesday asserted that the suspension of 12 Members of the House for the remainder of the ongoing Winter Session was in order and was to protect democracy and it was the decision of the House and not of the Chair.
12 members of the Rajya Sabha were being suspended for the rest of the winter session because of their undisciplined and unruly behaviour. The list also includes Shiv Sena MP Priyanka Chaturvedi and Trinamool MP Dola Sen.
The Suspension is being made because of the misconduct of these MPs during the Monsoon Session. The MPs have lowered the dignity of the House by unprecedented acts of misconduct through their violent behaviour and 'intentional attacks' on security personnel on the last day of the monsoon session on August 11, the suspension notice said.
The names of the MPs who are suspended are Elamaram Kareem (CPM), Congress's Phulo Devi Netam, Chhaya Verma, R Bora, Rajamani Patel, Syed Nasir Hussain, Akhilesh Prasad Singh, CPI's Binoy Viswam, TMC's Shanta Chhetri ,Shiv Sena's Anil Desai, TMC's Dola Sen and Shiv Sena MP Priyanka Chaturvedi.
The last day of the Monsoon Session of Parliament witnessed a ruckus in the Upper House while opposition MPs claimed they were attacked by marshals who were not part of Parliament security. The government's report on the ruckus states that a male marshal was choked by CPM MP Elamaran Kareem while a female marshal of the Rajya Sabha was assaulted by Chhaya Verma and Phulo Devi Netam, Congress MPs. The report was submitted to the Rajya Sabha chairman after the House was suspended for the season.
It was sad to see that the ones who are being trusted by the people to know and act better go on to create misconduct, misbehaviour in the parliament and attack security officials.
DISCLAIMER: The author is solely responsible for the views expressed in this article. The author carries the responsibility for citing and/or licensing of images utilized within the text.